Hanoi and Ho Chi Minh City, Vietnam Translation and Interpretation Services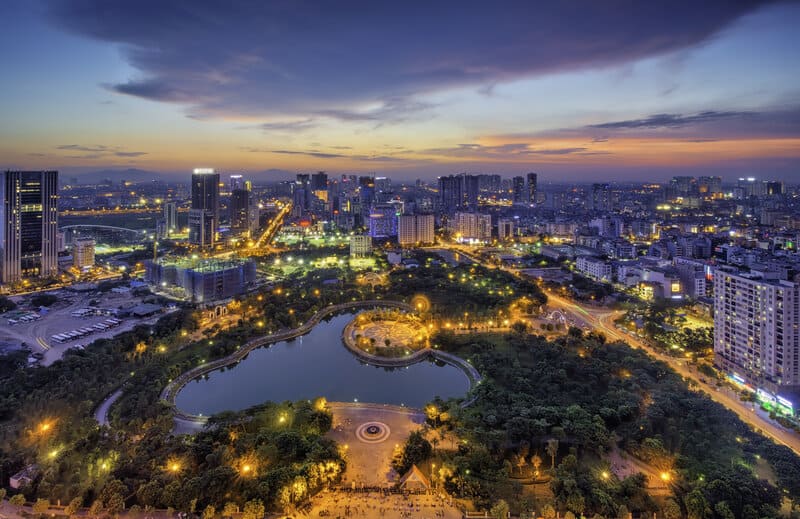 If you're looking for a unique experience in a country that has not only a fascinating, rich history, but also a beautiful culture, delicious food, and endless adventures, then Vietnam is ideal.
Its largest city, Ho Chi Minh City, commonly known as Saigon, is an ideal location for hosting your international multilingual event. Vietnam's culture can be felt in every corner of this bustling metropolis that surrounds the beautiful Saigon River. While there, consider a Bonsai River cruise to see the city from a truly unique perspective.
A short, two-hour flight south is Hanoi, Vietnam's capital and another sometimes-overlooked gem. Hanoi's beating heart is the busy Old Quarter, and it is well worth a visit all on its own. The narrow streets, small temples, as well as the fabulous Dong Xuan Market alone are captivating and will provide your international conference's guests with a once-in-a-lifetime experience.
And, as always, Chang-Castillo and Associates (CCA) stands ready to offer our skillset and know-how to make sure your multilingual event is a success.
Who We Are
CCA was founded by interpreters and translators who still run the company to this day. Language is in our blood, and we strive to not only achieve but surpass the best of the best in our industry.
We work only with the most qualified linguists in the field. While our translators and interpreters have different skills, they all abide by the same strict code of confidentiality and ethics.
The language specialists at CCA are more than qualified to handle your linguistic needs, focusing first and foremost on quality. They all must achieve a high level of competence before working with our clients:
They are approved by the US State Department, the Federal Government of Canada, the United Nations, the European Union, or other similar bodies.
They are members of internationally recognized associations such as AIIC (the International Association of Conference Interpreters) and TAALS (The American Association of Language Specialists).
They work hard to respect cultural sensibilities and nuance in their work.
They are highly trained, professional conference interpreters, different from community interpreters, who always use the right accent for your target audience.
What We Offer
CCA offers platinum-level service in both written translation and oral interpretation.
Our written services are available for many types of documentation. Our native-speaking translation experts can help you translate documents, assist with subtitling, as well as social media content, and much more. The following are just some of the many documents we translate:
Did you know that professional translators and interpreters can even be called as expert witnesses when it comes to court cases? To ensure that the text we provide – for legal proceedings and any other time – meets our and your high standards for quality, we follow our three-step process for each document. A project manager will oversee the project and work closely with three different language specialists who will make your document shine:
A translator will translate your text and deliver a draft;
A second linguist will edit the translation; and
A final language specialist will review your translated document to make sure that the delivered version is free of typos and errors.
You can rest assured that no embarrassing errors will get past us. Our goal is to make the translation sound just like the original, with all its flavor, intent, and character still intact.
In addition to written translations, we also offer both consecutive or simultaneous interpreters for your project. Furthermore, all of our interpreters can speak with the right accents for your target audience.
It does not matter if you are hosting a small conference or a large one; if you intend to be face-to-face with your clients and colleagues or conduct the meeting from the comfort of your home office, CCA is ready to assist.
We are proud to offer Remote Simultaneous Interpretation (RSI) Services without requiring physical proximity to our clients, delegates, or the venue where a particular meeting or seminar takes place. To utilize this service, we give our clients a multitude of options for taking advantage of RSI services:
Interpreting "hub" or center. We can create interpreting centers or hubs equipped with soundproof booths at the venue of your choice, whether in Vietnam or beyond. Using CDC-approved sanitation guidelines and regulations, interpreters work at the hub's premises, watching and listening in on a meeting while simultaneously broadcasting the interpretation.
Video/visual options. Video-based software applications are becoming more and more popular, especially during these trying times. Skype, Zoom, GoToMeeting, and RingCentral are especially popular. Our team looks forward to working with whatever platform you prefer.
Telephone/teleconference platforms. Interpreters at Chang-Castillo and Associates have provided expert simultaneous and consecutive interpreting services for clients via our existing teleconferencing platform. This option is especially good when clients cannot get a good connection and need to 'dial in' rather than join by video conference.
Whichever medium you prefer, CCA is ready and able to assist you.

What We Promise
Our dedicated project managers are available to answer your questions and help in coordinating your event to ensure its success. With CCA at your side, we promise you the platinum standard of services you deserve – nothing less.
Once you have worked with us you will see why we are considered the leaders of our industry. Whether in Hanoi, Ho Chi Minh, or anywhere in Asia (Bangkok, Beijing, Seoul, Tokyo); whether in Europe (Amsterdam, Berlin, London, Madrid, Paris), the Americas (Buenos Aires, Mexico City, New York City, San Francisco, Washington, DC), or anywhere else in the world, you can contact us online or give us a call at +1 (877) 708-0005.
At CCA, quality comes first, and quotes are always free.