San Francisco Translation and Interpretation Services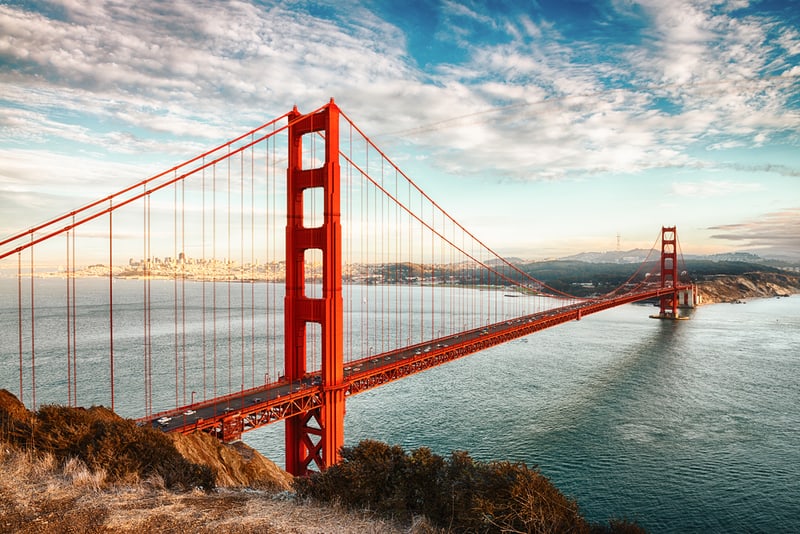 San Francisco is one of the world's greatest cities, and we're not just saying that because it's our home turf. In addition to its central location on the California coastline, this capital of the Bay Area is home to beautiful architecture, every ethnicity and culture under the sun, a thriving international center of commerce and the gateway to the Pacific. As Benjamin F. Taylor once wrote, "San Francisco is a city where people are never more abroad than when they are at home."
For these reasons, San Francisco remains a popular destination for both American and overseas businesses when it comes to hosting meetings or scheduling some leisure time with clients and prospects. Regardless of what brings you to the City by the Bay, Chang-Castillo and Associates looks forward to providing language service solutions in our home city to ensure your brand's message is read, heard and understand exactly as it was intended.
Need professional translation or interpretation services for an upcoming business trip, conference or casual meet-and-greet with an overseas prospect? Contact Chang-Castillo and Associates (CCA). Our experienced team of linguists will ensure your company and its representatives shine bright!
Professional translation services in San Francisco – and abroad
Our company is considered the platinum standard for professional translation services. We use highly educated and qualified native language speakers so your materials never contain misplaced words or awkward phrasing.
There is so much more to translation that meets the eye… It is more than the simple process of converting one word into another. We like to think that we translate cultures as well as languages, and that sets us apart from our competitors. The very nature of what we do means our linguists are multilingual. We LOVE languages! Even so, we all know that being raised with a specific language and culture adds a different level of unconscious knowingness – and that essence is what makes our translations stand out from the pack.
CCA provides professional translation for all types of documents, including:
Speeches and transcripts
Technical manuals
Government documents
Corporate communications
Marketing and training materials
Presentations
And any other type of documentation
Our translation teams work under a very stringent protocol, including three separate levels of translation, editing, proofreading and review before materials are considered "final." At the project's start, you will be assigned to a designated project manager. The PM will be your single point of contact, keeping you informed of the process as it unfolds. Your PM will field any questions or concerns that may arise along the way.
Contact CCA to discuss your translation needs and don't forget to ask about our competitively priced translation and interpretation packages. Call us at 1 (877) 708-0005 or email us at info@chang-castillo.com.
CCA interpreters ensure your brand's message transcends cultural boundaries
Like translation, interpretation is never as straightforward as it seems. The way we say things in English, our turns of phrase and even our humor may not work across language and cultural boundaries. What seems very formal to us, may be the only way a Japanese dignitary knows how to operate or, what seems inoffensively stated may come across as insulting to a businesswoman from the Middle East.
As with our translators, we only work with native speaking interpreters. This is integral to our guarantees that your words and theirs are interpreted accurately. Whenever we can, we will also place you professional interpreters from the same region, who speak the same dialect as your colleagues or clients, so the conversation and the information you wish to convey lands just right on the ears.
When you get in touch with CCA, we will listen to your planned events and then make recommendations regarding the best interpretive styles and/or equipment for each. For more casual, small-scale or intimate affairs, we may recommend consecutive interpretation services; for larger meetings, tours or conferences, simultaneous interpreting is normally the preferred method.
Participating in an upcoming teleconference? CCA can provide linguistic services for that too. In addition to ensuring your written materials are accurately translated and prepared for the event or presentation, we provide an innovative telephonic interpretation platform that syncs with the presentation technology of your choice. Our professional team of interpreters can interpret simultaneously making the teleconference progress seamlessly.
Our interpreters are highly qualified and have years of conference interpretation experience behind them. All hold degrees and/or certifications in interpretation from accredited universities or language institutes, or memberships and/or affiliations with the leading industry organizations in the world.
Get in touch with CCA to experience professional interpretation at its finest. Your team will love us and so will your clients: info@chang-castillo.com
Need professional interpretation equipment?
High-quality, professional interpretation equipment can make or break the communication process. Because we work at the conference level, we offer a range of state-of-the-art interpretation equipment as part of a package with our interpretation services  They can include:
Fully enclosed sound booths
Interpreter consoles
Microphones
Portable transmitters for tours or large demos
Participant headsets and receivers
Infrared (I.R.) emitters
Complete A/V equipment support
Conference technicians
All it takes is five minutes of straining to hear your interpreter through static, interference or faulty equipment with intermittent sound to realize how important high-quality equipment is. When you rent that equipment from us, you can trust that interpretation equipment is top-of-the-line and accompanied by conference technicians who provide complete support. That allows you the freedom to speak, listen and do the good work while we take care of the rest.
The team here at Chang-Castillo and Associates looks forward to showing you and your colleagues why we are considered the platinum standard in professional translation and interpretation services. We are passionate about what we do, and our testimonials prove that our clients are too. Contact us to learn more about our services and our competitive pricing and packaging options.