Do you need to conduct a video conference, webinar, or international business meeting with multilingual participants?
Chang-Castillo and Associates (CCA) offer Remote Simultaneous Interpretation (RSI), also called Distance Simultaneous (DS) Interpreting or teleconference services. Remote simultaneous interpreting allows language service providers (LSPs) a means for providing platinum-standard language solutions from anywhere around the world, without requiring physical proximity to our clients, delegates, or the venue where a particular meeting or seminar takes place.
Our renowned team of interpreters has decades of collective experience providing top-tier distance interpreting services. We have provided teleconferencing services for influential clients such as government agencies, international organizations, and Fortune 500 companies for nearly three decades. We can just as easily scale this expertise to provide our services to small and medium business owners as well.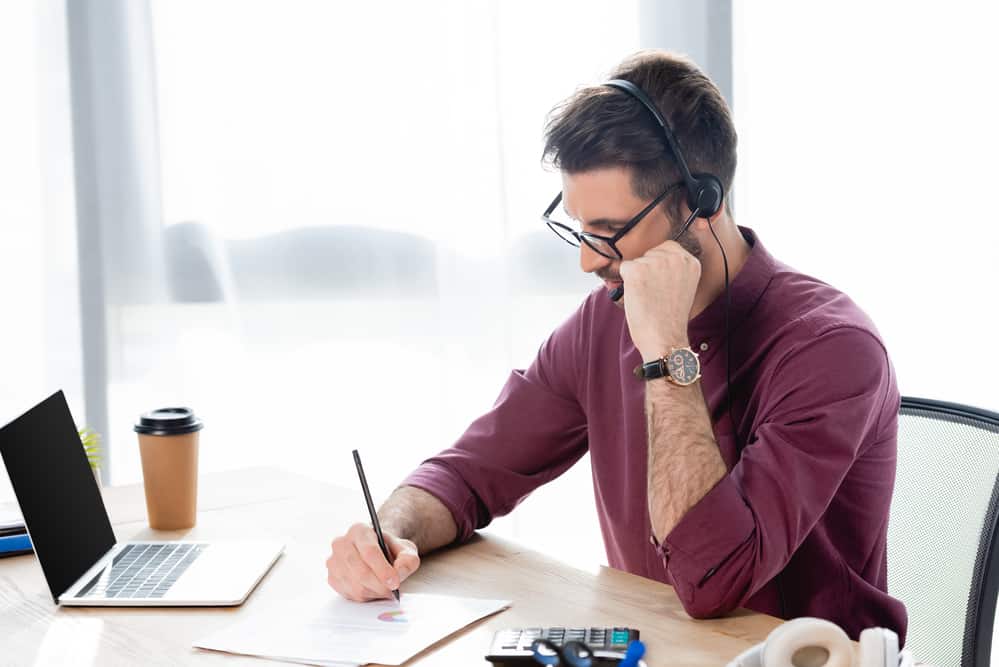 Options for using remote or distance simultaneous interpreting services
Clients have multiple options for taking advantage of remote or distance simultaneous interpreting services:
Interpreting "hub" or center. Some cities or communities have interpreting centers or hubs equipped with soundproof booths. Using CDC-approved sanitation guidelines and regulations, interpreters work at the center's premises, watching and listening in on a meeting while simultaneously broadcasting the interpretation. Assuming the clients and other participants have strong internet connections and appropriately secure technological equipment, interpreting hubs typically provide the highest-quality, remote interpreting services.
Video/visual options. Over the past five to ten years, multiple video-based software applications have come onto the market, including Skype, Zoom, GoToMeeting, and RingCentral – among others. Some of these platforms have specific interpretation-oriented capabilities to facilitate this component. The CCA team is happy to work with the platform that is most comfortable for you, or we can make suggestions if you are open to changing or upgrading existing software and equipment.
Telephone/teleconference platforms. As mentioned above, the interpreters at Chang-Castillo and Associates have provided expert, simultaneous, and consecutive interpreting services for clients via our existing teleconferencing platform. In many cases, this platform uses voice-only (no video) telephonic technology. While video is ideal, voice-based platforms are often a better solution for clients joining in from remote areas with poor-quality or less stable internet connections.
While in-person interpreting services have their advantages, there are multiple benefits to using simultaneous interpretation via remote applications when needed.
RSI/DSI offers a safe, multilingual interpreting experience
Whether a pandemic affects global travel patterns, or a particular client or delegate has sensitive health issues, remote simultaneous interpreting provides a way for multilingual experts to deliver quality, real-time interpreting without any health or safety risks. Also, this mode works best for professionals who do not wish or are unable to travel for any reason.
Participants join in from the remote locations of their choice, often using video platforms, and as long as the digital connection is clear and consistent, qualified interpreters facilitate streamlined communication that is safe for all participants and speakers.
Cost-savings potential for international conference services
There is no denying that some professional linguists may be mourning their regular travel schedules. Traveling around the world doing what we love is one of the highlights of our job. However, there is also no denying that the expenses necessary for travel and accommodation can hinder a company's ability to hire the best and most qualified linguists for the job.
With remote simultaneous interpreting services, digital and media-centric technology does the traveling for you, reducing the overall cost and expenses billed by your interpretation services provider, allowing a greater proportion of your budget for the very best our industry has to offer on a services-only basis.
Eliminate the compromising side-effects of jet lag
Multiple studies show how chronic jet lag impedes cognitive function, including memory loss and that foggy-headed feeling that disrupts clear communication. While professional interpreters and translators become professionals at syncing travel times with their circadian rhythm, some clients may not always fare so well. And, because we are hired to interpret your words, ideas, and phrases simultaneously, conference interpreters are at the mercy of our clients' ability to communicate clearly.
Remote simultaneous interpreting (RSI) eliminates the effects of jet lag because participants get to tune in from the comfort of their own time zones.
Tips for optimizing RSI services
If you are planning to take advantage of RSI services to continue promoting your brand's multinational presence, the following tips will help you and your team optimize the experience.
1. Know what to look for in a remote simultaneous interpreter
First and foremost, the quality of your RSI experience is entirely dependent on the interpreters' education, qualifications, and conference experience. It is easy for interpreters to make themselves seem far more qualified than they are online and without the benefit of your thorough vetting of their credentials.
Read What Qualifications Should I Look for in an Interpreter as you search for your brand or delegation's ideal interpreter.
2. Make time to partner with your interpreter(s) beforehand
The ultimate goal of simultaneous interpretation is for your words and ideas to be interpreted seamlessly, including accuracy of meaning, tone, nuance, etc., from one language to another. To do this, interpreters prefer to partner with our clients, creating glossaries and style guides that ensure your language and terminology preferences remain consistent.
3. Choose the interpreting platform that supports the weakest link
The quality and success of your interpreters is also dependent on multiple factors that are out of their control. This includes things like:
Audio/video capability
Strength and consistency of internet connection
The vulnerability of data on personal equipment
Glitches or technical difficulties with any of the above diminish your interprets' ability to provide clear, accurate, interpretations of spoken content. Accept that technological issues are likely to occur, and sound and video quality will be even more crucial than at a regular, live meeting.
Remember that at virtual meetings, just like at physical conferences, if interpreters cannot hear the presenter properly, they cannot do their work.
4. Consider and enhance the acoustics
Both interpreters and the presenters should be aware of the room's acoustics. Even simple modifications such as adding rugs to a room, using heavy drapes over windows to mitigate outside noise, and closing all doors to adjoining spaces can work wonders to create a more soundproof environment. If you have a room or office space you can dedicate to RSI, read the article, How to Soundproof a Room…, for simple soundproofing and acoustic solutions.
Additional recommendations:
Participants should use a separate wired microphone or a headset with an integrated microphone rather than their computer's onboard mic.
Whenever possible, avoid phone lines (which do not offer optimal voice quality) or wireless connections (including home Wi-Fi and Bluetooth devices); a wired internet connection using an Ethernet cable is usually best.
Presenters are advised to keep their video camera/feed on. Interpreters use visual cues as well as sound to provide a more accurate interpretation.
At physical conferences, interpreters should always have a direct line of sight to the speaker. Should lack of bandwidth prevent the use of video during a virtual meeting, interpreters may find it very difficult, if not impossible, to interpret the speaker without body language and non-verbal cues.
5. Keep meetings on the shorter side
Because everyone is working harder to watch, listen, and absorb information, RSI services work best when meetings are shorter in length and when presenters and speakers use a clear, soft pace when speaking.
RSI adds to the interpreters' cognitive load as they experience a more complex process of quality control in situations of multiple user interfaces (UIs). Keep in mind that interpreter fatigue is exacerbated by the technological complexity this type of scenario implies.
For all of the above reasons, your preferred language services provider is your greatest asset and ally as you work though everything you will need to enhance the quality and efficacy of remote simultaneous interpreting events.
Chang-Castillo and Associates has spent the last year perfecting our ability to provide professional, accurate, and glitch-free RSI services for clients around the globe. Let CCA help you plan your next international video conference, webinar, or phone presentation. We can offer this service for virtually any language or size of the meeting.
Contact us for more information on why we are considered the platinum standard of the translation and interpretation industry, including RSI for teleconferences and webinars.