What Rental Equipment Do You Need for Simultaneous Interpreting?
There are three components inherent in any successful simultaneous interpreting experience: experienced, qualified conference interpreters, high-quality equipment, and professional simultaneous interpretation technicians. And, in some cases, the rental equipment you use will make or break your experience, because even the most successful interpreters in the world struggle if they don't have access to quality sound and interpreting equipment.
Make sure you work with an interpretation services provider who provides modern, well-maintained interpreting equipment with audiovisual technical support at the ready. Failure to do so could leave you in a terrible spot – in the midst of incessant static, intermittent disconnections or technical gaffes so great they make it impossible to continue the event.
What is interpreting rental equipment?
Interpreting equipment pertains to any of the A/V equipment facilitating the services of an interpreter. The bulk of interpreting equipment is used by simultaneous interpreters as they – and their clients – rely on the use of headphones and microphones to relay information in real time. However, there are also cases where some manner of equipment is necessary for consecutive interpreting services.
Soundproof booths and interpreter consoles
Soundproof booths and interpreter consoles deserve extra attention because they're two of the least understood pieces of interpreting rental equipment – but are essential to successful simultaneous interpretation outcomes.
Soundproof booths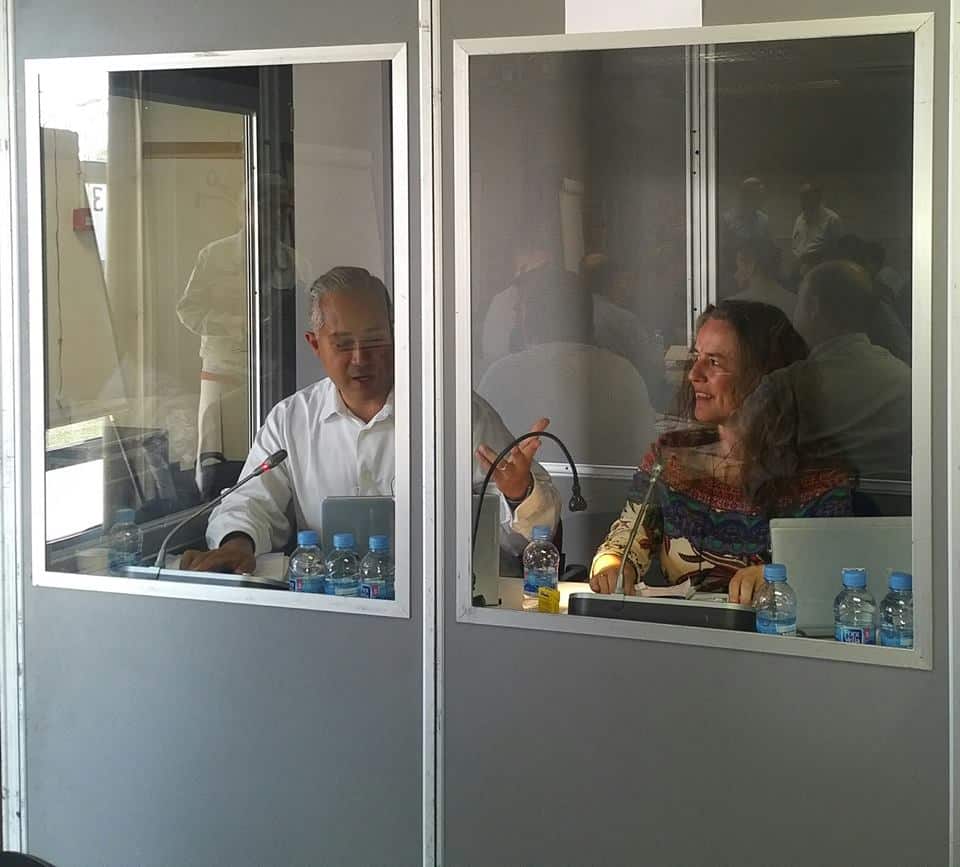 Simultaneous interpreting requires a tremendous level of attention – any sound interference or distractions negatively impact the interpreter's ability to perform accurate interpretations.
Soundproof booths are like portable closets, available in various sizes, and equipped with windows that transmit available light and a view of the adjacent space, enough countertop/desk space for the interpreter consoles, lamps, water, documents and a computer, as well as comfortable seating with a clear view of the stage and the speakers.
It usually sits 2 to 3 interpreters.
When the door is closed, the booth provides a completely soundproof environment, allowing the interpreters to hear the message spoken into the headset free of surrounding sound pollution.
When you're inside, it sounds like you are miles away – even though you can see the hubbub of activity immediately outside the booth.
As a client, this high-tech booth allows the interpreter to relay the message into your headset without interference as well.
Tabletops or half-booths
These are smaller soundproof booths that – as advertised – fit conveniently on top of a table or large desktop. In smaller venues, tabletop or half booths are ideal when space is limited but do not mitigate sound interference or replace the quality provided by fully-encapsulated soundproof booths.
Interpreter consoles
The interpreter console looks similar to a smaller version of a music recording studio's sound panel. It has inputs/outputs for microphones and headsets, and the console serves as the technical interpreting control unit.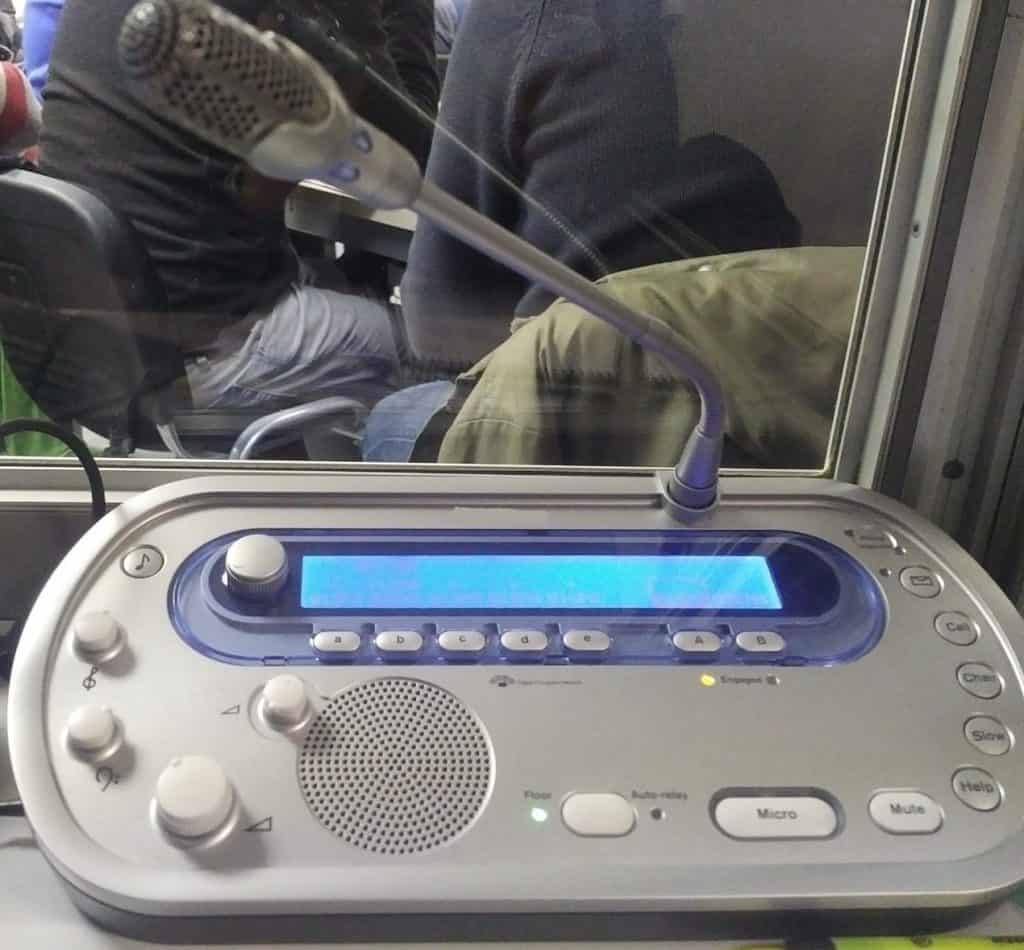 Different features and functions built into the console allow interpreters to turn their mic on and off, manage sound input and output, and select the clearest channels for communicating with their clients (since each language has its own FM frequency to prevent interference). It also allows the interpreter to use the "relay" – this happens when a speaker uses a language the interpreter does not understand. In this case, the interpreter listens to one of his colleagues interpret the speaker into a language that is common to all interpreters, in order to be able to then interpret into their own.
Interpreters need to have control over their own sound so they can fine-tune what they're hearing for optimum understanding; so, for example, s/he can adjust volume, treble/bass, and tone. The "cough" button also allows for mute functions (handy for the occasional sneeze, cough or inevitable throat clearing).
Microphones
Microphones allow you to speak to interpreters, and for them to speak to you during simultaneous interpretation. They also allow your interpreter to speak and be heard by a group of people (your audience) in their native language. There should be at least one microphone provided per interpreter and per speaker.
Sound system or PA systems never "count" as microphones as the sound control is much more general. Interpreter microphones are highly sensitive and deliver impeccable sound to ensure every word is understood. Our experience is that "venue-provided" resources are highly prone to malfunctioning.
Interpreters use several types of microphones:
On the table, possibly attached to the interpreter console: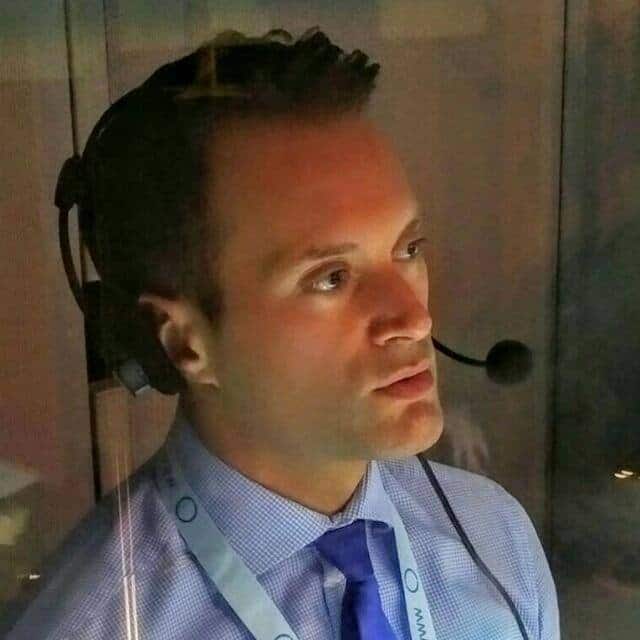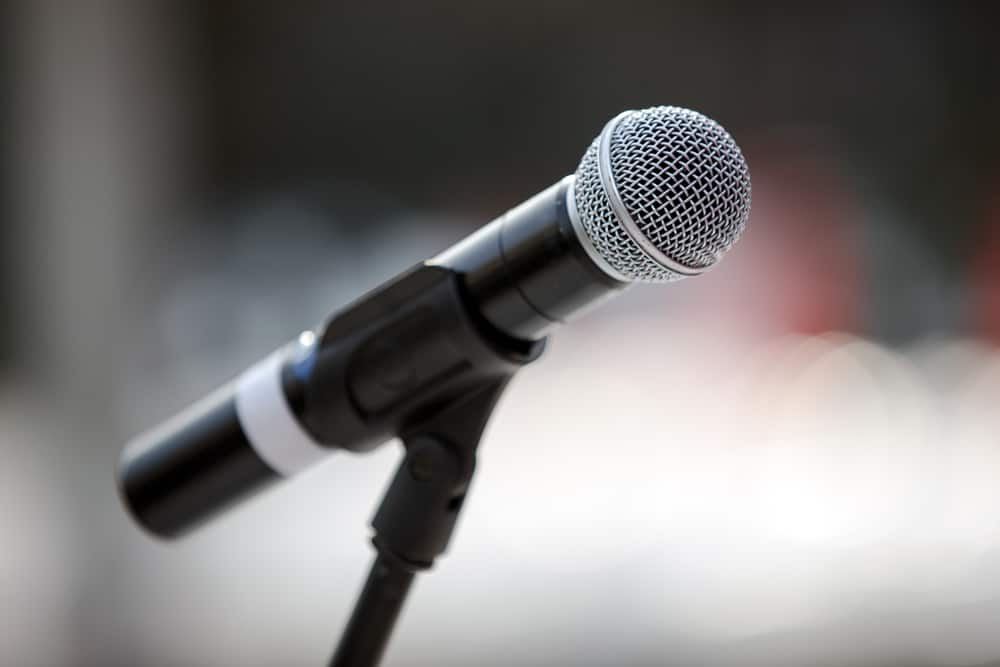 Portable transmitters for interpretation during tours or demos (also called by the French term bidule)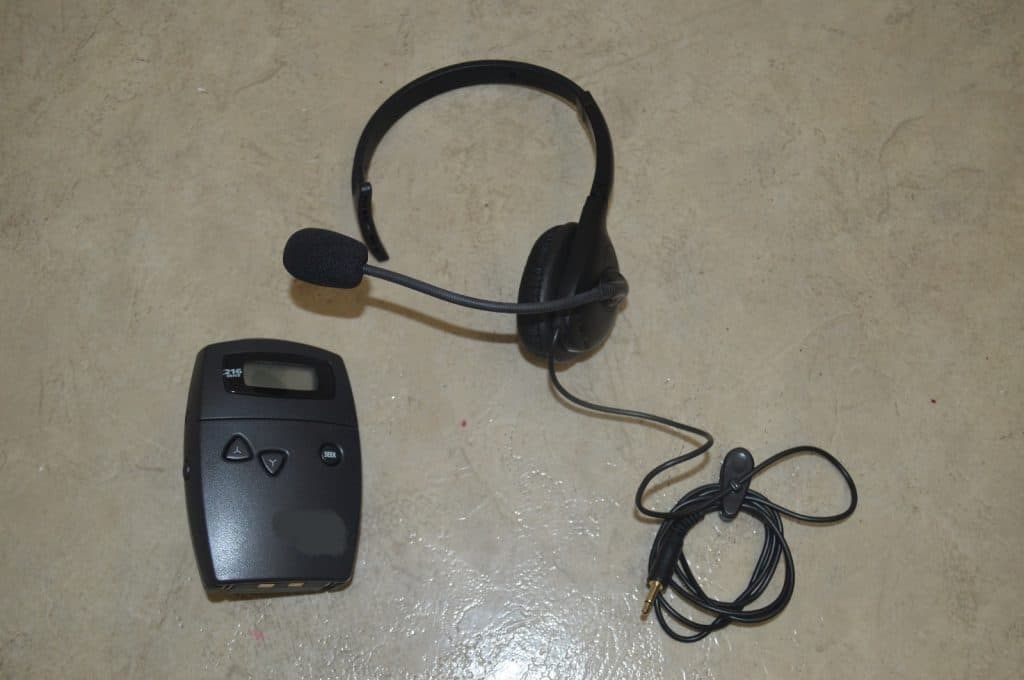 Portable transmitters operate sans cord, allowing freedom of motion for walking tours, training sessions, demos, and the like.
They look essentially like a small radio with a headset.
They can also be used to make interpreting more personal than when an interpreter is anchored in one place as the result of cordage.
FM Receivers/Emitters

Audience receivers allow the person listening to the translation to "dial in" to a pre-assigned, language-specific frequency.
Often these are clipped to the waistline or a comfortable area of the clothing, but receivers can also be held in the hand if preferred.
They receive FM or infrared signals, depending on the equipment.
Infrared (I.R.) emitters
Prior to the digital era, FM emitters/receivers were the norms. While still in use depending on venues and preferences, infrared emitters/receivers are the preferred mode of emitting/receiving sound, particularly if privacy or confidentiality is a priority. That being said, they don't work as well outdoors due to electromagnetic interference from the sun. They essentially look like a sound speaker.
Conference technicians and complete A/V equipment support
Your interpreting rental equipment will always be supported and facelifted by the services of trained conference technicians and complete A/V equipment support. Together, they ensure a high-quality experience without any stress or worry of equipment malfunction. In the rare case there is an issue, these professional technicians immediately fix it or substitute a replacement so you can get back to business.
Renting interpreting equipment usually comes with the provider's interpreting services. This ensures the equipment is used as it's meant to and guarantees customer satisfaction on both counts.
Identify which equipment you'll need ahead of time
We always advise meeting in person with the interpreters serving you before an event. In addition to establishing a rapport and familiarizing yourselves with one another, your language service provider is an expert at determining your event's equipment needs.
Establishing this before attending the event guarantees you'll have exactly what you need – no more and no less. In addition to preventing you from over-investing in equipment that isn't used, it also ensures you aren't left in the lurch when there is one less mic or headset than required, and that you'll have all the portable mics you need for your walking tours or hands-on demos where wired versions would be cumbersome or at risk for damage. If you plan to have a teleconference with a client that isn't able to attend a particular event, we'll make sure the equipment is at the ready when you need it.
Often, we'll make sure there are "extras" available in case something is needed on short notice – never charging the client if the equipment doesn't get used. This is something that may not be available to you in situations where rental equipment is provided by a host or venue.
Checklist for equipment used for simultaneous interpreting services
The following is a basic list describing the type and amount of equipment used for simultaneous interpreting services at a multilingual event:
A soundproof booth that meets ISO standards regarding ventilation, lighting, safety, etc. (typically one booth per outgoing language)
Simultaneous interpreter (SI) consoles/control panels
Amplifiers
Microphones
Headsets
Onsite technician operating systems at all times
This is the bare minimum requirement, and there are other factors and features to consider, such as:
Systems should be infrared or cabled
Extra channels are useful for accommodating other languages if needed
Disposal bins
Fresh drinking water for each session
And of course, necessary documents, agendas, speeches, transcripts, glossaries, style guides, etc., pertaining to each session
Again, we can't emphasize enough how important it is to meet with your interpreters in person, by phone or via video conferencing to share materials and information as early as possible. This allows interpreters to be as familiar as possible with all the materials and your event, allowing for a more stress-free (and error-free) experience for all.
Beware the use of "complementary" equipment at the venue
Often, large event venues advertise the use of their equipment as an enticement – one less thing for you to worry about, right? Unfortunately, there is no guarantee that the equipment you need will actually be available, maintained and fully functioning.
So, imagine the stress of arriving at an event with your team and your interpreters – only to find the equipment you contracted for is missing or already claimed by another party; worse, you might arrive to find that it isn't working correctly or that the technology is outdated, making the interpreting process more laborious.
By using equipment from an experienced, reputable language services provider, you're assured to have the right equipment at the ready, fully functional and glitch-free, when you need it.
Require interpreting rental equipment for an upcoming event? Chang-Castillo and Associates have exactly what you need. We provide platinum-standard language services virtually anywhere on the planet. Contact us to discuss your rental equipment needs.[p-
Related posts