Madrid Translation and Interpretation Services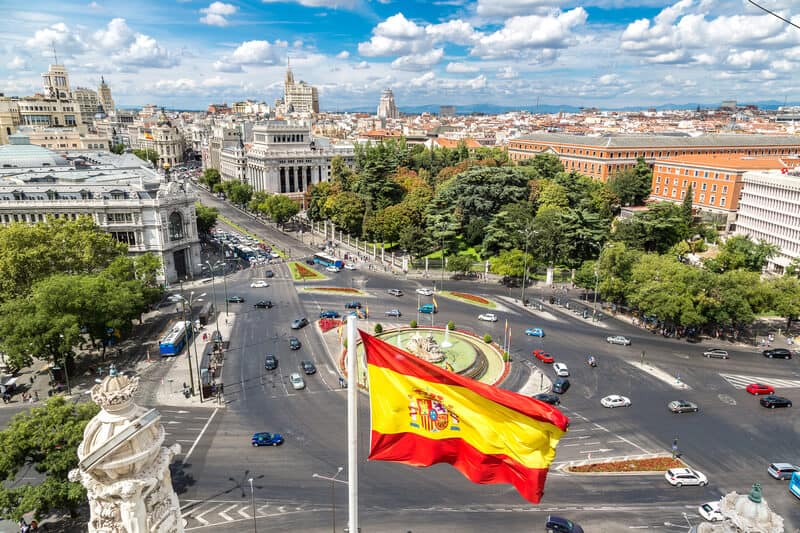 As the capital of Spain, Madrid is the country's most populous city and the third-largest city in the EU. It is a cosmopolitan hub, as well as the economic and cultural center of the nation. Visitors are entranced by Madrid's rich cultural history and architecture, most notably the distinctly Roman and Muslim influences, with some structures dating from as far back as the second century BC.
While history and culture certainly weave their artistry throughout the city, uptempo, contemporary energy prevails. Madrid is now considered one of Europe's largest financial centers and currently serves as the headquarters for most of Spain's largest corporations and organizations, along with the World Tourism Organization. It is also the regional headquarters for several multinational and financial institutions.
When conducting business or attending high-pressure events in Madrid, Chang-Castillo and Associates is your top language services firm. Our simultaneous interpreters and translators feel at home in Madrid, where they can serve your team speaking fluent Spanish, including Castilian Spanish, as well as virtually any other language that is spoken in the world.
Contact Chang-Castillo and Associates (CCA) to learn more about how we can serve you in Madrid and elsewhere on the globe. We offer a range of language service solutions – including interpreting rental equipment and teleconferencing – all facilitated by platinum-standard linguists.
What to look for from Madrid interpreters and translators
Take great care when searching for the best language services firm in Madrid or elsewhere. There are a few things you can look for – or ask about – as you begin consulting with prospects.
Are they conference interpreters or community interpreters?
This is a very important distinction; for a more detailed explanation, read our post, The Difference Between Community Interpreters and Conference Interpreters.
The gist is that while community interpreters are adept at what they do in less formal, private and public settings – such as schools, courtroom scenarios, and medical settings – community interpreters do not have the same education, niche professional experience, or high-pressure training obtained by conference interpreters.
Graduate-level education and proof of conference interpreting experience
Linguists are not just fluent, they are scholars of their working languages. Thus, being a native-language speaker with a basic interpreting certification is not enough to qualify the level of language fluency, fluidity, and industry-relevant comprehension required to perform accurate, precise, and fluid interpretations – in real-time.
The interpreters here at CCA typically hold graduate-level degrees from renowned universities or accredited language programs around the world. We can also provide proof of at least 200 hours or five years of conference interpreting experience and a roster of high-level clientele who are happy to serve as references.
Verify there is an established translation process and quality assurance protocol
When you submit your projects for translation, you should feel confident of two things: first, that your translator(s) have experience translating the same type or level of documentation you're entrusting to them. Second, that the finished product reads as naturally and accurately as the original documents.
Ask about their translation process and Q&A protocols. For example, here at CCA we can show you samples or put you in touch with recent clients of a full range of translatable materials we've handled, including:
Government documents
Corporate communications
Marketing brochures and promotional materials
Training and technical manuals
Speeches and transcripts
Each project is overseen by one of our dedicated project managers, and each project is taken through a three-tier process for translation, editing, and proofreading to guarantee 100% accurate results.
Do they honor the linguist's professional code of ethics?
A truly professional linguist honors an industry code in terms of ethics, dress, comportment, confidentiality, etiquette, and so on. For example, even if your prospective, freelance interpreter plans to prepare for your conference from home, s/he should show up for your event dressed as a professional – not in shorts and flip-flops.
Read What Qualifications Should I Look For in a Translator or Interpreter for more guidelines you can use as you search for the best linguists to serve your company and brand.
Contact Chang-Castillo and Associates for platinum-standard language services
The professional and experienced linguists at Chang-Castillo and Associates have dedicated our lives to learning our working languages and steeping ourselves in our working cultures. This is how we've earned our reputation as the platinum-standard interpreters and translators in the industry.
Contact us online, send us an email at info@chang-castillo.com, or get in touch with us by phone at +1 (877) 708-0005 to learn more about how our partnership with your company will continue to grow your positive brand reputation in Madrid, Barcelona, Spain, and around the world.