Bangkok Translation and Interpretation Services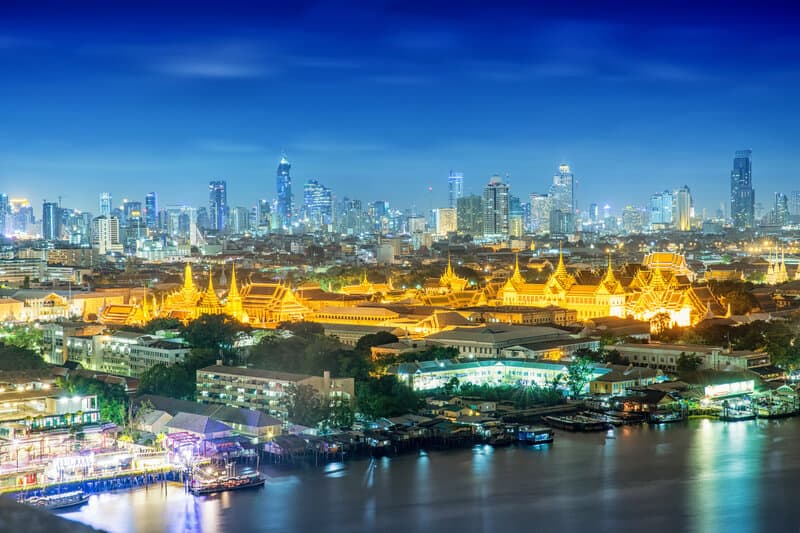 Planning an event in Southeast Asia? Bangkok should probably be on your list. As the capital of and by far the largest city in Thailand, it shines as a dynamic center of development and modernization for the country and the entire region. Numerous international companies are headquartered in Bangkok, including most of the country's industrial activity and media companies. Combined with the city's cultural importance and its numerous tourist attractions, this means there's everything you need to make your event and experience in Thailand unforgettable.  
Bangkok also has a major diplomatic significance as one of the six UN cities in the world. As such, it is home to the seats of regional organizations such as the Secretariat of the UN Economic and Social Commission for Asia and the Pacific, the Asia-Pacific regional offices of the Food and Agricultural Organization (FAO), but also global offices such as the UN High Commission for Refugees, the UN Children's Fund (UNICEF), the International Organization for Migration, the International Telecommunication Union, the International Civil Aviation Organization (ICAO), and the International Labor Organization (ILO). 
Located in the heart of mainland Southeast Asia, Bangkok has two major commercial airports, and it has been a favorite for international summits, conventions, and meetings for decades. You will therefore find plenty of room and infrastructure to house your international delegation and host your event.  
But as much as this is essential to the success of your event, clear, unhampered communication is also indispensable.  
At Chang-Castillo and Associates, we are proud to provide the kind of expertise you need in the form of the highest standard of translation and interpretation services in the language industry, whether it be in Bangkok, or anywhere else around the world.
Our Translation and Interpretation services 
Here is a presentation of the services CCA can provide for your event in Bangkok – in Thai or in any other language you might need:  
Our translators can help you with a variety of documents, including:  
Government document

ation and c

orporate communications

 

Technical 

documents

 

Marketing brochures

 and materials

 

Employee and t

raining 

guides 

 

A

nd all 

aspect

s

 of your brand's 

domestic

 and international presence

 –

 both online and offline

.

 
As part of our three-step review process, a minimum of three different language specialists will work on your document, to ensure no mistake is left unnoticed. The original text will be translated, edited, and, finally, proofread, which is the only way to ensure 100% accuracy. You can look forward to a top-notch translation, untarnished by the mistakes, typos, and grammatical errors that can so easily escape a single person's attention.
About us 
Chang-Castillo and Associates (CCA) is a company founded and managed by experienced translators and interpreters who are passionate about the quality of their work. This means that we know what is needed to deliver the highest standard in the language industry. In order to achieve that result and live up to our reputation as the platinum standard in the translation and interpretation business, we have put in place concrete measures.  
First of all, we only ever work with linguists we already know and have selected for their ability to consistently deliver top quality. They also abide by their profession's code of confidentiality and ethics and, being trained professionals, they are perfectly able to navigate delicate situations and are particularly attuned to cultural context. There won't be any awkwardness or embarrassment that can develop in a multicultural setting when there is a lack of preparation and professionalism. You can rest assured that your message will be in safe hands. 
If you choose to use our services, you will also be assisted by a dedicated Project Manager, making sure your interpretation or translation project is on track at all times and available to you as a contact person should you have any questions. The goal is to provide the best possible experience for you and your partners, target audience or guests by making sure the process is smooth and efficient.
Contact 
us
Contact CCA online or give us a call at +1 (877) 708-0005 for any further information or to start on your next interpretation or translation project. We look forward to hearing from you!