Buenos Aires Translation and Interpretation Services
Buenos Aires, Argentina is a vibrant city where your corporate relationships cannot but be enhanced by the facilitation of professional simultaneous interpretation and translation teams. With the second-largest economy in South America and a very cosmopolitan culture, many Argentino business professionals do speak proficient English. That being said, it is a culture that defers to its senior business leaders, many of whom will not be fully comfortable conducting business in English. Thus, your professional Spanish interpreters and translators are essential to the accuracy and brand-relevance of your communications.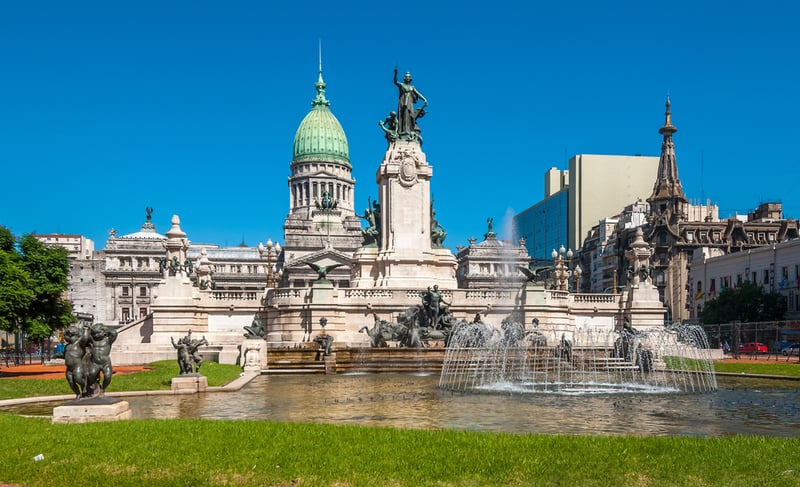 There are several reasons native-speaking interpreters are so important, whether you're attending an event in the Buenos Aires Hotel and Convention Center, meeting colleagues at a conference at the Panamericano Buenos Aires Hotel and Resort or taking leisure trips with business associates to some of Buenos Aires' desirable areas such as the Plaza de Mayo that boasts the famous Casa Rosada.
Keep the following in mind:
The Spanish spoken in Buenos Aires and the surrounding areas differs from that of Spain, Mexico, and other Latin American countries.
While many cosmopolitan business professionals do speak passable to fluent English, those in smaller areas and elsewhere along your South American travels will require Spanish interpretation and translation to understand your messages.
Even fluent language speakers are best able to understand and assimilate new information in their native tongue, making your interactions more natural and relaxed when facilitated by language professionals.
Chang-Castillo and Associates combines a passion for cultures, languages, and people – offering the platinum standard of conference interpretation and translation, along with other language services. Contact us to learn more about our services and to discuss which ones will best facilitate your upcoming business dealings in Argentina.
Professional translation services yield accurate and nuanced documents every time
Think about those automated voice overs you've heard via automated phone systems, online commercials or software programs; while the voices are uncannily "real," you can feel they aren't spoken by a human. While the words may be more or less accurate, there is a certain nuance and a natural energy that is literally lost in translation. There is a similar discord between professional document translations performed by native speakers and those that are translated by only proficient or even fluent, non-native speakers.
While these documents pass a word-for-word analysis by a machine translator, the heart, tone, and spirit of the final piece will not resonate as deeply with your native-speaking audience. It won't be relative in terms of relevance, anecdotes, plays on words, or sentiment. This is where native speakers make all the difference: they know how to take your brand's message and convert into their native tongue with cultural relevance and sensitivity – and zero automation.
CCA's translators adhere to a proven quality control process, involving three different levels of linguistic work – first translating, then editing, and finally proofreading. All steps are overseen by our highly-qualified project managers. The results are word-perfect documents that maintain the original emotion, intent, and tone of your original documents.
We're happy to translate:
Speeches and transcripts
Corporate communications
Training and/or technical manuals
Government documents
Sensitive materials
Marketing materials and brochures
We can also help you translate static website content to support your brand as it develops its reputation in the global market. Our team in Buenos Aires is also happy to attend important events to ensure documents and forms are organized and handed to the right people, at the right time, mitigating any risk of confusion, inaccuracy or embarrassment on your part.
Contact Chang-Castillo and Associates online or reach out to us by phone at +1 (877) 708-0005. Our translators are passionate about what they do and become personally engaged in their work, yielding outstanding results.
Let our simultaneous interpreters become an extension of your team
Like our professional translation team, the conference interpreters who work with CCA take their gifts and talents beyond word-for-word semantics. They do their best to learn everything they can about your company's brand, your products, and services, your niche, your target audience, etc., so they can feel more like an extension of your team and contracted "outsiders."
Personal connections always foster more fluid communication, and that's why we only work with interpreters who are as motivated by their client relationships as they are by linguistics. Our team of conference interpreters have:
Graduate degrees in conference interpretation from accredited, globally-recognized universities;
Proof of 200 days and/or 5-years of conference level interpreting under their belts;
Current memberships in or affiliations with industry-reputable organizations, including TAALS, AIIC, United Nations, the European Union, etc.;
Our stamp of approval on their high-quality services and expertise.
In addition to providing exceptional simultaneous and consecutive interpreting services, our interpreters are also happy to serve as "guides to Argentinian culture," to help you make the best impression you can on existing clients and colleagues along with your prospects. While Argentinian business culture is casual and friendly in its style (a bonus for Americans), there are some differences, with Argentinos keeping their tumultuous political history private. Knowing the intricacies of a country's business culture will set you ahead of your competitors, and chances are you will need the help of real Porteños (inhabitants of the city of Buenos Aires) or Bonaerenses (inhabitants of the province of Buenos Aires) to conduct your business meetings in the Argentinian capital.
Get in touch with Chang-Castillo and Associates online or by phone (+1 (877) 708-0005) to discuss the interpreting needs for your upcoming business engagements. We'll help you determine which style of interpreting is best for each event, and we're also happy to bundle our interpreting services with our translation solutions.
Teleconferences and equipment rentals keep healthy communication flowing
After interpreting and translation, two of the most sought-after language services we offer are teleconferences and high-quality equipment rentals. Both services come in tandem with an A/V technician to ensure the equipment is working as desired and that your communications flow without any interruptions, static or unseemly interference.
Teleconferencing is an excellent way to enjoy more personal communication without either side ever having to leave the office. Using our innovative telephonic platform, you'll feel as if you and your prospects, clients or colleagues are in the same space. Our teleconferencing equipment works fluidly with your presentation software of choice, and our team of interpreters and/or translators will facilitate the event for you when desired.
Similarly, we're happy to provide equipment rentals when you work with one of our Argentinian interpreters. The right equipment makes all the difference when it comes to quality and clarity of sound, not to mention comfort, throughout your event. Our equipment rental offerings include:
Microphones
UN-style soundproof booths
Interpreter consoles
Portable transmitters for walking-tours or mobile events
Participant headsets and receivers
Infrared (I.R.) emitters
FM receivers
Don't let your business and brand reputation rest on the work of less-than-enthusiastic professionals. Instead, work with Chang-Castillo and Associates, a language services firm that has cultivated a reputation as the platinum standard in the translation and interpretation industry. Contact us and let us create a proposal for you that handles all of your language needs in Buenos Aires and beyond.