Paris Translation and Interpretation Services
Paris is famous for her Eiffel Tower and Arc de Triomphe. However, business professionals know that the city of Paris has the fifth highest Gross Domestic Product (GDP) in the world, behind that of Seoul, Los Angeles, New York, and Tokyo. Paris is also the home base for multiple Fortune Global 500 companies as well as several globally nationalized entities, including the Organization for Economic Cooperation and Development (OECD) and UNESCO.
As such, it is a popular and compelling location for the world business leaders to host meetings, conferences and tradeshows. Whether you find yourself on the hosting or hosted end of the spectrum, onsite translation and interpretation services will be of the utmost importance to ensure your company's message is portrayed accurately and in the best possible light.
Professional Translation & Interpretation Services in Paris
Chang-Castillo and Associates is considered the platinum standard in worldwide translation and interpretation services. Over the years, we have established a strong international network of partnerships, allowing us to extend our services anywhere you need them.
Our translators and interpreters boast exemplary academic credentials, and globally-recognized translation and interpretation certifications. They shine in the presence of the world's most powerful leaders, business professionals, and elite clientele.
Are you planning a Paris-based conference, meeting or critical business alliance in the near future? Don't leave a single word unspoken or a single idea misrepresented. Contact CCA. Our Paris office is available to discuss our services and worldwide language solutions. You can call +1 (877) 708-0005 in the US or +33 (0)6 33 35 67 00 in France, or email info@chang-castillo.com.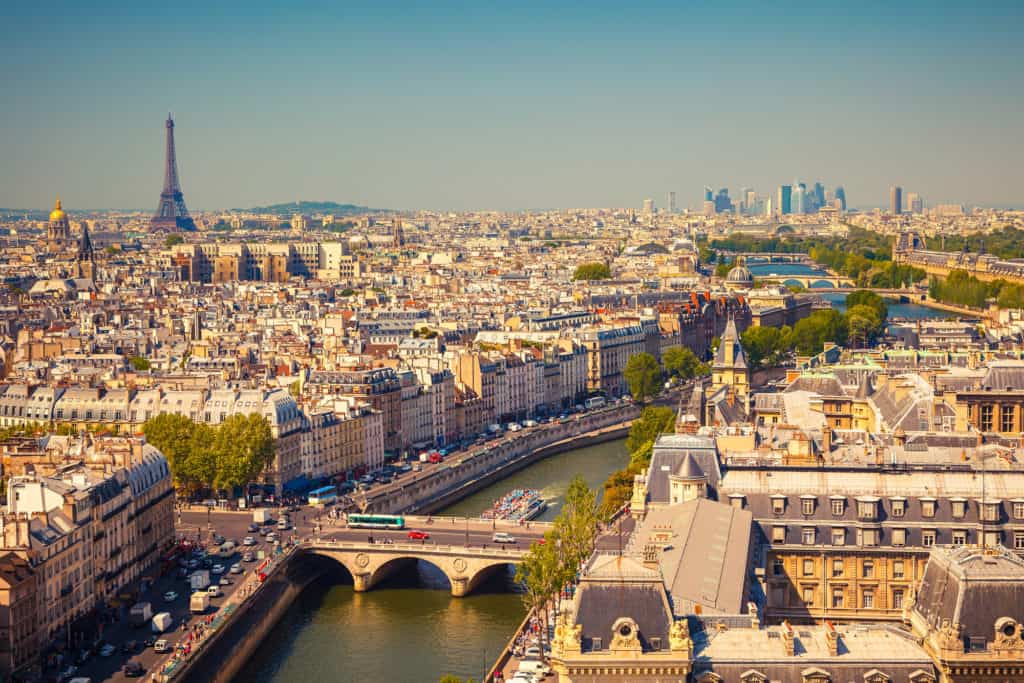 Full-Service Language Solutions in Paris
The following is a list of some of the full-service language solutions we offer in Paris as well as other global business centers.
Document Translation Services
Document translation is a two-way street. First, we'll work with you before your event to ensure brochures, marketing materials, and other documents are impeccably translated from English to French as well as other relevant target languages. Our translation services are unrivaled because we offer a three-tier quality assurance process that includes translation, editing, and proofreading, each performed by a different linguist, resulting in error-free translations.
While we hope your client provides the same level of attention to their French-English translations, there is no guarantee. Thus, we recommend enlisting the assistance of your own, onsite, professional translator(s) to ensure the client's documents are equally accurate in their French-English translations. You don't want to rely on potentially loose or inaccurate translations before making a verbal agreement or signing on the dotted line.
Simultaneous Interpretation
Similarly, the only way to be assured the client's verbal communications are rendered accurately is to trust the interpreters. Here at CCA, our international network of simultaneous interpreters work under a strict code of ethics. Simultaneous interpretation is our most popular language service, using soundproof booths where the interpreters interpret information in real-time. By employing your own interpreters, you are guaranteed a clean interpretation, free of unprofessional bias or intentional errors of omission or addition.
Consecutive Interpretation
Unlike simultaneous interpretation, which is used most often in larger settings, consecutive interpretation is popular for smaller groups and one-on-one meetings. It lends itself to more intimate venues. The goal is to work with interpreters who are as professional and experienced as they are genuine and charismatic in order to help with the flow of conversation and to keep everyone in the meeting area as comfortable as possible.
Our conference interpreters have worked in a myriad of settings, ranging from the United Nations' family of agencies, private businesses, ministerial and presidential events to press conferences at the Olympic Games. They will be the ultimate interpretive chameleons throughout the roster of events you've scheduled during your time in Paris, as serious and professional as they are lively and warm.
Interpretation Equipment Rentals
Even if you plan to use your own team of interpreters, your company may have a need for professional interpreting equipment. CCA offers a range of cutting-edge interpretation equipment, which we provide to our clients at a competitive price. With the use of the equipment comes onsite expert technician(s) to ensure the equipment is set up and operates correctly. The technical team will remain on site throughout your event to monitor the equipment performance, and to ensure your team is never left unassisted.
Are you preparing for an important business event in the City of Lights? Contact CCA to learn more about our professional translation and interpretation services in Paris, or anywhere in the country. We'll provide a competitive quote and the best professional team of translators and interpreters in the industry. See you soon and à bientôt!