Meet Julien Brasseur: CCA's Co-Owner and Premier French Linguist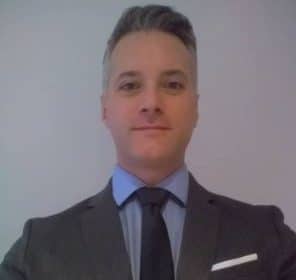 Chang-Castillo and Associates (CCA) was co-founded and is owned by Pablo Chang-Castillo and Julien Brasseur. Together, they have created a one-source language solutions firm that provides interpretation and translation services, as well as additional service offerings, both in the United States and abroad.
Their impeccable standards and global connections have earned Chang-Castillo and Associates (CCA) its reputation as the industry's platinum standard.
We interviewed Pablo back in 2017 (Click here to read that interview), and realized it was high time we interviewed Julien as well. Enjoy getting to know more about the other half of this dynamic, collaborative business duo.
It's Time to Meet Julien Brasseur
When did you know you were a "linguist" and what does that mean to you? How has it shaped your life?
Let me tell you a secret – When I was in high school, I remember listening to a Janet Jackson interview on the French radio. The journalist didn't understand half of what she was saying, especially the jokes and the colloquialisms. I thought, "I can do better than that."
I've always loved languages, both my native tongue (French) and foreign languages. I formally studied French, English, German, Spanish, Dutch, Latin, and a bit of Portuguese. Languages make you travel and discover the world, even from the comfort of your own home. They open your mind to the rest of the world, other cultures, other ways of thinking.
I believe that if every person on Earth spoke at least one foreign language, the world would be a much better place. You can lose everything, but having experienced another culture through language is something they can never take away from you.
We understand you spend quite a bit of time flying between the US and France, within Europe, and abroad. Can you describe a "day in the life of a conference interpreter?"
Also being a translator, I have the best of both the translation and the interpretation worlds. Sometimes I get to travel to other places (both fascinating other countries, or small towns or even villages), and sometimes I get to stay home, in front of my computer, translating while sipping a cup of coffee, enjoying the quiet of my office.
The life of a conference interpreter is not always as glamorous as it sounds – traveling for long hours on a plane, being often – if not constantly – jetlagged, living out of a suitcase, having to study for your next assignment, sometimes accompanying famous people who turn out to be prima donnas – it certainly takes a toll. It is a career that requires constant learning, and meeting new people is an amazing opportunity. You have to find some balance to keep your sanity, and being able to switch between translation and interpretation is a blessing.
In addition to interpreting, you specialize in voice-related services in the entertainment industry (voiceovers, red carpet events, etc.). Can you tell our readers how you landed in that niche and what it's like to wear two separate hats?
A colleague and friend of mine contacted me for a TV gig in Los Angeles because her client was looking for a young male voice talent who knew about movies, song, fashion – who could also interpret and was a native French speaker. I guess there weren't thousands of options…
And then I started working for French TV. I also did some dubbing and workout videos. It sounds hip and fun, but it's also very much high pressure. Hundreds of thousands – if not millions – of people may be listening to you, and there is no room for a slip of the tongue. The Internet is full of examples of people who said the wrong thing at the wrong time, and today, you can quickly become a "meme."
In the entertainment industry, there is a lot of work happening in the background. You have to follow instructions as to what to say or what not to say (curse words, advertising, etc.). Just like in the conference world, you need to keep a cool head, know how to get out of hairy situations, and get back quickly on your feet. I have quite a few friends in the profession who are excellent simultaneous and consecutive interpreters and do not want to touch this kind of assignment with a 10-foot pole. There can be a lot at stake.
Your website and its content highlight the importance of hiring native-speaking interpreters and translators. Can you tell us how your abilities as an interpreter are enhanced by your native-speaking status, and how they exceed services provided by a fluent, non-native speaker?
No matter how good you are at languages, a learned language will never, ever be as good as your mother tongue. A native speaker always has markedly more flexibility in their own native language. English supposedly has three times as many words as French – but that is because in French, one word can have many different meanings depending on the nuance. I find that makes French much more interesting.
At CCA, we try to treat our colleagues as we would like to be treated. We only work with the best of the best, but also with people who are kind and caring. That's the philosophy of the company at CCA, and that is very important to us.
Can you tell us about one or some of your favorite translation and interpretation projects?
That's tough. The Olympics are always a blast; TV is always an adrenaline high. Accompanying delegations can be fun, or extremely straining.
Whether in translation or interpretation, I like feeling that I am making a difference in the world through my work. Interpreting at a political crisis event or at a women's empowerment conference, translating a groundbreaking report on human rights or family planning, is much more gratifying and rewarding than interpreting some CEO's boring speech full of numbers read at a hundred miles per hour at a steering committee meeting.
What's it like to work as a professional interpreter for the Olympic Games?
It's obviously enthralling, but it can be tiring. You spend a lot of time in transport going from one site to the next, trying to figure out how to get there, studying for the next event, constantly following the news, and adjusting to harsh weather conditions. But it is also enormously fun, because you get to see so much from up close, you get to meet the athletes, and many of them are usually very humble and kind.
During the Olympics, I also get to spend a lot of time with wonderful, talented colleagues, it really feels like a family. You travel and work together, you support, motivate, and encourage each other. And, because French is the #1 language (even before English, in case of a dispute), it also makes me very proud of my background.
What's one of the most significant challenges you've encountered while providing interpretation for clients?
That's a tough one. You sometimes have to interpret for people who are going through very difficult times, having lost someone close, experienced physical or emotional difficulties. I remember interpreting an asylum seeker's plea; it is always emotional when you can relate.
Or you have to interpret for people whose mindset may not be aligned with your own personal beliefs. That can happen with political and religious leaders. You may feel like rolling your eyes, but of course, in all cases, you have to keep everything confidential, and remain neutral. Keeping your distance in order to be able to perform to the best of your knowledge and ability, without letting your own emotions get in the way – because that is the best way to do your job and help people through your work. That can be difficult, to say the least, but it is absolutely essential.
Chang-Castillo and Associates provide services as expert legal witnesses and in international arbitration centers. What are the qualities and experiences that provide the expertise required for those high-level arenas? Aspiring interpreters want to know…
First, your language skills have to be impeccable especially in your native language. You also have to be able to listen, retain information, and regurgitate it – so some training in consecutive interpretation is a must. Of course, you need to know the terminology – so preparation is key.
As a translator, you need to love words – finding the perfect word or idiom to translate something must be something that excites you. But interpretation is not about words, it's about concepts. You also have to be smart and not easily impressed. As a conference interpreter, you sometimes have thousands of eyes – and ears – set on you. You can't be shy, and you need to know how not to panic!
It's really clear that interpretation is a calling, linked to the gift of being a linguist. So, in a parallel universe, what does the non-linguist, Julien Brasseur do for a living?
I don't know if it's a calling – some people literally "fall" into it. Both translation and interpretation mean years of hard work and experience and training before you can reach an acceptable level. You obviously need to have a gift for languages, but the technique is clearly something you can learn.
What's magical about these two professions is that you never stop learning, and if you are a freelancer, you never get bored. I'm an avid reader; if I could earn a living reading and learning, I guess that wouldn't be so bad…
Are you looking for experienced, qualified, and passionate interpreters or translators to further your organization's cause? Contact Julien and the team at Chang-Castillo and Associates!
Related posts