Los Angeles Translation and Interpretation Services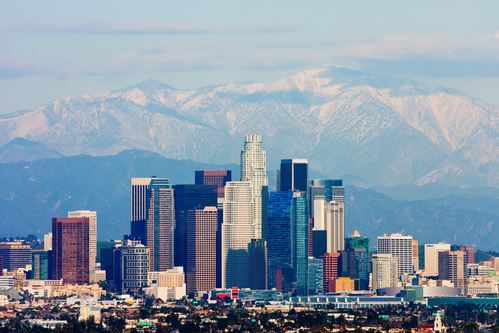 Los Angeles offers many reasons to visit. In addition to its pleasant all-year-round climate, popular beaches, and the chance of seeing Hollywood hotshots, this metropolitan area boasts speakers of more than 224 languages. This makes it easier for non-English speakers to travel, take in the sights and get acclimated, without experiencing the same language barriers they do elsewhere.
While Venice Beach, the Hollywood Walk of Stars, and countless iconic landscapes make Los Angeles an appealing place to visit, downtown LA is the largest government center outside of Washington DC. Its diversified economy is home to the largest port complex in the Western Hemisphere, and, perhaps surprisingly, the Los Angeles region has the largest number of manufacturing jobs of any county in the country.
In other words, Los Angeles is an ideal venue to conduct multinational business. The professional team at Chang-Castillo and Associates (CCA) is here to ensure all your language needs are taken care of. We provide translation and interpreting services for virtually any target language you may need, and we will make sure your company's message is communicated exactly as you planned.
Contact us to learn more about CCA's professional language services and to receive a competitive quote or call us at +1 (877) 708-0005.
Professional translation services in Los Angeles and worldwide
Have an employee who speaks fluent Spanish, Chinese, Russian or German? Many business owners are surprised to learn this doesn't mean they make for the best translators or interpreters. In fact, most professional translators are indeed native speakers – it is a requirement here at CCA.
However, providing professional-level translations of documents, brochures, marketing material, and industry-specific technical manuals requires more than conversational or written knowledge of a particular language. Using a trained language professional will make all the difference in conveying your message. It is worth the investment in professional translation services if you want to benefit from translation materials that uphold your company's reputation and message while making a positive impression on your clients.
Chang-Castillo and Associates provide a range of translation services for every level of written material, including:
Government documents
Marketing papers
Presentations
Technical manuals
Training materials
Corporate communications
Speeches and transcripts
Any other types of documentation
The professional translation team here at CCA works in a three-phase translation process (translating, editing, and proofreading), guaranteeing our end-products are impeccable.
In addition to producing written materials as requested, we can also assist you with their organization and dissemination at the event, and rush services are available as needed.
Contact us here at CCA to discuss your upcoming projects. Our translation team looks forward to showing you the value of professional translation services at their finest.
Our interpreters communicate more than the spoken word
You may have heard that in conversation, the spoken word actually accounts for a minimal percentage of what is officially communicated. Tone, volume, facial expressions and body language do far more to get your message across to a listener or audience. That is the reason why the quality of your professional interpreters matters.  The interpreters here at CCA have earned a reputation for being the platinum standard in the industry because they are trained to choreograph their words to maximize communication.
We understand interpreting is much more than converting the words from the source language into the target language: it's about ensuring our clients know their brand or message will shine through in a way that resonates with the target audience. If you don't work with a language services firm that prioritizes how the message is delivered, your company's message may fall flat or, in the worst-case scenario, it could cause offense.
Our interpreters are highly educated, certified, and hold memberships and affiliations with some of the most reputable industry organizations around the globe. When relevant, we make sure you work with someone from the same region as your clients so the accent, dialect, and turns of phrase are both familiar and accurate.
We offer both consecutive interpretation or simultaneous interpretation, and we are also happy to assemble a team that can move fluidly between both styles, depending on the size of your group, the nature of the event, and any equipment needs you may have. For example, clients may choose to use simultaneous interpretation for a large conference or group tour, but then opt to switch to consecutive interpreters for smaller dinner events, outings or business negotiations.
Use teleconferencing as an alternative
Have a key employee who can't make it to your event in Hollywood? Are there key clients who are unable to attend the Los Angeles convention? Our interpreters are also available for teleconferences, using an innovative, telephonic platform. This ensures your meetings, interviews or presentations proceed without interruption and sans irritating, technical glitches. Our teleconferencing equipment is compatible with virtually any presentation platform you use.
Experience the industry's Platinum Standard
The team at Chang-Castillo and Associates is passionate about languages but, more importantly, we are passionate about what we do. We love connecting people – both personally and professionally, and intuitively translating and/or interpreting messages in a way that resonates soundly with their clients. Our customer testimonials are proof that we put customers' needs first – and we look forward to doing the same for you!
Contact us here or call us at +1 (877) 708-0005 to start the conversation, and learn why CCA is considered the platinum standard in translation and interpretation services. Your clients will appreciate the difference – guaranteed.