What do Spontaneous, Instantaneous and Real-Time Interpretation Have in Common?
What do spontaneous interpretation, instantaneous interpreting, real-time interpreting and real-time translation have in common? They're all inaccurate versions of the term simultaneous interpretation (or simultaneous interpreting). Other, common misnomers include simultaneous translation, real-time translation or instantaneous translation – even though translation is a different area of linguistic expertise altogether (more on that later).
Simultaneous interpretation is a vital language service, most frequently used at large, multinational conferences, summits or meetings, where there simply isn't time for consecutive interpretation services. It's the kind of interpreting you see at the United Nations – where professional interpreters stand and sit in soundproof booths with headsets and mics, relaying the speaker's or presenter's words to their client (also donning headsets and mics) in the client's primary language.
Read Selecting the Ideal Mode of Interpretation for Your Meeting to learn more about each type of interpreting service, and to see examples of how language professionals use them to best effect.
Learn the correct language to use with your language service professionals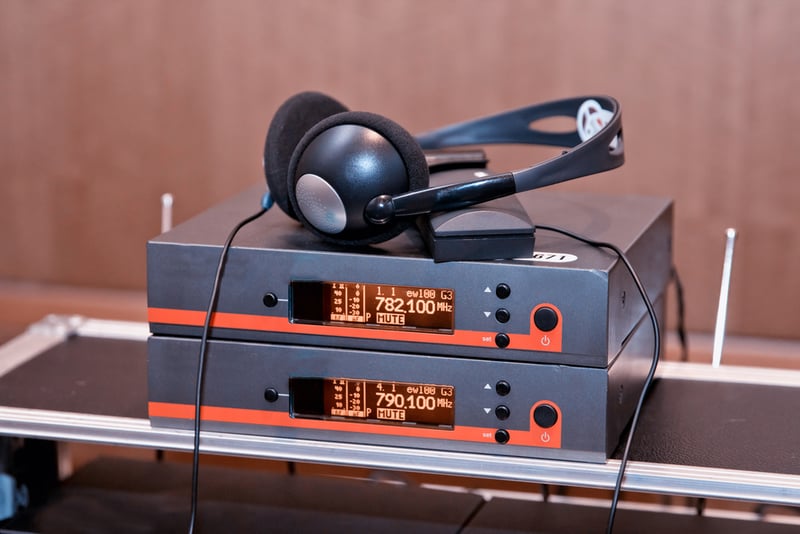 In the language services business, we're used to all the wrong names people use to describe our services, but we also feel it's important for those in the market for language solutions to learn some of industry term basics.
Doing so allows you to find high-quality language services faster so you can spend more time working with your language solutions firm as you select the services you'll need, and for the interpreters and/or translators to acquaint themselves with your brand, company, niches, tone, voice, and other relevant information.
Whether you need interpretation services or translation services (which are not the same thing – more on that below), or the assistance of things like rental equipment or teleconferencing, a general awareness of basic industry terms will streamline your search.
Simultaneous interpretation
We described this one above as the UN summit version of interpretation. You can read a more detailed description of simultaneous interpretation by clicking here.
It's the most demanding of all the interpreting modes because it requires incredibly fast mental processing and the ability for interpreters to remain acutely alert and focused – not to mention 100% accurate in their interpretations. The high-pressure demands of this job are the reason the industry recommends hiring pairs or teams of simultaneous interpreters, with individual interpreters trading off every 30-minutes or so to prevent interpreter fatigue.
Consecutive interpretation
This interpreting mode is recommended for smaller groups, more intimate negotiations and/or social gatherings – where the back-and-forth style of interpreting is more appropriate. You can read a more detailed description of consecutive interpreting by clicking here. While consecutive interpreting isn't usually as demanding as simultaneous interpreting (depending on the technical and/or emotional level of the content), it may also be done using pairs or teams of interpreters, depending on the number of hours required.
Community and other interpreting forms
Community interpreting services are another type of interpretation as well. These typically involve courtroom, doctor's offices, educational or community services facilities, etc. They help non-native speaking residents – or those who feel more comfortable speaking/listening in their primary language – to navigate the legal, medical or community realms. In most cases, community interpreters do not have the same level of professional education, certification(s) and/or experience as simultaneous interpreters. Read The Difference Between Community Interpreters and Conference Interpreters for more information about the best interpreter for your needs.
Isn't interpreting the same thing as translating?
And, while we're on the topic of misnomers and miscommunication (two things you don't want your interpreter or translator to suffer from), it's important to note that interpretation and translation are two very different language services. Interpreters work within spoken language, whereas translators work with the written word.
This is important to you to discern as a client because you want to make sure you're hiring the right language services provider for the job. For example, if you're meeting with an important client from Japan for a few days of tours, negotiations and some entertainment thrown in, odds are you're looking for a consecutive interpreter. While some of the printed materials you share with the client may need to be translated, your conversational interactions require professional interpretation.
Thus, if you search for a "professional Japanese translator," instead of "professional Japanese interpreter," you're going to land on all the wrong web pages and/or waste time contacting all the wrong people. Once you realize you're actually in the market for a Japanese interpreter, things will flow more smoothly. Our post, Common Misconceptions About Being a Professional Translator includes pertinent distinctions about these two separate linguistic professions.
Chang-Castillo and Associates is a language services firm that offers a full spectrum of language services, from interpreting and translating services, to rental equipment and teleconferences. Contact us to discuss your needs and we'll pair you with just the right multilingual service for the job.
Related posts