Stockholm, Sweden Translation and Interpretation Services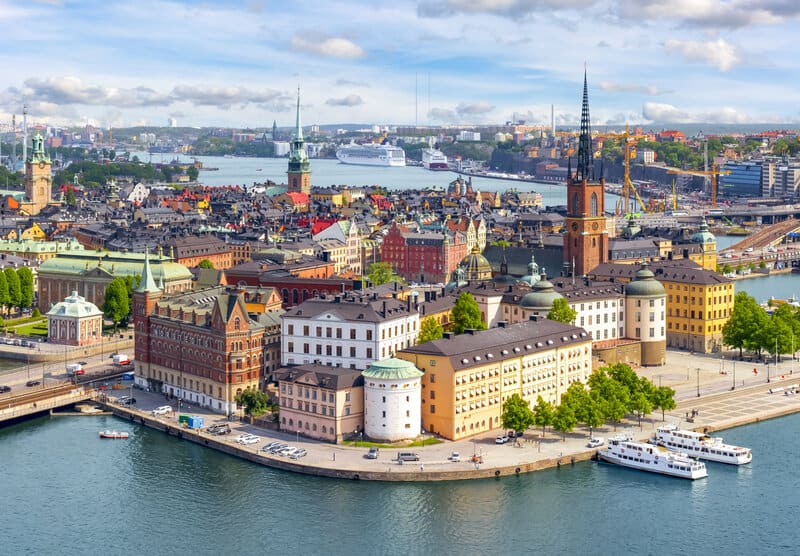 If you are looking for a location that blends modernity and an Old-World feel, consider hosting your international multilingual event in Stockholm, Sweden. This Scandinavian city is actually composed of 14 islands that form part of an archipelago, and each island is a small community. Sweden's capital and largest city, it is also known as one of the most progressive in Europe, both socially and technologically. The music media giant, Spotify, has its headquarters in the middle of the city.  
If you are looking for a way to pass the time between business events, you can look no further than the many restaurants available on nearly every corner, including those that serve husmanskost, or "home cooking" (traditional Swedish food). Stockholm also has several museums and parks available to your international guests, whether they are interested in history, music, art, or nature.  
There are many reasons you may want to host an event in the "Venice of the North" – but there is one thing that can hinder the success of any event: a lack of clear, concise communication. And that is where Chang-Castillo and Associates can assist.  
Chang-Castillo and Associates (CCA) offer both the skillset and the technological know-how for you to host a successful event. We are who you need! 
Our language services
Need an interpretation or translation company that you can trust? Here is how we will ensure the success of your event.  
The interpreters and translators that founded CCA run the company as well. This means that CCA is operated on a daily basis with the same passion that created the company. We ensure the highest quality work by being and working with the best, most qualified professionals in the field. We can adapt your message while considering the target audience, avoiding offense to their cultural sensibilities, and adhering to a strict code of confidentiality and ethics.  
The language specialists at CCA are more than qualified to handle your linguistic needs.  
They have been approved by the UN, the US State Department, the Federal Government of Canada, the European Union or other similar bodies.

 

They are members of internationally recognized associations such as AIIC (the International Association of Conference Interpreters) and TAALS (The American Association of Language Specialists).

 

Our linguists work hard to respect 

cultural sensibilities

 and nuance in their work. With CCA, there will be no embarrassing mishaps or faux pas. 

 

We use 

highly trained, professional conference interpreters

, which are different from 

community interpreters

. And they will come prepared as the backbone of your event. 

 
Translation Services
To ensure the accuracy of your text, each document will undergo our three-step process. Three different language specialists will review your text: 
A translator will translate your text and deliver a draft;

 
A second linguist will edit the translation; and

 
A final language specialist will review your translated document to make sure that the delivered version is free of typos and errors.

 
You can rest assured that no embarrassing, foolish mistakes will get past with a translation from CCA. In fact, the finalized translation will sound as if no translation was involved at all, and as if the document had been initially written in the target language.  
We provide translation with the highest accuracy for all types of documentation and content, including: 
Interpretation Services
If you would rather enjoy our services from the comfort of your home or office by organizing a virtual meeting or webinar, we understand the importance of staying connected with clients, colleagues and counterparts across the globe. We can help organize remote interpretation for a virtual event with as many people as you need, providing as many languages as you require on the virtual meeting platform of your preference.  
CCA can help schedule the perfect consecutive or simultaneous interpreters for your project – all with the right accents – and we'll advise you on how to ensure a successful online meeting with interpretation.  
If you want to feel certain that state-of-the-art, reliable interpretation equipment is available at your in-person event, do not worry, we can meet you at the venue of your choice as we also provide reasonably priced professional interpretation equipment.  
The last thing you need is to depend on the questionably maintained equipment that some venues have on hand. Our equipment is perfectly maintained and in the best condition. From mics, to headsets, and even UN-Style soundproof booths, CCA has the right gear for your needs. 
CCA's international reach
Our dedicated project managers are available to answer your questions and help in coordinating your event, ensuring the success of your event. 
If you're ready for your first translation and/or interpretation project in Stockholm, Sweden, Oslo, Norway, Helsinki, Finland, Copenhagen, Denmark or anywhere else, you can contact us online or give us a call at +1 (877) 708-0005. Just set the date or deadline, and we'll coordinate our service. At CCA, quality comes first – and quotes are always free!