Oslo Translation and Interpretation Services
Do enjoy long winter nights or endless summer days? Ever dreamt of seeing Viking ships mixed with modern architecture? Or of strolling along cobblestone alleys and colorful wooden houses in Damstredet, admire fjords from a canoe, or get up on the roof of a famous opera house? If you're in Oslo, there are a million things to do, from visiting monuments in Telthusbakken, to enjoying the city's animated, diverse nightlife and music festivals.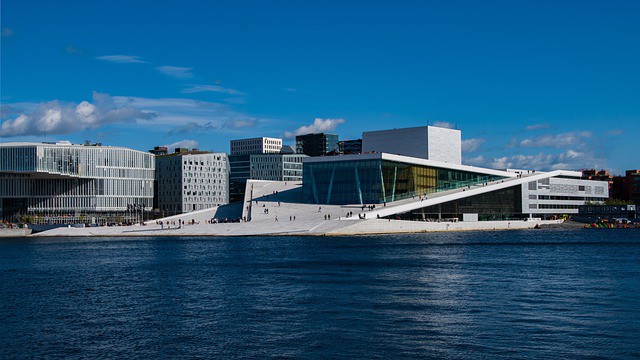 But Oslo is also a city for business, with a robust economy and a crucial location in Northern Europe. As the most vibrant economy in Norway, it is a major center for many companies and organizations, especially in the maritime business. It is also a city of diplomacy, with a number of important international conventions having been drafted or signed in Oslo. All these assets make it a perfect place for your conference, congress or business meeting, as it boasts all the infrastructure and venues you need to host your event and accommodate your international delegation.
At Chang-Castillo and Associates (CCA), we will ensure that you can communicate with your guests effortlessly, thanks to our teams of interpreters and translators. Our linguists provide the highest standard of service in the business, so you'll have no problem connecting with your Norwegian and international audience. We will make your multilingual event seamless and your experience in Oslo unforgettable and without any problems – or as Norwegians say, no owls in the moss!
Translation – 100% accuracy
For your ideas or your documentation to be understood by a multilingual audience, you will need them translated into various languages. That's where we come in: our translators are trained professionals, who will not only translate your words in another language but also for another cultural context. They only ever translate into their native language so that the final product sounds just as if it had been written directly in the target language. Every expression, nuance or technical term will be there.
To make sure the result is absolutely perfect, we have a three-step system that allows us to ensure top accuracy for your translation project. Three different professional translators take turns working on your document – one translates, one edits, and one proofreads it. This way, no mistake can get past us, and there will be no embarrassing misunderstanding, typo, or anything to get in the way of your words being perfectly understood.
Our translators are ready to take on any other aspect of your brand's online and offline country-specific and international presence:
Government and corporate communications and speeches
Marketing materials and brochures
Training or employee manuals
Technical data sheets
Etc.
Interpretation – highly-trained linguists
For your international event, you will need to create the best possible communication between you and your business partners, colleagues, or prospective clients. At CCA, we can provide you with interpretation services that will help you reach your intended audience. Our teams of interpreters are highly qualified and experienced; they are registered with recognized organizations, and abide by the interpreter's code of confidentiality and ethics.
They are not community interpreters – they are the best conference interpreters the market has to offer. They are used to not only conveying the gist of what various speakers are saying, but also interpreting all the nuances, tones, and details. Your brand will be represented by people who will speak your words as if they were theirs and are as committed to your message as you are. They are here to make the communication as smooth as possible, and as such, they are trained to respect cultural sensitivities – meaning no misunderstanding or awkwardness.
Whether you were brought to Oslo by a meeting, a convention, or an important conference, contact us to find out what the best solution is for your event – simultaneous or consecutive interpretation. We will make sure you find the service that is most adapted to your situation at a competitive price.
Rental interpretation equipment – peace of mind
Have you ever been to a conference or listened to a speech where it took ten minutes to get the mics to work, another ten to make sure every headset functioned, only to have the sound system gave up halfway through? We've all been there once, listening to someone half-shout their speech for people in the backrow to barely hear them. Now, imagine the impact on your brand's image, especially with teams of simultaneous interpreters… This is why you need an interpretation sound system that will not let you down, so that you and our interpreters are heard loud and clear, without a hitch.
To avoid unpleasant surprises during your event, we always recommend not relying on the sometimes faulty, antiquated, and ill-maintained equipment that comes with your venue. Because a fully functioning sound system is essential for your communication, we provide state of the art, impeccably-maintained rental interpretation equipment at competitive prices. If you need headsets (including for tours), mics, and/or soundproof booths, we will coordinate with your own team and provide a conference technician to ensure your event happens without a glitch.
RSI – flawless virtual meetings
With the development of worldwide communication networks and technologies, it is important, now more than ever, to be able to connect with people anywhere, even on the other side of the earth, when in-person meetings aren't always an option.
With CCA's Remote Simultaneous Interpretation (RSI) services, you will benefit from the expertise of highly-trained teams of interpreters from the comfort (and safety!) of your own home or office. We can accommodate meetings of any size and with any languages, and we can adapt to your favorite software. Just plan and organize your meeting and let our project managers and interpreters worry about the rest.
The highest standard in the language industry
CCA is co-owned and managed by experienced, professional translators and interpreters. It's by knowing the conditions required to deliver consistently irreproachable work that we are able to sustain such results. The language specialists we work with have been vetted – we have already worked with them and are certain they are excellent at their job. Our dedication to quality has earned us our reputation as the platinum standard of language services.
At Chang-Castillo and Associates (CCA), we provide the highest quality of service in the language industry for your translation and interpretation projects, because quality is always our #1 priority. We work all around the world, in Norwegian or in any other language you might need. We offer guidance with the help of our project managers, so that we can find the solution that best suits your company's needs, for optimal efficiency.
Contact us
Let us help you navigate the Scandinavian waters! For the platinum standard of language services, contact us online or give us a call at +1 (877) 708-0005.
We will be more than happy to help you ensure the success of all your translation projects and interpretation events.