Saint Petersburg, Russia Translation and Interpretation Services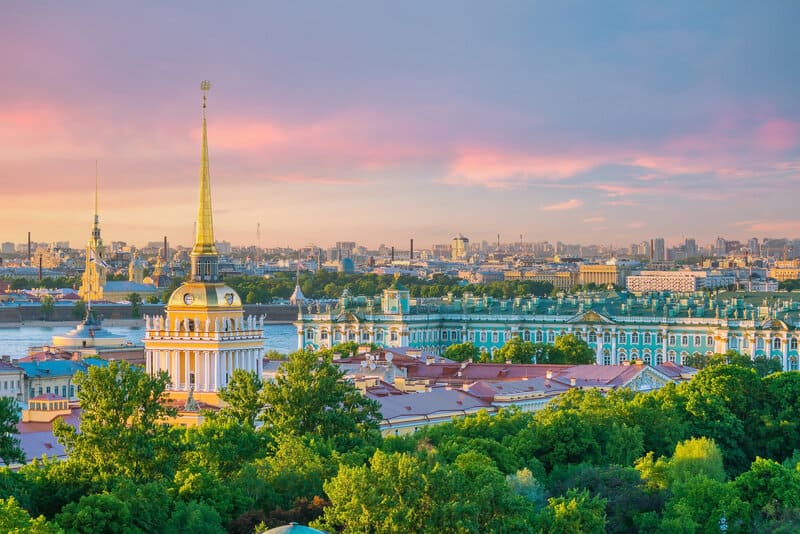 Given that Saint Petersburg was once the capital of the Empire of Russia for more than 200 years, it's no wonder that it is still known as Russia's cultural capital. As such it attracts millions of tourists every year, eager to soak in its rich history and culture.
And there is a lot of it to be found in Russia's second-most populous city. Starting with the famous gold-plated dome of Saint Isaac's Cathedral – which offers breathtaking views of the city from its observation deck – to the Hermitage, one of the largest art museums in the world, there is much for the eyes to feast on. Another must-see for visitors is the Church of the Savior on Spilled Blood. Hiding behind the strange name is an impressive church and museum that looks more like a fairy tale castle than a church, with its breathtaking colorful cupolas. From boat rides or Segway tours through the city to night walks and spectacular royal gardens, Saint Petersburg has much to offer and is thus a wonderful location to host a multilingual conference.
Russian Language Services
Russian is a language spoken in many parts of the world, not just Russia (and even in space aboard the International Space Stations). These days, almost 150 million people are native Russian speakers. And while all Russian speakers use the 33-letter Russian Cyrillic alphabet when spoken, variants depend on the region your target audience is from.
Russia's many different dialects and regions are some of the reasons why it's so important to select your translation and interpretation services with great care. There is so much more to language than just words and letters. When it comes to quality translations, cultural and regional nuances are extremely important.
Fortunately, Chang-Castillo and Associates (CCA) is well aware of this and excels at the art of translation and interpretation, including for all your Russian language needs. There is a reason why CCA is considered the platinum standard in global language solutions. We offer a range of language services, including:
…and much more.
The Best Russian Translation Services Available
Look no further than Chang-Castillo and Associates for the very best in written translation services. We provide written translations for a wide range of documents and products, including:
…and any document you may wish to translate.
To ensure your documents are translated without losing any of your meaning, CCA employs a strict three-step process. No fewer than three linguists work on your project during this process. The following three steps are applied to each document, and a highly qualified project manager oversees the entire process:
Translation – our expert linguist creates the first draft of the document.
Editing – a second linguist will apply corrections, check the grammar, style, and punctuation, and ensure the translation is 100% complete and accurate.
Proofreading – a third linguist will conduct a final check, resolve any last typos, and adjust any formatting issues.
Only when this third step has been taken, and the project manager is satisfied with the result, is the document considered ready for publication.
Work with Only the Best Russian Interpreters
CCA has always used native speakers for our professional interpretation services. This is because it's so easy for something to get lost in translation because language is more than just words and sounds –it's also culture and nuance. Only native speakers will correctly interpret the exact meaning.
That is why human translation or interpretation, be it in person or via Zoom or any other online platform is still superior to machine translations. So much is missed when you depend on machine-based services because a machine cannot pick up on cultural nuances as a native speaker can.
Additionally, when you use one of our highly qualified interpreters, you can rest assured that they will have been properly vetted and are truly at the top of their profession. In addition to adhering to a strict code of ethics, all of our interpreters have:
At least 5 years and 200+ days of conference-level interpreting experience, including in both simultaneous and consecutive interpretation;
A graduate-level degree in conference interpretation; and
Accreditation with organizations such as the United Nations, the EU, the US Department of State, and/or membership in associations like AIIC and TAALS.
When choosing CCA, you can be confident that you're receiving only the best, that nothing will be misinterpreted, and that your message will be relayed exactly as you wished.
Also, keep in mind that any speech from a recording or video can be transcribed into written words, then translated into Russian or another language, and added as subtitles to your video.
High-Quality Equipment Rental
Finding a skilled interpreter is only half the battle when hosting an in-person conference. Another important factor in ensuring your conferences go off without a hitch is to have the proper equipment. Many venues will be happy to provide their own equipment, which may be convenient – however, you can never be sure that the equipment the hosting venue has to offer is high-standard or even functioning.
To avoid a disaster due to malfunctioning equipment, ask CCA how to make sure you get the best equipment for your event.
At CCA, we have a high-quality equipment package available to rent, which includes:
Microphones
Headsets
Interpreter consoles
Soundproof interpretation booths
On-site technical support
Allow CCA to assist you at your next conference, whether in Saint Petersburg, Moscow, or anywhere else in Russia and the world, and give you the peace of mind you deserve. That way, you can focus on what is truly important: your message.
Contact us online or by phone at +1 (877) 708-0005 for a free quote.
At CCA, quality is our #1 priority.