Zurich, Switzerland Translation and Interpretation Services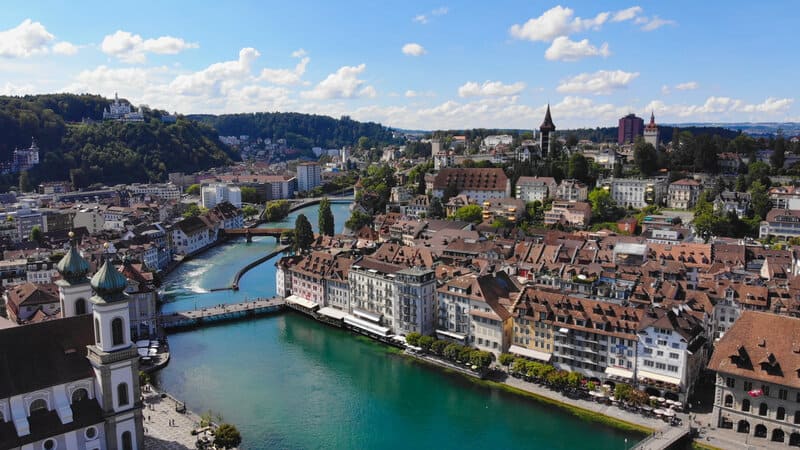 Switzerland is one of the most unique countries in Europe, not just for its history but also because it has a total of four national languages. Depending on where in the country you are, you will find people speaking German, French, Italian, or Romansh.
Zurich, Switzerland's largest city, is located in the German-speaking part of the country, about 140 miles (225 km) from Geneva. Like Switzerland itself, it is a distinctive place to visit.
From the cobblestone streets in Zurich's old town to the colorful buildings and the lovely Limmat River, there is just one word to sum up Zurich: beautiful. Even though Zurich is a metropolis, it has a distinctive small-town feel. And yet, there is no shortage of activities for all your international guests.
Its most famous landmark, the Grossmünster cathedral, is just one of many must-visit locations, with the famous historical Lindenhof plaza not far behind. And of course, no visit to Switzerland would be complete without a trip to one of the confectionery shops for some authentic Swiss chocolate!
If you want to host your next multilingual event in Zurich, rest assured that Chang-Castillo and Associates (CCA) stands ready to assist you with all your German translation needs. Our specialists will help you connect with your audience, not only in German but also in other languages. With our expertise, you can rest assured that none of your meaning ever gets lost in translation again.
 The platinum standard of language services
Just getting started on your multilingual event? Not sure exactly what is needed? No problem. Chang-Castillo and Associates is proud to provide translation and interpretation language services in Switzerland and worldwide. One of our expert project managers will ensure that all of your requirements are met and nothing is left to chance.
CCA is co-owned and managed by experienced translators and interpreters, so language for us is not just a business. It's in our blood. We are eager to share our passion with the world, one translation at a time, and it extends far beyond the company founders. All of our translators and interpreters are wholeheartedly dedicated to their profession, and all are native speakers of the target language to ensure the highest standard. This means you get the finest in the translation and interpretation world.
For CCA, quality is always the #1 priority, and that is why we are considered the platinum standard in our industry.
Only the Best for Your Multilingual Events
Our expert interpretation teams are made up of professional conference interpreters who meet the highest quality standards in their business. All of our interpreters must abide by our profession's code of confidentiality and ethics. In addition, before any conference interpreter starts working with us and our clients, they must hold at least two of the following credentials:
MA or PhD in Conference Interpretation from a recognized interpretation school;
Membership in professional interpreter associations such as AIIC (International Association of Conference Interpreters) or TAALS (The American Association of Language Specialists), which is only available via a peer-review process;
At least five years of conference interpreting experience and proof of 200 days of simultaneous or consecutive conference interpretation level work;
Accreditation or certification with one or more of the following institutions:
United Nations
Federal Government of Canada (Conference level)
European Union (Directorate-General for Interpretation, SCIC)
US Department of State (Conference level)
NAATI Level 5, Conference Senior Interpreter (Australia)
Once they fulfill these requirements, our interpreters are ready to convey your message as clearly as if you had spoken in the target language yourself. With native speakers who are highly professional, you can be sure that nuances will not be missed, the goal is conveyed, and your words will be interpreted as intended.
Top Quality Equipment
Whether you're looking to host an event in Switzerland, Europe, or elsewhere globally, many locations will offer equipment of their own to use for your conferences. While this is a nice thing to offer, one can never be sure of the quality of such equipment.
The last thing you want during your conference is to suffer a technology breakdown. With CCA, you do not have to worry about something embarrassing like a malfunctioning microphone because our impeccably maintained rental equipment is not just perfectly functional. It comes with a technician to tend to any unforeseen problems.
Among the equipment we offer are headsets, mics, and UN-style soundproof booths. In addition, our rental equipment will make sure your event is pitch-perfect and unfolds seamlessly.
In these uncertain times, physical meetings may not always be possible. However, you can still take advantage of our Remote Simultaneous Interpretation (RSI) services to host your multilingual event on Zoom or any other platform.
Only the Best in Written Translation
Accuracy and professionalism are not only requirements for oral communication. They are just as important when it comes to written communication as well. For example, when you hand in content to be translated, you want to be sure that the result will be publication-ready, error-free, and with the message intact just as you intended it.
CCA's language specialists are professional translators who can guarantee professional, flawless translations that read as though originally written in the target language. How do we do this?
By following a three-step process. Three individual translators translate, edit, and proofread your document. These translators only translate into their native language, which means every single specific word, nuance or expression will be flawlessly rendered. CCA's translations are available for any document you wish, including:
Contact us
If you are ready to embark on your translation or interpretation project, contact us online or give us a call at +1 (877) 708-0005. We will show you why CCA's the right choice for your translation project or interpretation event in Zurich, Geneva or anywhere in the world.