Geneva Translation and Interpretation Services
It could be said that Geneva, Switzerland is a business, financial, and diplomatic capital of the world, so odds are your business dealings there will require the assistance of a platinum-standard language services provider. Located only 3 hours from Paris by train, this cosmopolitan Swiss city houses the United Nations and is the hub for the International Red Cross, as well as other international organizations. Because of its neutral yet global positioning, Geneva is viewed as an ideal location for global organizations and high-level meetings.
It is interesting to note that as a result of Switzerland's location within Europe, this Alpine nation has three official languages – French, Italian, and German. Even if you're not traveling there for a UN summit or other multinational convention or event, the basic art of doing business in and around Geneva is enhanced by a professional team of simultaneous interpreters and translators.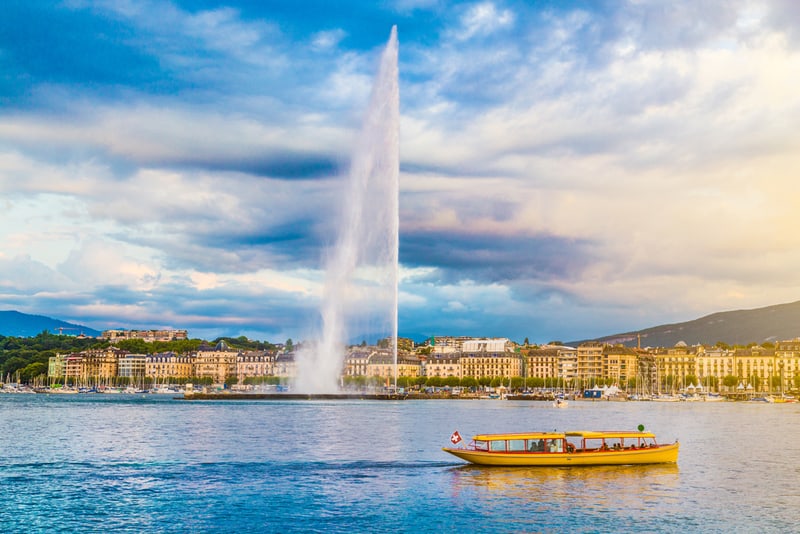 Chang-Castillo and Associates was founded by linguists with strong ties to the United Nations family of organizations. All our conference interpreters and translators are highly qualified with similar affiliations to both the UN and/or other globally-recognized associations such as AIIC (The International Association of Conference Interpreters), TAALS (The American Association of Language Specialists), European Ministries of Foreign Affairs, and the US Department of State.
Don't let your company's reputation or message depend on a weak link. Contact Chang-Castillo and Associates (CCA) by getting in touch with us directly online or call us at +1 (877) 708-0005. While we work with the highest caliber of translators and interpreters, our pricing is very competitive, especially when you take advantage of our language solutions packages. We look forward to working with you at your next Geneva-based event.
Work with translators who truly care about your final products
Unfortunately, much of the world's translation work is completed by individuals who care more about the bottom line than the quality of their work. Here at CCA, quality and professionalism always come first. Our team of professional translators provides top-notch translations of:
Government documents
Presentations
Marketing brochures
Brochures
Scripts and transcripts
Technical manuals
Training materials
Corporate communications
Website content
Our translators are passionate about what they do, and it shows in the quality of their work. More importantly, they are committed to serving the needs of our clients. And, more often than not, the quality of our work transitions into a lifetime working relationship because our clients know they can trust us to work efficiently, impeccably and accurately – every time, with every project. CCA can also provide rush scheduling needed.
A professional translator's job is to take your company's message and convey it in a way that preserves the individuality and essence of your brand, within a relevant construct of the target language, culture, politics, pop culture, and business etiquette. This last part cannot be emphasized enough.
Direct translations from your language into your target audience's is never a word-for-word exchange. Rather, our native-speaking translators translate the message and make sure the resulting words connect with the target audience in a way that resonates best with them – without any awkwardness or unintentional offense. This process takes place using a three-step protocol that includes translation, proofing, and editing, overseen by our highly-experienced project managers, ensuring that the resulting translations fit perfectly with your message.
Please contact us online to discuss your upcoming projects and to obtain a quote, or if you prefer, give us a call at +1 (877) 708-0005. Don't forget to ask about our language services packages, which can save you tremendously from start to finish!
In Geneva, simultaneous interpretation teams make or break your event
The global business market has never been more competitive. That means the success of your multinational – and multilingual – events hinges completely on your conference interpreters' ability to convey your intended information accurately, in real time, and with the same level of feeling, tone, and nuance as it was delivered. It's also important that the interpreters are familiar with your industry to ensure the translations will resonate at the professional, as well as the personal, levels.
That's exactly what we guarantee when you work with the conference interpreters from CCA. Simply put, our interpreters are the best of the best. They are highly experienced and are as comfortable working at large events in simultaneous interpretation teams as they are providing consecutive interpretation services for smaller, more intimate scenarios.
In either case, your CCA interpreter will have:
A graduate degree in conference interpretation from an accredited university;
Over 5 years (and at least 200 days) of conference-level simultaneous and consecutive interpreting work;
Certification or accreditation with one or more of the most highly-respected industry organizations such as the United Nations, the US Department of State, AIIC, TAALS, SCIC, etc;
A profound passion for, and dedication to, their work.
We guarantee that your global business relationships will flourish when you trust CCA's interpreters to assist your team. Contact us online or by phone at +1 (877) 708-0005 to learn more about our interpretation services.
Take advantage of 21st century teleconferencing and equipment rentals
Huge innovations in linguistic technology mean you can sit face to face and voice to voice with your global associates, prospects and/or clients – even though you're continents apart. CCA's innovative teleconference interpretation platform means you can see, hear, speak and understand multilingual clients, complete with the presentation software of your choice.
Our translators and interpreters are happy to stand by as needed, and both our teleconferencing and other equipment rentals (UN-style, soundproof booths, interpreter consoles headsets/mics, receivers/transmitters, portable headsets/receivers for tours, etc.), are accompanied by technical professionals who ensure your audience never misses a single syllable of your presentation or training module – and vice versa.
With Chang-Castillo and Associates, you'll have the opportunity to work with the platinum standard of language services providers. We'll ensure you have the most talented and dedicated translators and conference interpreters available to you – whether you're in Geneva, at home or anywhere else on the planet. Your language of choice is our language of choice – anytime you need us.