Warsaw, Poland Translation and Interpretation Services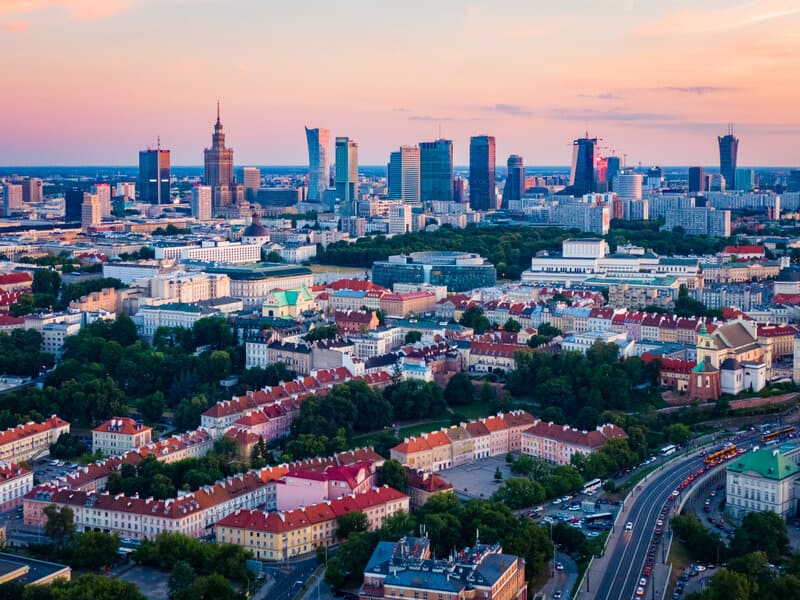 When selecting a prime location for your next event, there are many beautiful places in the heart of Eastern Europe to choose from. But one that stands out amongst the rest is Warsaw, Poland. As a city that has repeatedly withstood war and invasion, Warsaw is known as "the invincible city". There are so many amazing historical sites to see, with a particular abundance of activities to entertain your international delegations between events; examples include a visit to the Wedel Chocolate Factory or the Palace of Culture and Science. 
Warsaw is truly unique because it offers experiences that you cannot get anywhere else. Famed for its endemic, lush greenery, there are numerous floral gardens that are open to the public. It's a breeze to get around between this capital city's famous cultural sites using its numerous transportation options. Travelers can fly internationally via the Warsaw Chopin international airport and enjoy the city's particularly large public transportation system. 
No matter how ideal your event's location may be, however, one thing that can make or break your event's success is the ability to communicate effectively. The last thing you want is an unsuccessful event due to language barriers. And that is exactly where Chang-Castillo and Associates (CCA) can help. What matters most to us is providing our clients, their partners, and their audience access to clear communication.  
Chang-Castillo and Associates is honored to offer all the language skills you could need as the paradigm of interpretation and translation services – whether your event takes place in Warsaw, Poland, or anywhere else. 
We offer the highest quality interpretation and translation services. Our team of experts: 
After choosing Chang-Castillo and Associates services, a project manager will be assigned to make sure everything goes according to plan. As the platinum standard of language service providers, our goal is to provide a perfect experience for our clients, their partners, and their target audience.  
There are a variety of scenarios in which Chang-Castillo and Associates can assist you with. Some of the scenarios that we can help you with include the following: 
Scenario #1: do you need written documents translated into different languages?
Some documents that we can help you with include:
and all aspects of your company's online/offline domestic and international presence.  
For every translation service that we offer, professional translators work only into their native language. With Chang-Castillo and Associates, your source material's original message will not be lost. We account for cultural nuances and flourishes with our fluent and accurate translations process. 
Our rigorous three-step process is applied to all our translated content, and it is meant to ensure the final product's readability and accuracy. By undergoing translation, editing, and finally proofreading, we can guarantee the highest level of accuracy. Your document will be reviewed by three language experts to ensure that even the smallest error will not go unnoticed. The result: a clean, polished translated document that is free of typos, mistakes, and grammatical errors. 
Scenario #2: do you need interpreters for your international/multilingual event?
CCA can provide

 

professional rental equipment

 

for your in-person event. Especially when it comes to professional interpretation, equipment of one size does not necessarily fit all. Why get stuck with the inadequate equipment your venue may provide? On the contrary, when CCA offers such affordable pricing on their 

rental equipment

, you do not have to worry about being embarrassed by technological glitches. From soundproof interpretation booths to professional-grade headsets and mics, CCA has the selection you need. 

 

CCA offers 

both 

simultaneous

 and 

consecutive

 interpretation

 for any event. Teams of well-trained interpreters with the 

appropriate accents

 ensure that your event goes exactly as planned, 

no matter the location

. Whether it is on an online platform such as 

Zoom

, or at an in-person venue, Chang-Castillo and Associates can be there and ready to interpret your event.

 
Get started on your next language project
Never hesitate to reach out to us for more information. Contact Chang-Castillo and Associates online or call us at +1 (877) 708-0005 and discover why we have earned the reputation of being the platinum standard of the language industry!  
CCA's founders – interpreters and translators themselves –  are as passionate about their work as they are about its quality. Embarrassing mishaps due to language barriers will be no more. You can rest assured that your message is safe in our hands.  
At CCA, quotes are always free and quality is always our #1 priority.