Little Rock, Arkansas Translation and Interpretation Services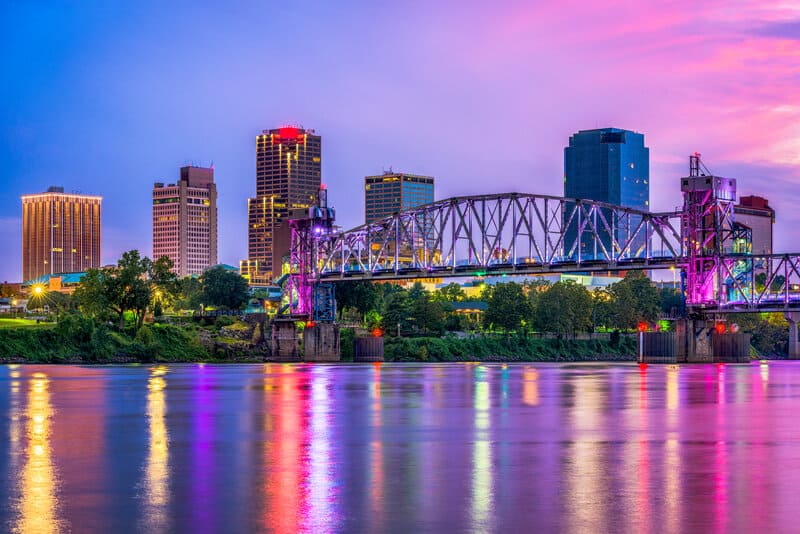 If you plan to host your next international conference in the Central United States, Little Rock, Arkansas, is worth exploring.
Arkansas's state capital – also known as 'The Rock' – offers a great many activities and entertainment options for your guests. Little Rock is a true hub of entertainment, culture, and natural beauty. So whether your clients like nature walks, bike rides, visits to museums, or the theatre – Little Rock offers it all.
Take, for example, the beautifully scenic Riverwalk. It stretches for 11 blocks and encompasses 33 acres. Contained within this park are several sights that will keep your conference attendees interested, among them: the Little Rock Civil War Marker, the Clinton Presidential Park Bridge, and the Historical Pavilion. For something a little different, a trip to the award-winning Rock Town Distillery might be of interest. If your attendees want to stretch their legs after a long conference day, they may enjoy a trip across the Big Dam Bridge. The country's largest pedestrian and bicycle bridge provide access to more than 20 miles of picturesque landscapes and paths to walk or bike along.
Whether you choose Little Rock or any other city in the USA or abroad, rest assured that our talented interpreters and translators at Chang-Castillo and Associates (CCA) stand ready to assist you. 
Conference Interpretation Services Equal to None
When you work with our highly-trained interpreters and translators, you can rest assured that your original message will not get lost in translation.
What makes CCA unique is not only the fact that our company was founded and is still run by translators who have the passion for language in their blood; it's also our translators and interpreters themselves. All are native speakers of the target language who understand the importance of accents and cultural nuances, which are easily missed when using non-native speakers or computer-generated translation services. 
Our 

conference interpreters

 are not community interpreters; they hold graduate degrees from top-of-the-line universities and colleges around the world. 

 

They possess the best 

education and training

 necessary to work in 

consecutive

 and 

simultaneous

 modes at the highest levels. 

 

All our 

interpreters and translators

 adhere to our strict 

code of ethics

 and understand the etiquette and the need for confidentiality.

 

Our interpreters have at least 200 hours of conference interpretation experience.

 

They are members of top translator and interpreter associations such as AIIC and TAALS.
Best-quality Interpretation Rental Equipment 
When hosting a conference, there is almost nothing worse than finding that the equipment offered by your venue is subpar. Outdated or faulty equipment can lead to embarrassing mishaps or even total collapse of your ability to host your conference. With CCA in your corner, you don't have to worry about this. We offer impeccably maintained equipment and guarantee that you will have the best quality and the most reliable rental equipment, along with top-notch interpreters.
Unsure of the type of equipment you need? We offer:
Soundproof interpretation booths;

 

FM and IR (infrared) transmitters and receivers;

 

Portable microphones and headsets for speeches, tours, demos, and training; and

 

Full audiovisual support with one of our dedicated technicians to ensure glitch-free sound for both our clients and our interpreters.
Remote Simultaneous Interpretation for Your Remote Conferencing
In these uncertain times, it is sometimes impossible to hold your conference in person. If this is the case and you have to conduct your conference via Zoom or any other online service, Chang-Castillo and Associates can help!
Consider using CCA's RSI (Remote Simultaneous Interpretation) services. With this package, you can make sure that your remote conferences go off without a hitch. Just let us know your target languages and the date of your meeting, and we will handle the rest. With our RSI service, you can connect with as many clients as you need, anywhere you want, and in as many languages as you require.
The Platinum Standard of the Translation Industry 
A dedicated Project Manager oversees your translation project from beginning to end and follows our tried-and-true three-step process to ensure your documents read and flow just as you intended. We never use machine translation. All our written translation services are provided by a minimum of three linguists per project:
The First Draft

 – A linguist translates the document with great care and precision.

 

The Editing Step

 – A second linguist ensures the accuracy of the translation.

 

The Proofreading Stage

 – A third linguist checks for typos, punctuation errors, or formatting issues.
By following this process, we can provide our clients with the peace of mind that their projects are in good hands. We care about your documents as much as you do, and we will always strive to provide platinum-level standards to our clients. We provide translation services for a great many different projects. Among them:
Get a free quote today!
Choosing to use the services of Chang-Castillo and Associates means choosing the platinum standard of the translation and interpretation industry. With CCA by your side, you can be assured that language barriers will never stand in your way again. In us, you have a trusted partner who is as passionate about your projects as you are.
For more information or to get started on your next project, please don't hesitate to reach out! You can contact Chang-Castillo and Associates online or call us at:
+1 (877) 708-0005