Dubai, United Arab Emirates Translation and Interpretation Services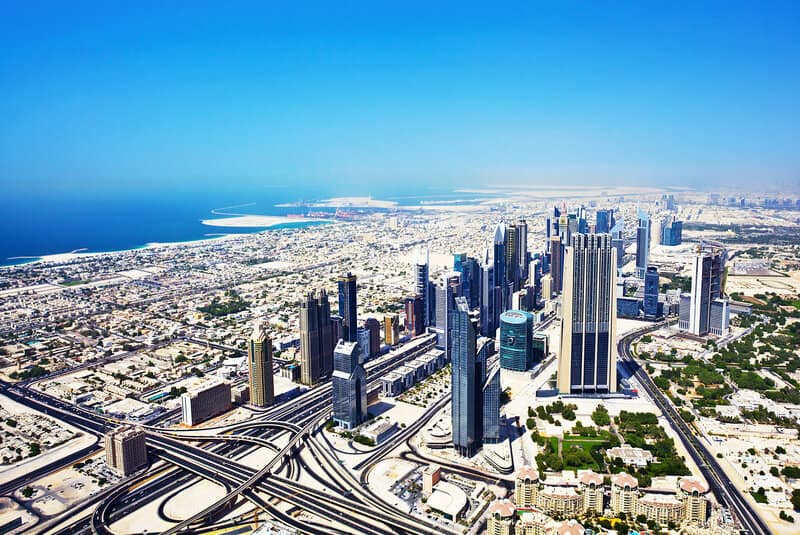 It might be hard to believe that Dubai, the most populous city in the United Arab Emirates (UAE), was once just a sleepy fishing village founded in the 18th century. The reminders of its past can be found all around the city, such as the Al Fahidi Fort, Dubai's oldest building, dating to 1787, which now houses the Dubai Museum.
The gorgeous beaches, rich culture, and vibrant atmosphere combined with breathtaking architecture make Dubai a must-visit destination and a central location for an international, multilingual conference. After all, who doesn't want to say they've traveled up to the observation deck of the planet's tallest building, the Burj Khalifa?
Your clients will surely be impressed by all Dubai has to offer. And Chang-Castillo and Associates will be right there, assisting you with our platinum standard translation and interpretation services, available in Arabic as well as any other language you might need.
If you have never employed the services of a language specialist before, you might not know what we do or how such a service can be beneficial for you. Allow us to walk you through two scenarios that might help you see what CCA can offer.
Scenario One:
You Need Accurate Documents in Multiple Languages
Say you have important training documentation that you need to get translated for clients. You could use one of the many online services to get a translation. However, these machine translations are often inaccurate, and the message's meaning can easily get lost. Using human translation is important to make the most of your hard work so that it reaches the client's ears and eyes exactly the way you intended.
At CCA, each translation project is handled by several experts to ensure your document is publication-ready:
A Project Manager will be your liaison and provide quality assurance during the translation process, answering any questions you might have.
A Translator will conduct the initial translation of your document.
An Editor will be in charge of correcting and improving the translation.
A Proofreader will finalize the document to ensure it is error-free and perfectly formatted.
We always use native speakers of the target language to ensure that none of your documents lose their intended meaning. Only native speakers can pick up every nuance and understand cultural aspects to ensure your message doesn't get lost in translation.
We offer translation services for a wide range of documents, including but not limited to:
Or any other document you may need to have translated.
In this evermore connected world, many companies have offices worldwide. To ensure that everyone is on the same page, new employees must be trained in the same way, with the same information. That's where CCA can help you.
We will ensure that the translation of your training documents:
Are accurate: Our translators will make sure your workers understand even the most intricate technical aspects of their job, ensuring their productivity and safety.
Cover your legal bases: Employment-based documentation and training material must be meticulous when it comes to legalities. With your trusted partners at CCA, your company will never suffer a legal faux pas based on poor communication or misunderstandings.
Show correct terminology and key phrases: To be true to your company's style and tone, we will mke sure any jargon you use is translated in a way that keeps the personality of your company alive and conveys your style to the trainees.
In addition, if your training includes visual or video-based aspects, we can also help by subtitling your training videos.
Need more personalized training for a small group of employees? No problem. CCA also offers both simultaneous and consecutive interpretation for your training sessions.
Scenario 2:
You Are Hosting an International Conference or Meeting
These days, many companies rely on meetings via Zoom or other online platforms. Not just because of the recent changes in our world due to the coronavirus, but also because when a company and its clients are spread worldwide, getting everyone together online is simpler.
Whether hosting a multilingual training session, staff meeting or international conference, CCA has many years of experience using Remote Simultaneous Interpretation. With RSI, you can converse with an executive in Hong Kong, a colleague in Switzerland, and a client in France without having to worry that anything will be lost in translation.
That's because our dedicated team of interpreters are as passionate about your message as you are. Our interpreters have the best training and credentials in the business. Their qualifications include:
M.A. or Ph.D. in Conference Interpretation from a recognized interpretation school;
Membership in AIIC (International Association of Conference Interpreters);
Membership in TAALS (The American Association of Language Specialists);
At least five years of conference interpreting experience and proof of at least 200 days of simultaneous or consecutive conference interpretation level work;
Accreditation or certification with one or more of the following: the US State Department the UN, the EU, NAATI Level 5 (Australia), and the Federal Government of Canada.
CCA's founders – interpreters and translators themselves – are dedicated to bridging the language barriers between us, one project at a time! You can rest assured that your message is safe in our hands.
To discover why we have earned the reputation of being the platinum standard of the language industry, please contact Chang-Castillo and Associates online or call us at +1 (877) 708-0005.
At CCA, quotes are always free, and quality is our #1 priority.