Texas Translation and Interpretation Services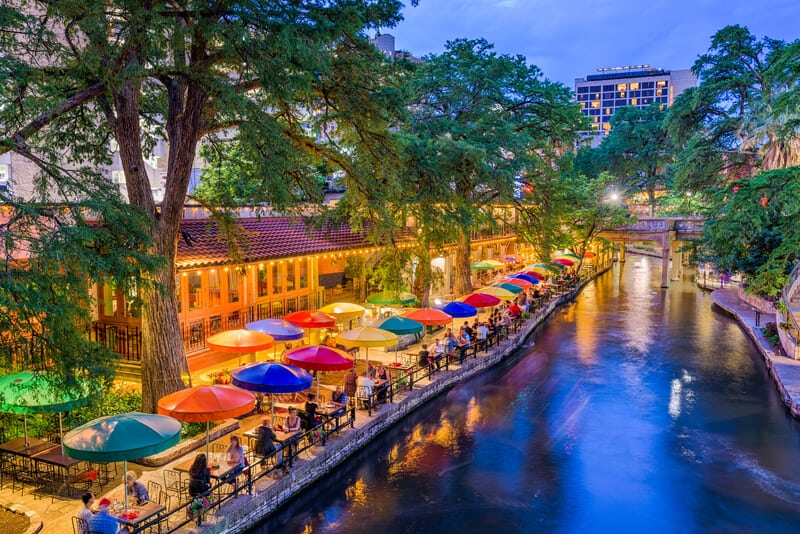 In addition to being one of the most culturally rich and historic colonial towns in the Southwest, San Antonio is now considered one of the most compelling cities to live in the United States. Its historic and contemporary juxtapositions – the Alamo and the home of the San Antonio Spurs, host of one of the nation's largest and oldest rodeos, and the iconic, trendy river walk – all are part of what makes San Antonio, TX, a desirable place to host your next largescale event. Due to its proximity to Mexico – Latin America's gateway to the US – companies conducting business in San Antonio have a greater-than-average need for qualified, experienced Spanish interpreters and translators.
We also provide language service solutions in Austin, Dallas, Houston, Irving, Grapevine, and additional south Texas cities and towns, including El Paso, Big Bend, and Marfa. Located on or near major border crossings, these areas have unique Spanish interpretation and translation needs requiring the assistance of outstanding language services providers.
Whether you need proficient linguists to facilitate an upcoming event in San Antonio and the surrounding area, or you require specialized Spanish or indigenous language services to facilitate diplomatic or legal proceedings, we have you covered. Recent US immigration policies resulting in an incredible number of immigrant detainees have created a language services crisis, including in Texas. But when you work with Chang-Castillo and Associates, you partner with sensitive interpreters and translators who can serve the full range of Spanish variants and beyond.
We provide a full-spectrum language services menu, including:
Together, we'll make sure your message is conveyed accurately and sensitively to facilitate positive outcomes. Contact Chang-Castillo and Associates online or by phone at +1 (877) 708-0005 to begin discussing the services you require.
Exceptional scenarios require exceptional language services
It's important to understand that the typical courtroom or community interpreter does not have the same high levels of education, training, and experience as the language service providers here at CCA.
Simultaneous and consecutive interpreters with unrivaled qualifications
Our simultaneous and consecutive interpreters have impeccable credentials, including graduate-level degrees in linguistic programs, memberships with renowned agencies such as the UN and the European Union, and hundreds of hours (5 years or more) of conference experience. When you work with CCA, you're guaranteed a team of interpreters who unanimously abide by our industry's code of ethics.
If you're looking for a professional interpreter, review our post, What Qualifications Should I Look for in an Interpreter or Translator, and use it as a guideline as you conduct interviews.
Translators with a fail-safe protocol for 100% accuracy
In addition to their credentials, the translation team at CCA works through a three-tier protocol that ensures 100% accuracy with any document you entrust with us. Whether you need travel brochures or marketing materials to corporate communications or legal documents ready for the courtroom, we apply the same, focused attention and expertise.
By the time we hand your project back, it will have been read, translated, edited, and proofread by three sets of trained eyes, and the entirety of the process is overseen by one of our dedicated project managers.
Subtitling and transcription expands your video market
Will your presentation or training include the use of video materials? Professional subtitling and transcription services offer a way to capitalize on your initial investment exponentially. Our translators and interpreters provide subtitles and transcripts for voiceovers, so your videos are transferable across countless languages.
Interpreting equipment that never leaves you in the lurch
If you're attending a large summit or conference requiring simultaneous interpretation services, you are at the mercy of the interpreting equipment offered by the venue. We recommend renting your interpreting equipment from a bona fide language services provider to ensure it is modern, well-maintained, and that the rental package includes the support of a dedicated conference technician.
The onsite A/V technician immediately addresses any potential hiccup, glitch, or shadow of interference, so you and your target audience benefit from an unfettered stream of communication. Not sure what type of equipment you need or when? That's no problem. Our team will review your itinerary and your goals, and make sure you have exactly what you need when you need it, so you can relax and get down to business.
Teleconferencing supports communication to and from San Antonio and the rest of the world
We routinely use teleconference services to provide a personalized approach to long-distance conversations. This is especially beneficial for companies who are unable to tackle the expensive travel expenses – and cost-of-living differentials – between the U.S. and many Latin American countries. Our innovative platform can sync with your presentation software of choice, and our interpreters are available to support your team's communication goals.
There are multiple reasons Chang-Castillo and Associates has earned the reputation as our industry's platinum standard in language service solutions. We work with the best linguists in the world and are prepared to provide services in San Antonio, its surrounding areas, and anywhere else around the globe. We prioritize native-speaking linguists to ensure accuracy of word, tone, and cultural nuance.
Contact CCA online, or give us a call at +1 (877) 708-0005, to learn more about how we can be of service to you in San Antonio, El Paso, or anywhere else your business or political interests may find you.