Washington State Translation and Interpretation Services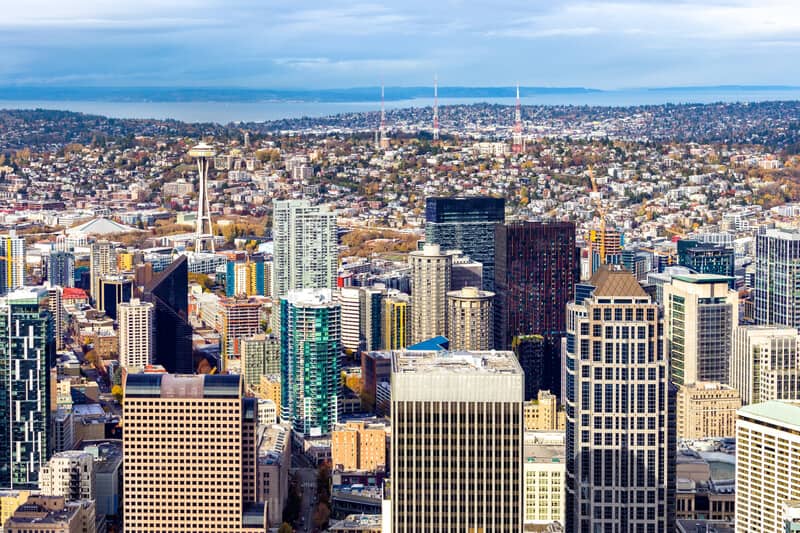 In addition to being the home state for some of the Northwest's largest metropolitan areas, including Seattle, Olympia, Spokane, and the Tri-city region, Washington State is also considered a front-line for the nation's immigration crisis. Washington's corporations, organizations, and NGOs require the highest-quality language services providers ensuring their brand – or their client – is accurately represented via spoken and written communication.
Chang-Castillo and Associates (CCA) has provided platinum-standard language service solutions to Washington State for over two decades. Our simultaneous interpreters and professional translators have education, training, and years of experience serving some of the most powerful people on the planet. These include clients from government agencies, international organizations, and Fortune 500 companies, many of which were founded or are headquartered in WA State, like Boeing, Microsoft, Amazon, Starbucks, Costc, REI, Eddy Bauer, Nordstrom, Alaska Airlines, and Zillow.
Our linguists have impeccable credentials, including graduate degrees from elite university-level interpretation programs and academies, and hold memberships and/or current certifications with prestigious professional organizations like the International Association of Conference Interpreters (AIIC), and The American Association of Language Specialists (TAALS).
We'd love to learn more about your company or firm, and its need for professional language services. Whether your brand is located in Washington State, or you find yourself here for business (or pleasure), our team is ready to streamline all of your foreign language communication needs.
Give us a call at +1 (877) 708-0005 to learn more about how Chang-Castillo and Associates can enhance your brand's local, national, and international presence.
Work with a language services provider with niche experience
Our linguists have exceptional credentials and rare, niche interpreting experience that goes beyond the traditional. These tailored language services allow your company to put your very best face – and communication – forward when working with multinational clients around the world.
The team of linguists working at CCA offer all of the standard language services, including:
Subtitling, transcription, and audio/video voiceovers
Audio and video marketing are essential in this digital age when everyone is connected via gadgets, screens, social media platforms, and their headphones. Leverage your marketing investments using subtitling and transcription services.
Our experienced language services providers will create transcripts and subtitles that allow a single video or recording work exponentially across the language spectrum. We also have interpreters with professional television and voiceover experience. That optimizes your media tools, allowing you to benefit from spot-on accents and immaculate spoken interpretations that resonate deeply with your target audience.
Native-speaking interpreters in legal, medical, geopolitical, and unique niche industries
When you need interpreters to represent you in sensitive or high-profile professional arenas, you need 100% assurance their work will be accurate, ethical, and diplomatic.
Our interpreters and translators have years of experience in multiple niche industries. We're ready to serve you in a range of settings, including:
Is it time to find a new language service provider for your Washington business?
Is your company on the hunt for the right language services provider? We recommend reading What to Look for in a Language Services Provider, which can support you as you consult with and interview prospective options.
Chang-Castillo and Associates have achieved a high-level of recognition from an impressive roster of interpreters, including professionals with extensive experience working for G8/G20 events, the European Union, the United Nations, the Olympic Games, and high-ranking state, national, and international officials.
In addition to having extensive education, training, and experience those clients demand, our interpreters and translators work closely with our clients to assimilate with their team of representatives. Our goal is to integrate as seamlessly as possible into your brand – including your culture and tone. We faithfully observe the professional linguist's code of ethics, which helps your company shine above your competitors.
Please get in touch with us here at Chang-Castillo and Associates to learn more about our services and why we're considered the platinum-standard language service providers in Seattle, Tacoma, Spokane, the Tri-Cities, and elsewhere around the globe.