Des Moines, Iowa Translation and Interpretation Services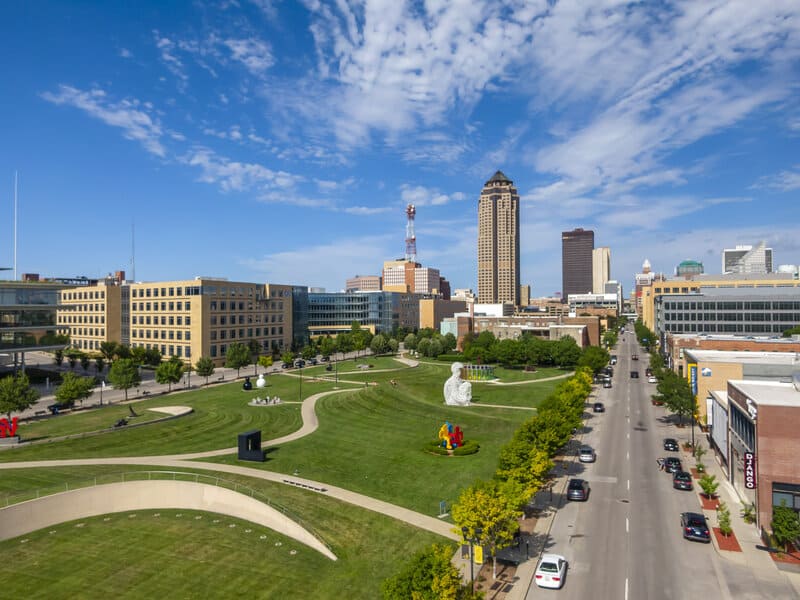 If you're looking to host your next event in the American Midwest, you might have already looked into Des Moines, Iowa. While the city is known as The Hartford of the West because of its many insurance companies, it actually offers so much more than just that. If you are still undecided where to hold your multilingual event, keep Des Moines in mind. From breathtaking architecture to delicious foods and tranquil nature paths, this metropolis will certainly be everything but boring to your guests.
The Principal Riverwalk leads through downtown Des Moines, a perfect tranquil walk for your participants to unwind on after a long day of international gatherings. The trail ends at the Women of Achievement Bridge to the north, which in itself is a marvel of modern architecture. The Robert D. Ray Asian Gardens – a collection of waterfalls, unique gardens, and a pavilion – is just north of the bridge. Des Moines is also home to the Greater Des Moines Botanical Garden, the Simon Estes Amphitheater, and the unique Long Look Garden – a stately cascading garden with views of the river. 
As always, no matter where you hold your international event or multilingual conference, Chang-Castillo and Associates (CCA) can provide you with the best interpretation and translation services.
Flawless Translations
The city of Des Moines is named after the Des Moines River, and that name, in turn, may have come about from mistranslations between words in Algonquian (an American indigenous language), French, and finally English in the last few centuries. However, when you work with Chang-Castillo and Associates, you'll only find the best in written translation services, without having to worry about faulty results.
Our translators are not only professionals but are also native speakers who can provide translations that take cultural nuances into account, which non-native speakers can miss. This is an important factor in providing accuracy, effective communication, and fluency and it is unique to us.
So how we can provide such accurate and effective services? The answer is simple. We rely on a tried-and-tested process that is made up of three steps.
Step 1.

 A professional 

linguist 

provides a translation of the original wording.

 

Step 2.

 A second expert translator will edit the document.

 

Step 3.

 A third linguist then reviews the document and checks it for errors as well as accuracy, also ensuring a smooth translation.
These services are available for a wide range of documents; among them are the following: 
Highest Quality Interpretation Services
CCA is proud to provide an expertly trained team of conference interpreters as well as top-of-the-line equipment. Together we will make sure your events proceed without any hiccups or hold-ups for a flawless experience.
Our conference interpreters are not community interpreters. They are professionals who are able to speak your chosen language fluently, as well as in the correct accent, which is always specifically selected for the audience you have in mind. 
Aside from consecutive interpretation, CCA also offers simultaneous interpretation for in-person as well as virtual events. In these rapidly changing times, the knowledge that meetings can still take place without meeting physically provides our clients with great peace of mind. 
To make sure your meeting is a success, we provide not only expert interpreters but also  
high-quality equipment.
If your meeting takes place in person, then CCA can assist you with 

professional interpretation equipment

. Some venues may offer these, but often the equipment available is outdated or not in good condition. Our packages include soundproof booths, microphones, and headsets.
Leaders In the Language Industry
We take great pride in providing our clients with platinum standard service. This stems from the fact that our company, Chang-Castillo and Associates, was established and is still managed by translators and interpreters. As such, we strive to provide the very best results for our clients. At CCA, language is not only our occupation – it's our passion.
We set out to surpass industry standards and are confident in the product and service we offer. Our tried-and-true system of attaching well-trained, professional project managers to every one of our projects has served us well over the years. It has enabled us to become the premier provider of language services, a status we aim to maintain and further cement.
With CCA, you can be assured that our project managers and highly trained interpreters are hand-selected and at the top of their game. As a result, they offer the highest quality and consistency. They strictly adhere to a code of ethics and confidentiality which further gives our clients confidence and peace of mind. Their goal, and ours, is to provide you the smoothest and most professional experience. 
Allow CCA to Help You with Your Next Language Project 
Once you experience the high-quality work we provide, we are certain that you will understand how we have earned the reputation of setting the platinum standard in the language and interpretation industry.  
Our founders are interpreters and translators themselves, and with their help and that of our team, you will never find yourself facing a language barrier again. With CCA in your corner, you can be sure that you have a partner that is as passionate and dedicated as you are – and that your project is in safe hands.
Now that you have a better idea of the services we provide, we hope you will not hesitate to reach out for more information. You can contact us online or by phone at +1 (877) 708-0005.
At CCA, quotes are always free, and quality is always our #1 priority.