The Roots and History of Simultaneous Interpretation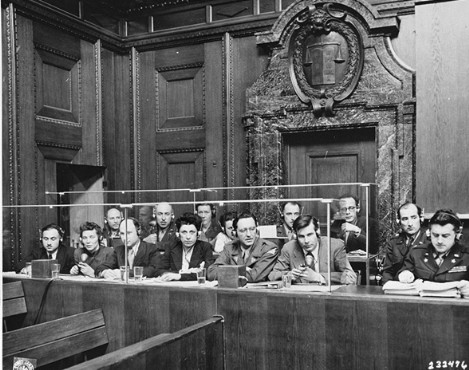 Anytime you turn on CNN or an international broadcasting network televising global summits or political delegations, you'll notice a group of serious, diligent individuals performing simultaneous interpreting services in soundproof booths in and around the perimeter, and heads of state with a headset or earpiece listening intently to the information they are getting. It seems so commonplace it's taken for granted and yet, simultaneous interpreting is a rather recent application and the result of the Nuremberg trials – and one man's vision.
The man was Col. Leon Dostert, a French national who became a United States citizen. A foreign language expert in the U.S. Army during World War II, he became General Eisenhower's personal interpreter. At that time, any spoken words requiring interpretation were dependent on the services of consecutive interpreters, who relayed their clients' words two or three sentences at a time. While this was fine for casual conversation and the occasional trade negotiations between small groups, it was increasingly laborious as modern technology and international politics began to shrink the globe. Of course, simultaneous interpreting existed before WWII as chuchotage, the French word for "whisper interpretation", but obviously no equipment was available.
Simultaneous interpreters owe a thank you to IBM
By the time 1945 and the end of WWII came around, the Allies were assembling the International Military Tribunal. Their explicit instructions were to conduct fair and expeditious trials of accused Nazi war criminals. The "expeditious" goal would have been impossible using consecutive interpreting services. Col. Dostert was convinced there was a way to use microphones and headsets to listen, interpret, and deliver accurate, multilingual dialogue, in real time, to speed up the trial.
As a French-English interpreter, Dostert knew IBM had already developed a system, called Filene-Finlay equipment, used successfully by the League of Nations in Geneva during the 1930s and throughout the war. Dostert implored IBM to refine the technology and manufacture more, enhanced equipment that could be used for the International Military Tribunal. They complied.
As a result, on November 20, 1945, Lord Justice (Judge) Lawrence opened the Nuremberg Trials, and the world marveled at the astute professional linguists providing simultaneous interpretation ("real-time translation", if you will) from and into English, French, Russian and German, making word-perfect sense of the cacophony of languages spoken in the room that day – and for the ensuing 11 months. It truly was a linguistic miracle of sorts. From that day forward, the UN, the EU, and governments and corporations from all over the world have incorporated simultaneous interpreting into their routine meetings, conferences, and operations.
It's interesting to note that experienced linguists estimate the Nuremberg trials, which took place from November 20, 1945 through October 1, 1946, would have taken at least four times as long without the use of simultaneous interpretation!
Training on the fly
Today, simultaneous interpreters spend thousands of hours studying, learning and practicing in order to become adept in the field, and there are many schools, some better than others, offering training. For example, the professional conference interpreters here at Chang-Castillo and Associates (CCA) have at least five years and/or proof of 200 hours of conference interpreting experience before they are hired. However, back in 1945-1946, the first simultaneous interpreters working in Nuremberg did not have that luxury. In her well-researched eBook, The Origins of Simultaneous Interpretation: The Nuremberg Trials,  published by the University of Ottawa Press, linguist Francesca Gaiba writes:
"The interpreters selected to work in the courtroom were given training sessions in the form of mock trials…The training program usually lasted from two weeks to one or two months, but exceptionally people were put in the courtroom with only a few days training (especially later during the trial when the pressure became higher)."
Although this is difficult to imagine, we have to remember that most of the consecutive interpreters hired for this work were already exceptionally trained and highly experienced since – up to that point – their go-to mode of interpretation was the only professional mode of interpretation in global politics and international relations.
The interpreters have incredible stories to tell
The International Association of Conference Interpreters (AIIC, or Association international des interprètes de conference in French) has compiled an incredible amount of historical facts and personal accounts from professional interpreters who worked during the Nuremberg trials, and who had their first "go" at simultaneous interpreting.
Some of our favorite descriptions come via these archives, in the words of lifetime interpreter, Patricia Vander Elst (formerly Patricia Jordan), whose first interpreting assignment was the Nuremberg Trials. Here are a few compelling quotes that help to connect us to what the experience was like:
"I went into it with the innocent enthusiasm of my 21 years… I left: ten years older, a great deal wiser, and, indeed, an interpreter.
By today's sophisticated technical standards, the booths and the equipment were primitive. We sat in three-sided glass boxes open at the top. Because of the tight fit, it was impossible to leave the booths except during breaks… The earphones were clumsy things and each booth of three interpreters had to share one hand-held microphone."
Compare that with the types of interpreting equipment offered today!
"The system broke down quite frequently and the sound could be bad, but we learned to improvise… One of the things we learnt to do fast and well was sight-reading. By the time I got to Nuremberg, it was usual for untranslated prepared speeches to be given to us in writing, which was enormously helpful."
A nice reminder to always share your materials with your interpreting team beforehand, along with your glossaries and style guides, which allows them to thoroughly prepare for the assignment.
"Living amidst a sullen native population, in a town that was just a heap of rubble, was stressful, as indeed was the never-ending recital of horrors in the Court Room. I learnt to ignore the first and overcame the strain in Court by concentrating on the work itself. I was greatly helped in this by the remarkable team spirit among the interpreters."
The information interpreters facilitate in serious situations, and the speed at which they're required to instantaneously interpret and relay the spoken word is incredibly straining. That's why we always recommend hiring a team of interpreters, which prevents fatigue and ensures impeccable and accurate interpretations.
While the history of simultaneous interpretation is directly connected to one of the world's most ghastly trials, it's also true that the advent of simultaneous interpreting services was inevitable. Communication and travel technology have created an ever-shrinking world and the reality is that interpreting services ultimately bring people together as they work to find common ground.
Want to learn more about the history of simultaneous interpreting services? Visit the AIIC website and follow their posts chronicling the history of the profession.
Looking to build common ground with international business associates? Contact the interpreting team at Chang-Castillo and Associates. Our unrivaled experience and our reputation as the industry's platinum-standard of interpreting has allowed us to work for the UN, the Olympics, international organizations, and multiple other global and political summits.
Related posts