Salt Lake City Translation and Interpretation Services
Historically, Salt Lake City, Utah was known for agriculture and mining industries. In the 21st century, Salt Lake City boasts a thriving tourist industry and is considered the government, commercial, and industrial center of Utah. The "Crossroads of the West" is also known for its stunning mountainscapes, the infamous Great Salt Lake, and some of the most phenomenal skiing in the United States (in a list of the top ski resorts in the U.S., USA Today gave the #4 spot to Alta-Snowbird). Those attributes are an appealing draw to international business professionals and VIPs, all of whom benefit from exceptional language service providers.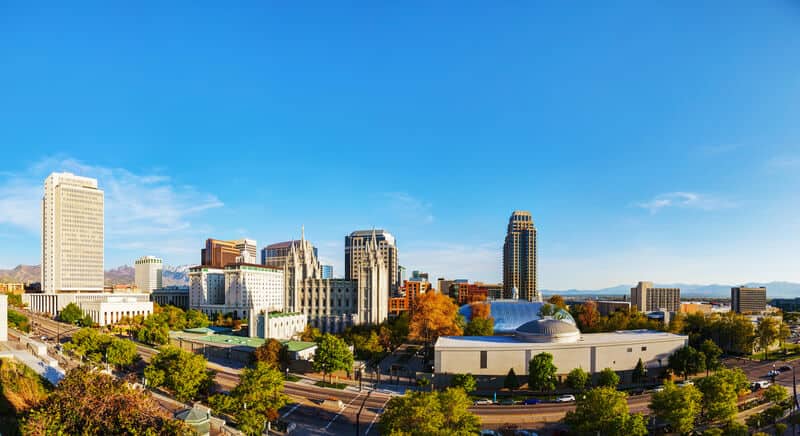 Chang-Castillo and Associates are considered the platinum standard in language solutions, and our simultaneous interpreters and professional translators are available to help your company host, facilitate, and promote your Salt Lake City-based events.
Communication between professionals from other countries and cultures always benefits from the assistance of experienced linguists. We ensure every word that is printed or spoken is 100% accurate and conveyed with the same energy and expression with which it originated. This gives your team a more "authentic" voice and prevents any miscommunication that could negatively impact your brand's global image or reputation.
Whether you're hosting an event or training at the Hilton Salt Lake City Center, or will conduct your business on the slopes at Alta or Snowbird, our professional linguists will feel like an extension of your team, facilitating seamless communication that always casts your company and brand in a positive light. Contact the Chang-Castillo and Associates (CCA) team at + 1 877 708-0005 to learn more about our services and to obtain an estimate for your upcoming events.
Professional document translation in Salt Lake City and abroad
Hiring professional document translators shouldn't feel like a gamble; you should be able to pass on your company's translated documents with complete peace of mind, knowing that every word lands exactly as intended for your target audience. This is only possible when you work with translators who have relevant and fluid knowledge of both the language and your industry, and who are as committed to accuracy as you are.
CCA's translators go above and beyond the average translation service providers to ensure each of your projects, whether they be a casual marketing brochure or mail promotion or highly-sensitive government documents, are word-perfect. This requires an impeccable quality assurance program consisting of three separate rounds of translation, editing, and proofreading, plus the final proofs. The result is finished, formatted documents you can trust.
If it can be printed, we can translate it, including:
Corporate communications
Government documentation
Marketing presentations
Training and technical manuals
Subtitling and transcription services make your videos multilingual
Want to see your originally-scripted video content become instantaneously multilingual? Our subtitling and transcription services allow a single video to become exponentially useful with the simple selection of your preferred target language. In addition to a notable ROI, these videos provide the opportunity to market your services in a more personal and engaging way.
Conference interpreters who understand both language and culture
Culture is enigmatic. While most people consider "culture" as a particular dress code, ethnic cuisine, and folk music or dance, professional interpreters understand that culture is also embedded in the way we emote (or don't) using facial expressions, hand gestures, or even the slightest dismissive nod (or was that meant as modest encouragement?).
This fundamental understanding of culture – as well as language – is what sets CCA's simultaneous and consecutive interpreters apart from the rest. We make sure that each gesture, facial expression, and vocal inflection is accurately conveyed between both parties, with respect to their language and culture. This brings a level of accuracy and engagement that is impossible to achieve without exceptional innate ability and professional training. That's why all of CCA's interpreters boast:
Graduate-level degrees from the world's finest accredited linguistic programs;
Proof of at least 200 hours or five years of professional conference interpreting experience;
Peer-reviewed membership with leading industry organizations, including AIIC and TAALS;
Accreditation or certification with renowned institutions such as the United Nations, the US Department of State, and the European Union;
A passion for ensuring our clients' messages are always conveyed as accurately and as conscientiously as possible.
Are you interested in working with interpreters who have your 100% trust and confidence? Get in touch with CCA's interpreters at + 1 877 708-0005 to discuss your upcoming events. We'll pair you with native speaking, industry-familiar interpreters who will get to work reviewing your company's style guides and glossaries so they feel like a natural extension of your team.
Interpreting rental equipment you can count on
Conference interpreters are only as good as their equipment, which is why it's worth it to engage the use of interpreting rental equipment specifically designated for your event. While venue equipment is rarely maintained or managed by professional interpreters, CCA has modern, well-maintained equipment that will never let you down.
From soundproof booths and interpreter consoles to headsets, mics, and portable units used for tours and hands-on demos, your interpreting rental equipment will always perform exactly as intended, no fear or interference, static or technical glitches. To this end, all of our interpreting rental equipment contracts include a dedicated conference technician for complete A/V support.
Continue the conversation with teleconferencing
Teleconference equipment is another helpful tool for connecting and engaging more deeply with international prospects, colleagues, and partners. Teleconferences ensure you can have "face-to-face" engagement with others, regardless of travel budgets, convoluted calendars, or cross-continental distances.
Our highly qualified interpreters and technicians will meet you at your location of choice, where our innovative telephonic platform can be paired with your presentation software of choice. There's no need to stop the conversation when your professional Salt Lake City event has come to an end.
The professional linguists at Chang-Castillo and Associates look forward to demonstrating why we're considered the platinum standard in the industry. Give us a call at +1 877 708-0005 or contact us online to learn more about our services or to get started planning the language service solutions that will serve you best in Salt Lake City.