Oklahoma City Translation and Interpretation Services
Oklahoma City, OK is fortunate to have organizations such as the Center for International Trade & Development and the Oklahoma Department of Commerce's Global Team to facilitate local companies' international development and growth. Once your company's nailed down its global business strategies, international compliance, and the fundamental nuts and bolts of branching out in the global market, it makes sense to partner with experienced simultaneous interpreters, consecutive interpreters and professional translators who can continue developing a strong brand presence in your desired counties and locations.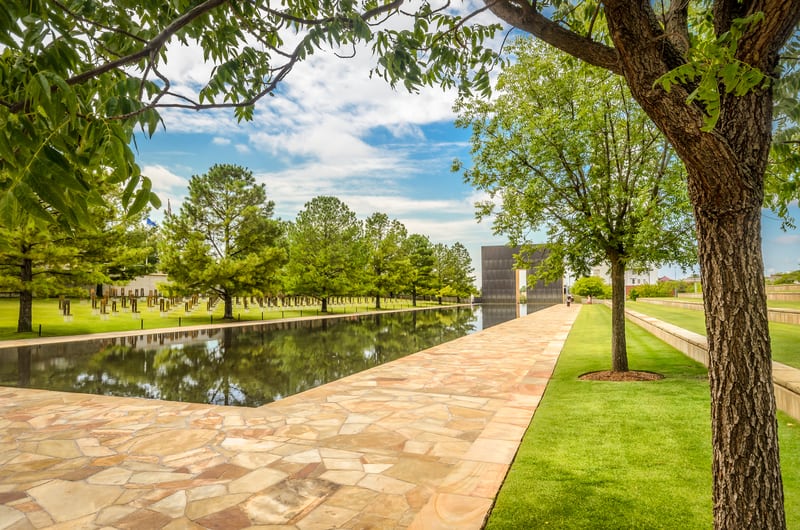 Chang-Castillo and Associates (CCA) has established a platinum-standard reputation in the field of international language solutions. Our professional linguists are known for becoming fluid extensions of our clients' teams, so the most intuitive and subtle aspects of your brand are communicated – and translated – across the boundaries of language and culture. Whether you're just starting to develop an international presence or want to optimize it once established, qualified and conscientious linguists are integral to your plan.
CCA's teams of interpreters and translators are here to support your efforts when you're hosting or attending an international event in Oklahoma City or would like to engage more intimately with global prospects, clients or partners. We're prepared to serve as your multilingual wordsmiths and verbal representatives.
Our simultaneous interpreters can meet you in the conference rooms at the OC Convention & Visitors Bureau, the tradeshow hall at the Renaissance OC Convention Center or at any other venue. Smaller demonstrations, tours, or social engagements often benefit from consecutive interpreting services. Our translation team produces impeccable documents to support your efforts, and our interpreting rental equipment and teleconferencing services are also available throughout your event.
Contact Chang-Castillo and Associates to learn more about our language services solutions!
Work with the world's most qualified interpreters
A penchant for languages is certainly important, but the best professional interpreters have equally impressive résumés.
In addition to being native speakers of your target language audience (key to creating instantaneous familiarity and affinity), CCA's interpreters have:
Graduate degrees from some of the world's most sought-after linguist programs;
Proof of at least 200 hours and/or five years of conference interpretation experience;
Accreditation or certification from institutions such as the UN, European Union, Federal Government of Canada, U.S. Department of State, and so on;
Peer-reviewed acceptance and memberships with revered industry organizations, including TAALS and AIIC.
Finally, your trusted interpreters should have as strong a passion and instinct for people as they do for languages, so you know your company's heart and soul are being as accurately conveyed to your target audience as the spoken verbiage.
Read What Qualifications Should I Look For in a Translator or Interpreter, and use it as a guideline when searching for your company's best fit.
While you're at it, contact Chang-Castillo and Associates online, or give us a call at +1 (877) 708-0005, so we can review your event's objectives and provide a competitive and transparent estimate for our incomparable interpreting services.
Rent the right interpretation equipment for a perfect event
Even the most professional conference and large event venues don't always understand exactly what equipment is required for clear and fluid interpreting experience. As a result, you could find yourself left in the lurch when venue-reserved interpreting rental equipment fails to meet your expectations or – worse – completely malfunctions.
Instead, contact CCA and speak with one of our highly experienced project managers. We'll review your objectives and let you know exactly what you'll need for each event in your itinerary. In addition to the UN-style equipment used for simultaneous interpreting services (soundproof booth, interpreter console, receivers/emitters), we also provide equipment to support smaller or more intimate tours or demonstrations such as portable headsets and microphones.
Our interpreting rental equipment is modern, high-quality, and meticulously maintained, and it comes with a professional conference and A/V technician so you can remain completely focused on your clients.
The benefits of teleconferencing
Digital communication is appealing, but nothing is as personal as voice-to-voice and face-to-face interactions. If you have a target client unable to fly to Oklahoma City, or you'd like to continue the OC conversations after the event has wrapped up, language-supported teleconferencing services is a remarkable brand development tool.
It removes travel budgets or tight schedules from the equation, allowing you and your prospects to enjoy more personalized communication from the comfort of your home offices, board rooms or conference spaces. Our innovative telephonic platform is compatible with the presentation software of your choice. As with our rental equipment, this service is automatically paired with an A/V technician to keep things running smoothly. You can also enlist the support of our translators or interpreters as needed.
Accurate translations solidify impeccable brand reputations
In a casual conversation or heartfelt presentation, a small word glitch or awkward phrasing may be overlooked because feeling and emotion are communicated via body language. In print, you don't have that benefit of the doubt. Instead, graphics, images, and black-and-white text must "speak" professionally for themselves. This is why you must select your professional translators with care.
Accuracy and culturally relevant idioms or wording must be used by native speakers so there isn't a hint of awkwardness. Your translations should never give off any sign that they were obviously translated by well-meaning, but non-native, speakers, or worse – computers. At CCA, our translation team uses a well-choreographed process, requiring three full rounds of translation, proofreading, editing, and more translation as needed. A dedicated project manager keeps clients informed every step of the way, and helps the team adapt your contextual references to honor your target audience's cultural constructs.
We're happy to translate anything in print, in virtually any language spoken on the planet, including:
Marketing materials and brochures
Corporate communications
Speeches and transcripts
Presentation or demo scripts
Technical and training manuals
Government documents
Go the extra mile with subtitling and transcription services
Does your company use video content as part of its marketing, instructional, presentation, or demonstration offerings? If so, we recommend taking advantage of professional subtitling and transcription services. With this one service, video content yields an exponential ROI, because the same video can be used over and over again via accurate language subtitling or voiceovers for multinational audiences.
Interested in learning about our multifaceted professional translation and interpretation services? Contact Chang-Castillo and Associates; we're always happy to offer bundled language services package to keep your costs down. We can meet with you in Oklahoma or your home base as you prepare for your upcoming Oklahoma City events. Let us show you why we're considered the platinum standard in our industry! We feel confident we'll be your language services partners for life.