Lima Translation and Interpretation Services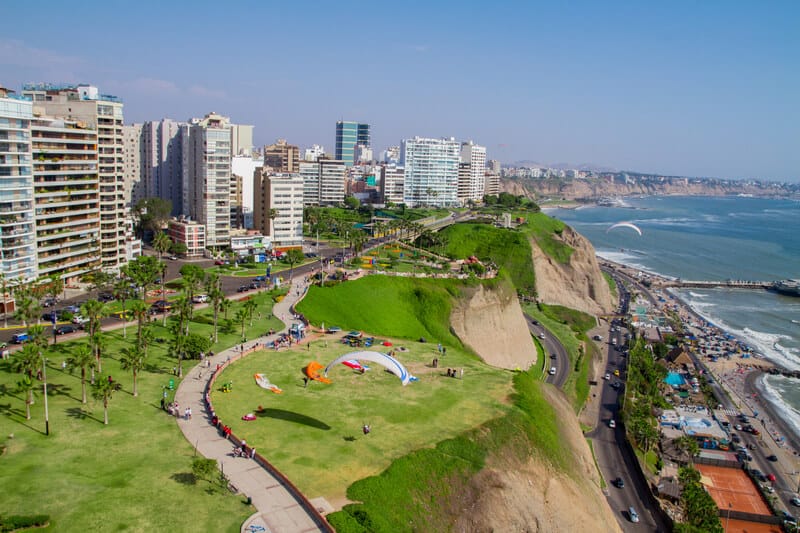 Lima, Peru is an incredible city, filled with history, culture, and beauty galore. It's called The City of Kings, and is the gateway to the Royal Road – the path to the ancient Incan city of Machu Picchu. Lima is also a unique location in Latin America because, while Spanish is the most common language spoken there, the Peruvian government has identified and honored a range of native languages. Quechua is the most common of these indigenous languages, followed by Aymara, but your business travels will expose you to variations in regional accents and Spanish words and phrases that are heavily influenced by the native languages of Peru. As a result, your company should seek out qualified and experienced language service providers who have native-Peruvian Spanish interpretation and translation experience.
Chang-Castillo and Associates (CCA) offers the highest-level simultaneous interpretation and translation services in Lima and the surrounding area. Our team of linguists is dedicated to the pursuit of language accuracy, authenticity, and the honoring of indigenous languages and cultures. We'll work closely with your team in Lima to ensure everyone in your target audiences are included, and that your company, organization, or corporate brand communications are conveyed fluidly and accurately – preserving their original intention and energy.
We provide a range of professional language service solutions, including:
Contact CCA ( +1 877-708-0005) to learn more about our services and to obtain an estimate for our services. We offer bundled language services packages to offer more competitive pricing, and we're happy to tailor our services to better represent your needs in Lima. We look forward to helping your brand stand out from your competitors.
What to look for when hiring a language services provider in Lima
The quality of your interpreters and translators is essential to your success at professional events in Lima. As with any professional service, there is a range of quality, and you need the highest-quality team of linguists on your side. That's the only way you can be confident your message (and theirs) is being conveyed accurately and authentically – and with respect to the region's cultural norms.
First and foremost, it's important to note that there is a big difference between community interpreters, who work in courtrooms, schools, and medical facilities, and conference interpreters, who serve more professional and influential clients such as government agencies, international organizations, and Fortune 500 companies. Read The Difference Between Community Interpreters and Conference Interpreters, to learn more about why conference interpreters are the only way to go when professionalism and industry expertise are essential.
We also recommend visiting our post, What Qualifications Should I Look for in a Translator or Interpreter?, for further guidance. In the meantime, the following bullet points are a good start.
Things to look for on your Lima Interpreter and Translator Checklist include:
Academic qualifications. The interpreters here at CCA have graduate degrees in linguistic programs from accredited colleges and universities around the globe.
Working knowledge and experience. You want to see proof of 200 hours or five years of conference experience from your interpreters. As to professional translators, they should have sample documents or materials, as well as a list of references from industry professionals working in similar capacities as your company and brand. Résumés depicting working experience in the realm of international arbitration or executive briefing centers are proof of a linguist's credentials as well.
Memberships with industry-recognized organizations or agencies. Look for insignia or verbiage on websites or personal résumés that show they hold current memberships with esteemed organizations or agencies. Examples include TAALS, AIIC, the United Nations, The European Union, The U.S. Department of State, etc.
A professional process. There should be a definable, professional process involved in their practice. For example, experienced translators should be able to share a multi-tiered protocol in terms of translating, proofreading, editing, and formatting that leads to impeccable results. Interpreters should want to learn as much as possible about your work and your organization, asking to read inside materials, developing glossaries and style guides, and getting relevant documents to blend seamlessly into your niche's terminology and phraseology.
Obvious respect for dress code and business etiquette. Sure, your consecutive interpreter is welcome to dress down as per your request for a golf match or casual dinner event, but they should always observe the interpreter's code of ethics, confidentiality, professional dress, language, manners, and etiquette.
The team here at Chang-Castillo and Services has earned a reputation as the platinum standard in our industry. We are passionate about languages and cultures, but we're equally as passionate about using our talents and services to create long-term partnerships with our international clients. Contact us online or call us at +1 (877) 708-0005 to learn more about how our language service solutions will optimize your presence in Lima, Peru, and elsewhere on the planet. We look forward to being of service.