French and Spanish: Languages of International Business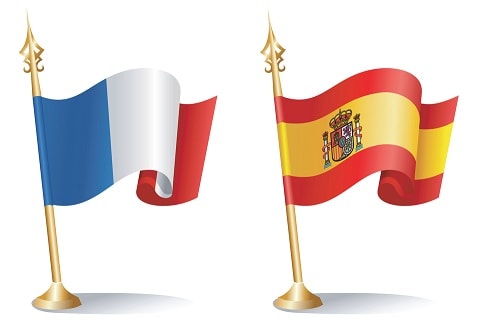 With so many languages in the world to learn, and the accelerating rise of China as a global economic superpower, why are French and Spanish still so very important in the world of business? Certainly, French has been overtaken by Chinese, Arabic, or Russian? Hasn't Spanish gone the way of the Spanish Armada? While globalization is creating new economic powerhouses as new markets open worldwide, Spanish and French endure precisely because of the indelible and powerful footprint laid down by Spain and France in the past. These countries left an ongoing and strong legacy that persists to this day and makes expertise in these two languages a necessity for any business that wants to reach a burgeoning customer base around the globe.
Spanish Speakers
are
Here
to Stay
Today, Spanish is spoken by 37.6 million people in the United States and predictions are that the Latino population will reach nearly 128.8 million here by 2060! Spanish also remains the official language in 21 countries! It is an official language in the UN and is listened to by Portuguese speakers in lieu of English. Certainly Spanish is not a language to be taken for granted. The purchasing power of this burgeoning market will reach into the trillions of dollars as their population continues to grow.
Latin American Markets Open
Foreign investment is also pouring into Latin America at record levels, recently Pepsico announced its plan to invest $5 billion dollars in Mexico over the next five years. And, it's not only sweet soft drinks that are spreading south of the border but investment in the plentiful raw materials of Latin America. China, Japan and the EU are investing heavily in the oil of Venezuela, the silver and copper of Peru, and the gold and timber of Chile. As Latin American countries continue to stabilize and become less enmeshed in drug cartel violence or odious government corruption, this investment is bound to increase. Spanish is the language that business will require as businesses compete to invest in Latin American countries and to sell their products into increasingly sophisticated and affluent populations.
The UK Wants to Speak Spanish
The British Council, the international organization in the UK for educational opportunities and cultural relations, recently ranked Spanish as the number one most desirable language for English speakers to learn based on the needs of UK business including trade. The EU is investing in Latin American economies at a bracing clip. Certainly, there has never been a better time for business people to learn Spanish.
French and the Chinese in Africa
Even as Spanish rises on the world stage, French is not to be left out. French is spoken by Chinese businessmen opening markets in French-speaking African countries. Right now, Chinese corporations are making huge inroads into African countries developing resources and building infrastructure. Since French is the official language in so many African countries including Algeria, a country that is heavily invested in by the Chinese, anyone expecting to do business there needs the language. In fact, French is spoken in 30 of the 54 countries in Africa and in half of its ten fastest growing economies.  
Worldwide French is the official language of 29 countries, and additionally as an official language of the UN — French can be listened to by Romanian and Italian speakers instead of English. French is the official or preferred language of many international organizations since France is one of the four largest industrial economies in the world and the second largest agricultural producer.
The United States Cannot Forg
et French
The United States is also heavily involved in the French-speaking economy since we export to more countries having French as their national language than any other foreign language. There is a relationship of mutual beneficence between France and the United States that is evident in the simple fact that the US invests more in France than it does any other country and France invests more in the United States than it does in any other country. Also, many popular American brands are actually made by French companies! These companies include: Bell Labs/Lucent Technologies (Alcatel), BF Goodrich Tires (Michelin) and Seagram's (Pernod Ricard), Sheaffer Pen Company (BIC), as well as Vivendi Universal, a French company, that owns a 20% share in NBC Universal the parent company of such well known brands as Universal Pictures and the Sci-Fi channel. Certainly, going forward Americans need to continue to learn French, not only for the gateway it provides to some of the world's best poetry and scintillating travel destinations but for the daily communication and complexity of commerce, for business.
Related posts