Budapest, Hungary Translation and Interpretation Services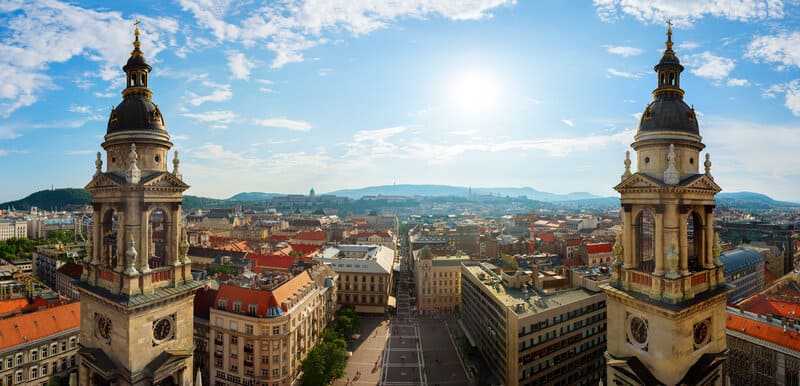 Over the past few years, Eastern Europe has emerged as an up-and-coming destination not just for tourism but for business and cultural events as well. And for a good reason: Eastern Europe has much to offer historically, culturally, and of course, gastronomically. This is especially true in Budapest.
Hungary's capital and largest city is a true marvel. Located on the banks of the River Danube, the city is full of history and culture spanning the last two millennia – from its early Celtic roots to Roman rule, to the unification of the cities of Buda, Óbuda, and Pest into what is today known as Budapest. One spot your guests cannot miss, with its fairy-tale-like aesthetic, is the impressive Fisherman's Bastion. Located on the Buda bank of the Danube, visitors can scale the ornate turrets and take in spectacular views of the city. Secret tip: Budapest's oldest and most famous patisserie, Ruszwurm Confectionery, is just a stone's throw away.
For a quick yet breathtaking activity that is both historical and architecturally impressive, a stroll across the Chain Bridge is a must. This magnificent suspension bridge arches over the River Danube and connects Buda to Pest. For a special treat, visit it at night, when the bridge is brightly lit.
Whether you're hosting your event in Budapest or anywhere else in the world, with Chang-Castillo and Associates at your side, you know you have a language partner you can trust – worldwide.
Professional Translation Services in Budapest and around the globe
There is a good reason why CCA is considered the platinum standard when it comes to translation and interpretation services. Our reputation allows us professional, trustworthy connections with interpreters and translators around the globe. For you, our client, this means that you can rest assured that your language needs will always be met.
All of our trusted translators are native speakers of your chosen language. This way, we can make sure that nothing is ever lost in translation. Through our reliable and rigorous three-step process (translation, editing, and proofreading, all done by a separate linguist), all the content you entrust into our hands will be publication-ready. It will be 100% accurate in the target language(s), while also maintaining cultural relevance for the audience – and all of this without losing your unique tone and personality.
At CCA, we can translate any document or content you wish, including:
Contact CCA to learn more about our translation services, and don't forget to ask about our package offerings, which ensure you receive top-notch translation and other language solutions at a competitive price.
Professional Conference Interpretation Services
When it comes to accurate interpretations, getting the words right is only half the battle. As anyone who's ever had to rely on a translation app can attest, there's much more to interpreting than just word-for-word translations. And for that, there's nothing better than hiring a professional team of interpreters who can get not just the right words, but the spirit and meaning behind them – and with the right accent.
Language isn't just a job to our interpreters – it's a passion. A passion they gladly share with our clients to ensure that language gaps and communication barriers do not hold up your progress and success. CCA can assist with all of it, whether you wish to organize a large conference, host a small, intimate dinner over Hungarian specialties at Gundel restaurant in Budapest's city center, or meet via Zoom.
CCA's conference interpreters have graduate degrees and hundreds of hours of conference interpretation experience behind them. They're affiliated with the industry's most notable organizations, including the UN and the European Union. They hold current membership with professional interpreter associations such as TAALS or AIIC – memberships that are only available via a peer-review process.
Work with CCA and see what it's like to have professional interpreters by your side who truly love languages.
Professional Interpreting Equipment
Naturally, having the best interpreters on hand for your event is important. But what is just as important is having the right equipment to make sure these interpreters' work doesn't get lost due to technical malfunctions.
When hosting an event that requires simultaneous interpretation services, you might find that many venues offer their own interpretation equipment. While that's a nice offer, often, this equipment is outdated or it does not meet the standard required to provide the desired result.
With CCA, you can rest assured that such a disaster will not occur at your conference. By renting CCA's interpretation equipment, you can focus on the content of your conference rather than on the technical details. Our rental package includes everything you need, such as:
Soundproof interpretation booths that meet ISO standards;

Simultaneous interpreter (SI) consoles/control panels ;

FM and IR (infrared) transmitters and receivers;
Microphones and headsets, including portable ones for speeches, tours, demos, and training; and
Dedicated onsite technicians operate these systems at all times to provide you with further peace of mind
If you're not sure what type of equipment you need, our team will be happy to review your plans and goals so your event will be everything you envisioned. And if you want to host a virtual meeting with interpretation services, follow our tips and let us know how we can help.
CCA: Ready to Assist
Founded by interpreters and translators, CCA has always aimed to surpass the highest level of our industry. Once you've worked hand-in-hand with us, you will understand why we are regarded as the platinum standard in the language and interpretation industry.
Contact us online or by phone at +1 (877) 708-0005 for a free quote.