St. Louis Translation and Interpretation Services
St. Louis, Missouri has become a hotbed for both startup and international companies and corporations due to its centralized U.S. location, as well as its very strategic and intentional invitation for business owners to choose it as their headquarters. In fact, the region is dubbed "Silicon Prairie" by some, ranking in the Top 5 up-and-coming tech spots in the U.S. and rivaling San Jose, CA and its Silicon Valley.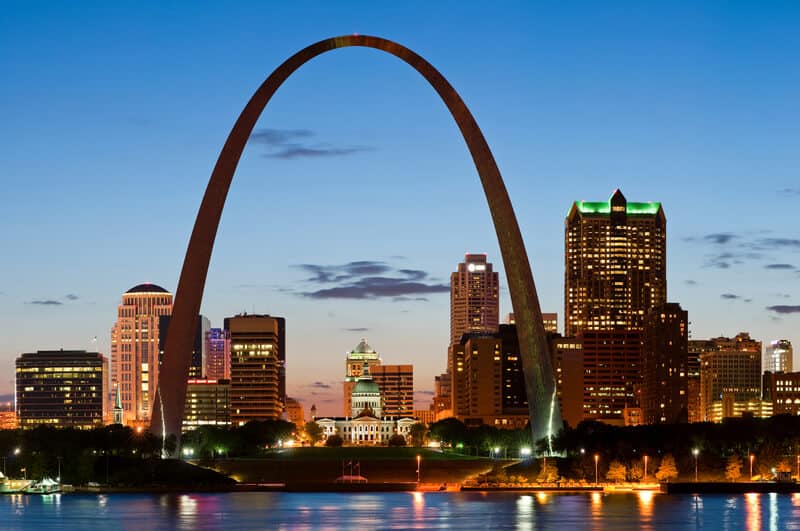 Whether your company is based in St. Louis, or you're preparing for a prairie-based tradeshow, convention, or summit, Chang-Castillo and Associates offers simultaneous and consecutive interpretation services, professional translation, and other valuable language service solutions to keep your company ahead on the international playing field.
Our professional linguists are passionate about their work, and they work closely with our clients to become natural extensions of your team. You can rest assured your brand's energy, tone, and reputation will be conveyed across the boundaries of language and culture, so the intentions remain intact.
Contact Chang-Castillo and Associates (CCA) online or by phone at +1 (877) 708-0005 to learn more about how we can help you accomplish your goals in St. Louis and elsewhere around the world. We look forward to showing you why we've earned the reputation for being the platinum standard in our industry, and will work diligently to remain the platinum standard in yours.
Accurate interpreting services for any and every language
When it comes to interpretation services, our reputation is based on using the best linguists in the world. While we're happy to serve in smaller business settings and intimate social gatherings, our interpreters typically work for influential clients such as government agencies, international organizations, and Fortune 500 companies.
Their resumes are impeccable, including:
Graduate degrees from some of the world's finest accredited linguistic programs, paired with years of experience as conference interpreters;
Accreditation or certification with institutions like the United Nations, the European Union, the U.S. Department of State, and the Federal Government of Canada;
Peer-reviewed membership with our industry's leading organizations, such as TAALS and AIIC.
While those achievements are worth noting, we feel it's the hearts and souls of CCA's interpreters that make us stand out. We do much more than conveying the contextual meaning of words. Our interpreting team works closely with your team's leaders, representatives, and delegates to become as familiar as possible with your internal language and company culture. That adds invaluable fluidity to our work.
We're also ready to meet you in one of St. Louis' executive briefing centers as you work with prospects and clients to improve products, services, and the international UX – and to support domestic users and consumers in their native language. Having qualified interpreters on board can help you develop your brand in more exciting and comprehensive ways.
Professional translations that go beyond word substitution
Just as the spoken word requires impeccable interpreters who interpret underlying emotion, nuance, and relevant expressions, professional translators must do the same. This is why machine translators are never the answer for anything other than your recreational travel needs.
Translation requires acumen around word meaning and semantics, and it also requires the integration of cultural sensitivities and relevance. Most colloquialisms and turns-of-phrase simply don't have word-for-word equivalents in another language. Your marketing materials geared towards the U.S. market may have images or wording that are less appealing in other cultures.
The translators here at CCA take a multi-faceted approach to ensure target language readers enjoy content that is as true to its original in every way – including meaning, context, and tone. To achieve that level of integrity, we use a tri-level quality assurance protocol. Every project, small and large, goes through three, separate rounds of translations, editing, and proofreading, all overseen by a dedicated project manager.
We translate every type of document and printed material, including:
Government documents
Training and technical manuals
Corporate communications
Speeches and transcripts
Marketing materials and brochures
Additional language services that make your brand shine
Never underestimate the power of functioning interpreting rental equipment
We can't tell you how many times we've received 9-1-1 calls from clients who relied on venue-provided interpreting rental equipment that was either not in the right place at the right time or didn't work as expected when it arrived. Don't let that happen to you. In today's hyper-speed corporate pace, your inability to meet the needs of a scheduled meeting, conference, or negotiation can make or break critical international partnerships.
CCA offers high-quality interpreting rental equipment that is always well-maintained and will be perfectly matched with each session, event, or outing. We have it all, including:
Soundproof booths for simultaneous interpreters
Conference interpreter consoles
IR and FM receivers and transmitters
Headsets and mics
Portable units for walking tours and hands-on demos
And more
Another bonus of working with CCA is that your rental equipment comes along with a dedicated technical assistant who takes care of all the technical details for you, so you never need to worry about glitches, static, or other audio interference. We'll keep the lines of communication clear and fluid.
Use teleconferencing for more personalized engagement
Whether there's a key player or prospect who can't make it to St. Louis, or you want to keep the conversation moving forward with a contact you just met, teleconferencing is a savvy way to forge more personal and connected relationships.
We use a modern, telephonic platform that works with your presentation software of choice. It's the next best thing to meeting in the conference room in person, and can save thousands in travel fees – not to mention all the lost work time that is inherent in global business travel.
Learn more about subtitling and transcription
Is your company leveraging video marketing potential, creating more engaging and profitable content for websites, webinars and training purposes? Optimize profit exponentially with CCA's subtitling and transcription services. Our interpreters and translators can take a single video and make it relevant in countless languages so your video can be just as productive in the international market – or more so.
The team at Chang-Castillo and Associates is available in St. Louis whenever you need us, and we look forward to showing you why we're chosen again and again to serve as language service providers on the domestic front, as well as abroad. Feel to contact us online, or give us a call at +1 (877) 708-0005 to discuss your needs and obtain a competitive estimate.