Italian: Forged from a Poet's Ear and Pen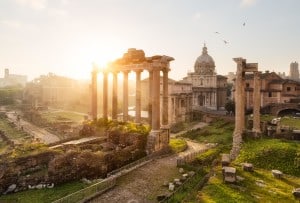 Originating from the Latin spoken in the streets of the Roman Empire or "Vulgar Latin", Italian is anything but vulgar to the ears of English speakers or to anyone who discovers the alliteration and beauty of its lyrical cadences.
A language of aural beauty, providing aesthetic pleasure, Italian was forged by Tuscan poet Dante Alighieri who lived in the 14th century, the late Middle Ages. Dante wrote the Commedia, later called "The Divine Comedy" by yet another influential Tuscan poet, Giovanni Boccaccio.  In time, The Divine Comedy was read throughout Italy and its dialect would become the standard for the Italian language.
Birth of the Italian Language
In Dante's time, Italian was not yet standardized and there were many competing dialects spoken in the numerous Italian city-states. Dante wrote and spoke Florentine derived from his native city of Florence, an area of Tuscany.   He was a visionary and an innovator understanding the need for literature created from a unified literary language that would go beyond the confines of Latin.  In this, he was a forerunner of the Renaissance, when vernacular literature would be created in competition with earlier classical writers who wrote in Classical Latin. Italian was at the forefront of this amazing time in history that opened the minds of people in Europe and finally the world.  Italian remains a language transformed by a poet from an amalgam of regional dialects and Latin into a literary language capable of containing and creating a work of epic structure and grand philosophic ambition.  This innovative act also set a new precedent for poetry and other writing to be published in a language other than Classical Latin, which was also the language of the Liturgy and so – the Church.  The creation of a literary language set the stage for secular and humanist literature.  Dante's Divine Comedy opened up literature to a wider audience while creating the standard for the Italian language as we know it today.  Dante called the language that he wrote in Italian.
Fluent Intricacies with only 21 Letters
With only 21 letters in its alphabet, Italian excludes the letters j, k, w, x and y in Italian proper though they sometimes appear in loanwords from English like "jeans" or "taxi".  Italian grammar is typical of Romance languages although it diverges more from Spanish in grammar and vocabulary than is generally believed. In fact, Italian is a bit more similar to French. As a matter of fact, many Italian speakers prefer listening to a French interpreter rather than an English or Spanish one.  Word order is relatively free compared to most European languages, the position of verbs is highly mobile.  In other words, the order of words in a phrase doesn't have a grammatical function as it does in Germanic languages like English or German. In this regard, Italian remains the closest to Latin of all the Romance languages.  Adjectives are sometimes placed before their noun and sometimes after.  Subject nouns do generally come after the verb.  Interestingly enough, this fluency also applies to gender.  While Italian has two genders, masculine and feminine, there are a number of nouns that change their gender when singular and when plural – having a masculine singular and a feminine plural.  These are sometimes considered neuter and are derived from neuter Latin nouns.  The third person singular is also an instance of neuter gender.
Also spoken in Switzerland, Argentina, and Somalia
Italian today is spoken as a native language by 59 million people in the European Union and as a second language by 14 million.  Many around the world also speak Italian, including in non-EU countries such as Switzerland and Albania, as well in Argentina (after Spanish) and Malta.  Italian is also the fifth most taught foreign language in the world after English, French, German, and Spanish.  Italian was an official language in Somalia during the Colonial period but fell out of use during the Somalian Civil War.  Today, there are still traces of the language since certain educated or elderly people in Somalia still retain the knowledge of it.   Certainly, Italian has traveled the world and continues to be an important language of business, art, travel, and literature.  Worldwide, around 85 million people speak Italian today. Many words are borrowed in many languages from Italian for fashion, art, motorsports, and opera.  These loanwords are taken for granted though it is hard to imagine the opera or fashion without Italy.
Here at Chang-Castillo and Associates, we can help your business to translate and interpret Italian as it is spoken in various regions and with the aid of a mother tongue, platinum standard speaker. Contact us if you wish to learn more.
Related posts