Business Card Etiquette in Asia
Asian cultures are said to be more collectivistic whereas American culture is said to be more individualistic. The very idea that you should be deferential to superiors doesn't always jibe with the American sense of rugged individualism, perhaps best personified by the brash Gordon Gecko in the movie Wall Street. Although Gordon Gecko is clearly a caricature, many of the verbal and non-verbal cues shown in the movie endure in today's American business culture and distance that business culture from its Asian counterpart.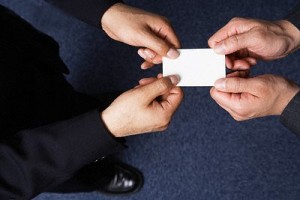 Asian Business Culture: Not One Size Fits All
Malaysia, Hong Kong, Vietnam, and Japan purportedly have radically different expectations of business etiquette. In Japan and Hong Kong, for instance, you are expected to shake hands upon meeting another businessman, but with minimal eye contact. The handshake should be relatively short and not too firm. Also, more senior businessmen will exhibit deeper bows than their underlings. American businessmen or lowly Japanese businessmen are still expected to bow to higher-up Japanese businessmen, but not as deeply, as this might be construed as a sign of mild disrespect. It should be noted, however, that in the Philippines businessmen should neither bow nor make eye contact with one another.
Exchanging Business Cards in the East
For American businessmen, cards should be prepared in advance and have the company's and employee's name on the front in one's native language, and the same information in the recipient's native tongue on the card's back. The preference is for gold or black ink in China, and the cards are expected to be in impeccably clean condition. In Asian culture, there is great pride in holding a higher business position. Whatever your rank, make sure to overtly list an accurate title on the business card.
There are also soft differences in business etiquette among Asian countries. In South Korea and Thailand, businessmen meet at excruciatingly exact meeting times, whereas in Malaysia, Vietnam and the Philippines the starting time is seen as more casual and impromptu. Also, especially in China, the lower one's rank, the sooner one should arrive at the meeting. This same criterion applies to American firms perceived as less prestigious than their Chinese counterparts: arriving five minutes early is preferable to five minutes late.
Especially in China, there is particular importance paid to one's business affiliations, rank, and age. American businessmen can more quickly puncture into the Chinese business landscape by conforming to China's business card exchange etiquette. You should always stand when exchanging business cards and make sure to never exchange business cards like baseball cards or, worse, throw the business card away in plain sight. Chinese etiquette is to exchange business cards with two hands (where applicable) and place any incoming cards in your business suit's pocket, rather than your back trouser pocket.
General Guidelines for Making an Impression
The businessmen in most Asian cultures would prefer not to be high-fived, hugged or intimately embraced by strangers, let alone professional equals. Foreigners should refrain from any whistling or clicking to elicit attention; best practice in most Asian countries is to place your hand low and beckon with your fingers in a non-obtrusive way.
A custom somewhat unusual to Japanese business culture is placing your business card face up on the table in front of the intended recipient; this ritual is called meishi. The Chinese custom of handing your business card over with two hands carries over to Japan, moreover, where this practice is welcomed as respectful of the other party.
The exchange of business cards and business card etiquette in Asia is much more ritualized and idiosyncratic than in American business society.
Related posts