Vienna Translation and Interpretation Services
Ever dreamt of visiting the Schönbrunn Palace, having a drink near the Donaukanal in Vienna's city center, or simply taking a stroll in this beautiful city, ranked first on the list of the "world's most livable" in 2018 and 2019? If you're a fan of music, maybe you've heard of the Vienna State Opera – Mozart, anyone? Attracting almost 7 million tourists each year, Vienna's location as a gem in the heart of Europe makes it a great city for international events.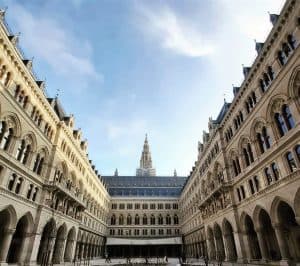 Austria's capital undoubtedly enjoys major diplomatic clout. The headquarters of important NGOs (like Greenpeace, Caritas, Doctors Without Borders, and Amnesty International), it is also the third "UN city" with Nairobi – behind New York and Geneva – with such international organizations as the European Patent Office (EPO) and the International Atomic Energy Agency (IAEA). With its central position between Eastern and Western Europe, Vienna might well be the ideal place to host a summit, a conference, or an international business meeting, all the more so as you will definitely find the necessary infrastructure and venues to house your international delegation.
No matter the occasion and the medium, it is vital to establish good, clear communication with your partners and your audience, especially in a multicultural context. Chang-Castillo and Associates (CCA) provide language services to help you communicate as fluidly as possible in Vienna or anywhere else in the world. We will assist you and build the perfect platform for your ideas by translating or interpreting them to reach any audience you want. We offer premium quality services in German – one of the most important languages for business in the European Union and beyond – or in any other language you may need.
Expert Language Services in Vienna
At CCA, we are committed to delivering the best language services for your company and your projects. We are co-owned and managed by translators and interpreters, so that we know what it takes and how to proceed to meet your needs: flawless oral interpretation (consecutive or simultaneous) for your events and 100% accurate translation for your written documents.
We provide translation and interpretation services around the world in German and in any other language. And, above all, we make it our mission to never compromise on quality. How? By working only with language professionals we know and whose skills we have assessed ourselves. Our project managers make sure things go smoothly every step of the way. Our experience and dedication to quality has earned us our reputation as the platinum standard of the translation and interpretation business.
Conference interpreters who will make your voice heard – and perfectly understood
At Chang-Castillo and Associates, we pride ourselves on only working with the best. For your interpretation projects, that means teams of professional conference interpreters, who will interpret your message with accuracy for the benefit of your audience. Our interpreters are trained to meet the highest standards. They will avoid any misunderstanding and will make sure to respect cultural sensitivities.
Our interpreters are affiliated with recognized organizations and all of them abide by their profession's code of ethics, so you will never have to worry about how you or your brand are represented. They are as dedicated to transmitting your words as you are and will make sure to communicate every nuance of what is said – be it the meaning itself, the tone, or the intent behind it. Trust us, they will make all the difference in your multilingual project.
Our simultaneous and consecutive interpretation services are always tailored to your needs. Whether you're organizing a conference in Vienna, an intimate business meeting in Graz, or a walking tour in Salzburg, our experts will be by your side to avoid any misstep.
Conference Interpreting Equipment That Will Not Let You Down
Avoid dealing with the faulty, ill-maintained equipment of some venues. In order for your guests to understand your brand message clearly, we recommend using high-quality equipment at your conference venue. Remember – a reliable sound system ensures glitch-free communication. At CCA, we offer impeccably-maintained rental equipment, complete with the help of a conference technician. Paired with CCA's most excellent interpreters, this translates into the best representation possible for your business. Depending on your needs, we provide interpretation equipment such as soundproof booths, headsets (portable or not) and mics at competitive prices.
We work together with your team to make sure your voice – via that of our interpreters – will be heard. No matter the circumstances, we are here to guarantee the best experience for you and your multilingual audience.
Remote Simultaneous Interpretation services that connect you with people around the globe
At CCA, we've kept up with the modern world. Nowadays, digital technologies are a crucial tool that brings us together and helps us communicate across long distances. Let us help you cross the language barrier with our innovative Remote Simultaneous Interpretation (RSI) services. With our interpretation and translation teams to make sure you understand each other, you will be able to have "face-to-face" meetings with international colleagues, prospective customers, and business partners. You can work with the presentation software of your choice, and we will bring the linguistic support. We can accommodate any language and meetings of any size.
Professional translators who will give you the best quality
For your written documents, you need the best quality of translation to ensure good communication as well as a pristine presentation of your message in the language of your target audience. For this reason, Chang-Castillo and Associates works with professional translators who only translate into their native language and can convey every nuance perfectly into the target language, while being aware of its cultural context.
Every single sentence, phrase or term is paid the utmost attention, no matter the subject. Using our three-step process of translation, editing, and proofreading (each performed by a different professional translator), we deliver 100% accuracy.
For example, if you need material translated into Austrian German to hand it out at your event in Vienna, we are able to assist you on all types of documents:
Corporate communications
Government documents
Marketing materials and brochures
Speeches, transcripts and subtitles
Website content
Social media messages
Training or employee manuals
Technical data sheets
Any aspect of your brand's country-specific and international presence, both online and offline
Contact us now
Are you ready to get started with your translation or interpretation projects? Contact us online or give us a call at +1 (877) 708-0005. Trust CCA's expertise – you won't regret it!