Scottsdale Translation and Interpretation Services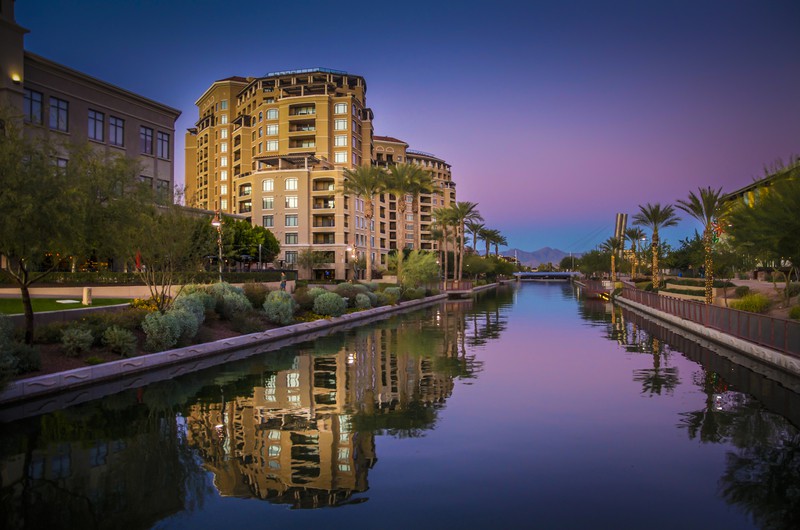 Scottsdale, AZ has been likened to Las Vegas for the professional crowd. In addition to some of the world's most famous golf courses and luxury spas, Scottsdale also boasts Michelin-rated restaurants and a vibrant nightlife – a fantastic spot to wine-and-dine your company's top multinational prospects and partners. All of that, combined with its stunning desert geography, makes Scottsdale a desirable place to host or attend an international summit, conference, tradeshow or event.
Chang-Castillo and Associates is considered the platinum standard in language services solutions; our teams of simultaneous interpreters and translators are available to meet you in Scottsdale or your home-base, preparing everything you need to ensure your brand's message transcends languages and cultures and lands exactly as intended in your target audience's ears.
While we're happy to provide more formal interpreting and translation services at your conference or event venue of choice, we are also available to facilitate your attendees' entire experience, providing more intimate interpreting services for the social aspects of your time in Scottsdale. That could mean strolling the incredible trails in the McDowell Sonoran Preserve, keeping the conversation flowing while you're out on the golf course, or enjoying one of the area's many restaurants and after-hours clubs.
Contact Chang-Castillo and Associates (CCA) to learn more about our services and how our team can facilitate your success in Scottsdale. Don't forget to ask about our bundled services packages, which make our competitive prices even better.
Qualified interpreters are essential to fluid multilingual communication
There is a big difference between qualified conference interpreters and community interpreters. And there is an even bigger difference between professionally trained interpreters and employees who are "fluent" in your target languages.
Simultaneous interpreting takes place in real time, which requires an exceptional ability to intellectually focus, tune in and multi-task, so it can be exhausting. Even consecutive interpreting is challenging for the non-professional, because communicating verbally requires far more than accurate syntax; it requires the ability to interpret and convey specific meanings, tones, and nuances.
That's why CCA curates the world's most gifted and talented interpreters. All of our interpreters have:
Graduate degrees from accredited universities around the globe
At least 200 hours and/or 5-years of conference interpreting experience
Certification or accreditation from institutions, like the United Nations, European Union, Federal Government of Canada (conference level), U.S. Department of State, etc.
Peer-reviewed membership in some of our industry's leading organizations such as TAALS and AIIC
A passion for building linguistic bridges for corporate and internationals dignitaries, from all languages and cultures
Contact CCA and we'll put you in touch with native-speaking interpreters who have experience in your field or niche. By the time you attend your itinerary events in Scottsdale, they'll feel like a natural extension of your team. Give us a call at +1 (877) 708-0005 and let's start to plan a Scottsdale event that helps your brand stand out from the rest.
Professional interpreting equipment rentals ensure "they can hear you now!"
Odds are your upcoming event has a tightly held schedule, and this means there's no time to waste with technical glitches or static interference that makes it impossible for your interpreters to do their job, or for you and/or your target audiences to hear their interpretation. That's why we highly recommend taking advantage of our professional interpreting equipment rentals package.
Relying on the venue's equipment is a risky endeavor; if it isn't what you need, they mess up quantities on your order or their technicians aren't able to correct glitches that impede a presentation or communication – you're out of luck. Give yourself the peace of mind you deserve by renting professional equipment from us.
Chang-Castillo and Associates has ample supplies of modern, well-maintained interpreting equipment for rent, and it comes along with a conference technician and complete A/V support. Our equipment offerings include:
Interpreter consoles
Infrared (I.R.) emitters and FM equipment
Conference technicians
Complete A/V equipment support
Microphones
Portable transmitters for interpretation during tours or demos
Participant headsets and receivers
Want to ensure your company puts its best message, voice and ears forward in a timely manner? Contact CCA and we'll review your itinerary, ensuring you have all the precise equipment you need, in perfect working order, and always on time.
Optimize target and attendees' experience using teleconferencing
Many of our clients are thrilled to take advantage of our teleconferencing services. Not only does this help by offering a way for international colleagues, clients and peers to "attend" your event in Scottsdale, even from their home offices, it also allows you to continue fostering important relationships after your event has come to a successful close.
Our innovative telephonic platform can be paired with the presentation software of your choice. Like our interpreting equipment rentals, teleconference services include an A/V technician, so you only have to worry about doing your job, while we'll make sure we do ours. You can also pair the services with interpreting or translation assistance as needed.
Honor your target audience's with top-notch translations
The differences between a professionally translated and more casually translated document is evident within the first sentence or two. While sometimes these unprofessional versions are somewhat comical or charming in their efforts, they can also seem as if they disregard the importance of the audience's language and culture. When you choose CCA, your clients and prospects will always feel seen, heard and understood.
At Chang-Castillo and Associates, each of the projects we take on moves through three different levels: translation, editing, and proofreading. We've learned that three times truly is a charm when it comes to translation, particularly when working with more technical or niche-industry clients – and we always try to pair you with translators who have experience in your field.
We provide exceptional, accurate and culturally-sensitive translations for:
Speeches and transcripts
Government documents
Corporate communications
Marketing materials
Technical and training manuals
Use transcription and subtitling to turbo-boost video materials
Does your company rely on videos for presentation and marketing materials? If so, we can take your initial investment and give it a power-boost using transcription and subtitling services.
With a simple selection of the target language and push of the button, your video can be transcribed and subtitled in any language you wish. Similarly, our team can produce translated scripts and even provide professional interpreters with the perfect voice and accent if you'd like to offer dubbing or voiceover.
Contact CCA to obtain an estimate for professional translation services. We will meet with you beforehand to help organize your translation projects, and our linguists can also accompany you to any events where you feel their expertise is helpful.
The language professionals at Chang-Castillo and Associates look forward to meeting you and helping you grow your brand in Scottsdale, Tucson, Phoenix, and across international boundaries. We've earned a platinum-standard reputation for a reason, and we look forward to proving our mettle to you and your team. Contact us to get started.