Phoenix Translation and Interpretation Services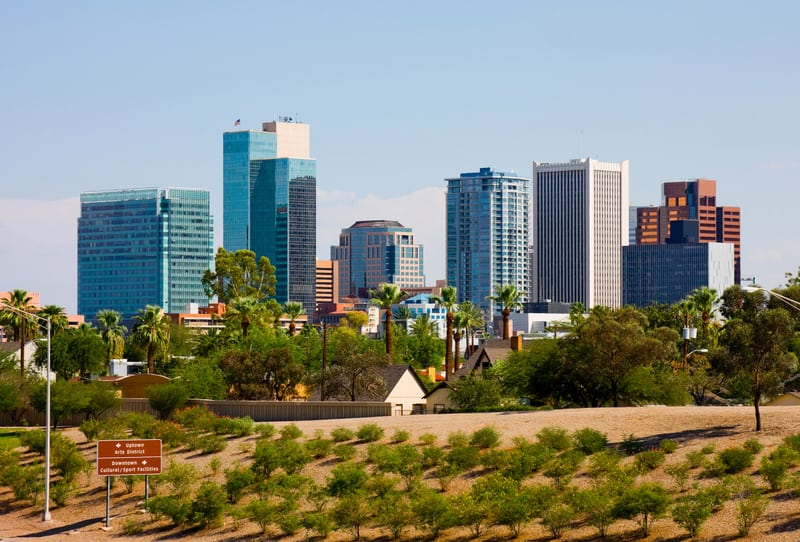 Phoenix, Arizona has long been revered for its moderate winter climates, ample sunshine and stunning landscapes. Throw in a little golf, poolside lounging, fine dining and top-notch professional interpreters and translators, and you have all the features necessary to host a successful international conference, tradeshow, or summit.
Phoenix is an easy place to accommodate multinational business prospects and colleagues. An international airport makes it accessible from anywhere on the planet and the stunning desert geography forms a compelling backdrop since deserts are a rare feature in many countries. Accessibility to the Grand Canyon—one of the world's natural wonders—is a major draw, and proximity to other popular tourist destinations, such as Las Vegas, Los Angeles and San Diego, Utah's ski slopes, etc., make it easy to assist colleagues and prospects as they create itineraries with a healthy balance of business and pleasure.
Chang-Castillo and Associates has decades of conference interpreting and professional translation experience, and our dedication to our clients has earned us a platinum-standard reputation in the industry. We look forward to working with you and your Phoenix-based—or Phoenix-bound—team as you prepare for your exciting event. Contact us online to learn more about our multiple language services and we'll provide a competitive quote.
Simultaneous interpreting services deserve the best interpreters in the market
Interpreting is about so much more than taking some words and spinning them into their equivalent in the target language(s). The spoken word carries energetic and emotional resonance, and you want to make sure that your message lands in your audience's ears with the same level of meaning and integrity with which it was originally spoken. That level of impeccable interpretation that goes beyond the words extends to nuanced tones and cultural considerations is only available from the best of the best.
Here at Chang-Castillo and Associates, we curate the best interpreters available so we can guarantee 100% client satisfaction. We work diligently to pair interpreters who are native speakers in the target language(s) to ensure colloquialisms, idioms and nuanced phrases are 100% accurate in their intent and tone. This is especially important in an area like Phoenix, where your Spanish-speaking target audiences could be from Mexico, Guatemala, Peru, or other Latin American countries and even Spain, in which case it's essential to augment your team with an interpreter hailing from the same country.
In addition to that, each of our interpreters has:
A graduate-level degree in conference interpreting from an accredited university;
A minimum of five years and/or 200 hours of simultaneous interpreting experience;
Membership with and/or certification from industry-recognized entities such as TAALS, AIIC, the United Nations, The European Union, The Federal Government of Canada, the U.S. Department of State, etc.;
A drive to connect with clients in a personal way to deliver high-quality interpretations to/from their target audiences;
The client testimonials on our website are proof the professional interpreters working for CCA go above and beyond the norm, assisting our clients in amplifying and fine tuning their international relationships. We provide both simultaneous and consecutive interpreting services.
Contact us today to learn more about what we can do for you in Phoenix, and to see why our clients never look elsewhere once they've worked with CCA.
Interpreting equipment rentals you can count trust
Don't let great interpreters and strong prospects become sabotaged by faulty interpreting equipment. Whether you're using a UN-style soundproof booth for simultaneous interpreters at a high-stakes summit, or portable headsets and mics for a walking tour, we have everything you need.
Our high-tech and meticulously maintained rental equipment comes along with a technician and complete A/V support so you never have to worry about glitches, malfunctions or not having the equipment you need, when you need it and at the right location.
Teleconferencing fosters strong international relationships
There's no doubt that face-to-face communication trumps emails and social media connections every day of the week. But sometimes, geography, time zone differences and smaller travel budgets make that impossible when brands are fostering multinational partnerships.
Our innovative telephonic teleconferencing platform provides the perfect solution, allowing you to connect more personally and conveniently with anyone, anywhere and at any time. Our equipment rentals include the use of our exceptional interpreters and we're also happy to facilitate any translations necessary for your presentation.
Only CCA delivers word-perfect translations each and every time
The best translations are done by professional translators who are native speakers of your target language's countries. This makes for copy that flows more fluently and naturally for readers. Machine translation does not have the ability to fluently translate turns of phrase, conversational tone, or humor; therefore, companies should distrust machine translations, as they are often inaccurate or incredibly awkward.
Hiring a "fluent" but non-native speaker can land you in the same boat, where the words technically make sense and the skeleton of the material comes through – but the content is devoid of subtle nuance, tone or the emotional essence the original material conveyed.
Here at CCA, our translation team works as a team, in three different phases. After being partnered with one of our dedicated project managers, who also serves as your communication and update liaison during the project, your materials will be:
Initially translated and checked for obvious errors or mistakes.
Proofread by a second pair of professional eyes and edited accordingly.
Finalized in the third phase of review, including amendments in formatting or technical components as needed.
This unparalleled level of quality control allows us to guarantee word-perfect translations for all of our clients.
We translate:
Government papers
Corporate communications
Marketing materials and brochures
Technical manuals
Training materials
Presentations
Speeches and transcripts
Don't forget the importance of high-quality video subtitling and transcription
Videos are always more impactful than any written or audio-only material as they forge a more tangible connection with the audience. Video links also drive better SEO results.
The CCA translation team also provides superb video subtitling and transcription. The ability to quickly select the target language of your choice, and to confidently trust the video investments you've made are translated for whatever global audience you choose, packs a powerful punch.
Contact Chang-Castillo and Associates and partner with one of the best linguistic teams on the planets. We'll be there for you in Phoenix as well as anywhere else you need us, and everywhere in between. Experience the difference when you use a language solutions firm that is as committed to your brand's success as you are. One World, Many Languages, One Company, Worldwide™.