Munich Translation and Interpretation Services
Munich is the capital of the state of Bavaria and the third-largest city in Germany. It is the home of the legendary soccer team FC Bayern and during its annual Oktoberfest, it becomes the place in the world most beloved by Bier enthusiasts. The beauty of its inner-city is not the only thing you can marvel at, as Munich is one of the most vibrant cities in Europe. In addition to being recognized worldwide as a center of art, culture, and science, it's also a major city for finance and business and a hub for innovation in several sectors such as automobile, engineering, and biotechnologies. Whether you want to take a stroll in the Englischer Garten or host a conference at the executive briefing center of one of the city's many multinational company headquarters (such as BMW, Siemens, and Allianz), Munich is the place to be. With its blend of history and modernity, there will be plenty of venues and infrastructure to house your international delegation, making it the perfect setting for your international event.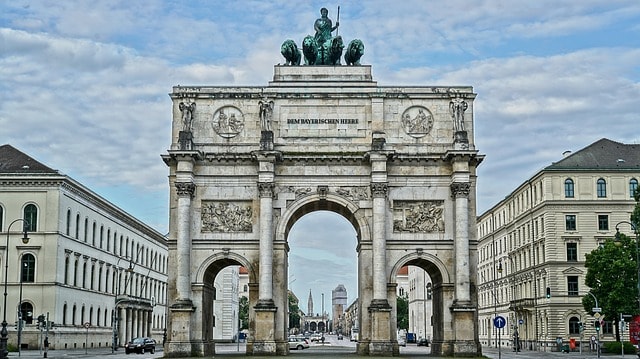 If you choose to organize an event in Munich, Berlin, or anywhere else in Germany, it is imperative for you to clearly and accurately communicate with your multilingual partners or audience. This is our promise at Chang-Castillo and Associates (CCA). Our expert translator and interpreter teams provide the highest quality of service in the business because your company image and your ideas should be understood as perfectly by your audience as if everyone were speaking the same language. Our specialists will help you connect with your audience not only in German – a very influential language for business in Europe and beyond – but also in other languages. We will make sure that the level of expertise you are given is the best there is so that your experience in Munich is as smooth as possible.
The platinum standard of language services
We provide translation and interpretation language services in Germany and all around the world, in German or in any other language. Not sure exactly what to ask for or how to proceed? No worries; we will put you in touch with a project manager who will make sure that things are always on track and that we provide the service that is most adapted to your needs.
CCA is co-owned and managed by experienced translators and interpreters, who know exactly what it takes to deliver the best possible product for their clients. And that's why we work with teams of well-trained professional linguists, which means you get the finest in the translation and interpretation world (simultaneous or consecutive). They are professionals we know and have worked with, so we know for sure that they do quality work.
Because quality is always our #1 priority.
Our conference interpreters: the highest level for your multilingual events
CCA's interpretation teams are made up of professional conference interpreters (not community interpreters), who meet the highest standards of quality in their business. They are trained, experienced members of internationally recognized organizations and abide by their profession's code of confidentiality and ethics. They convey your message clearly and in its entirety to your audience, and they know about cultural sensitivities and context, so that you can stave off misunderstandings or awkwardness. You can rest assured that your brand will be represented with the utmost professionalism, without a misstep.
Our interpreters will interpret your words as if they were their own – including all the nuances, tone, and intent of the various speakers. Their expertise will make your communication fluid and genuine, and ensure the success of your multilingual project.
Planning a conference or an important business meeting in Munich? If you have any doubts about what kind of interpretation is best suited to your needs (simultaneous or consecutive), feel free to contact us. We will do our best to help you, regardless of the circumstances.
Our equipment: no unpleasant surprises
At CCA, we offer high-quality, impeccably maintained rental equipment that is perfectly functional, so you won't face embarrassing problems during your event. You don't have to be at the mercy of the sometimes antiquated and faulty sound system of your hotel or conference hall. We provide interpretation equipment at competitive prices to cover all your needs: headsets (including portable headsets for walking tours), mics, and UN-style soundproof booths.
We work with a conference technician and in tandem with your own team so you, as well as our interpreters, can be heard without a glitch because it's essential to the quality of our service and your communication. Our rental equipment will make sure your event is pitch-perfect and unfolds seamlessly.
Our Remote Simultaneous Interpretation services: easy long-distance communication
The Coronavirus pandemic's global impact has shown that international business today is heavily reliant on digital technologies and long-distance meetings. To meet this demand, CCA's Remote Simultaneous Interpretation (RSI) services enable you to communicate with people half-way across the world and to hold multilingual conference calls or virtual meetings. Enjoy all the advantages of face-to-face conversation from the safety and comfort of your home or office thanks to our crack teams of conference interpreters.
We can use the software of your choice and provide services in any language for meetings of any size. Our project managers and interpreters are here to make sure everything goes as smoothly as possible.
Our professional translators: the best quality for your written documents
Not only is it crucial for your oral communication to be glitch-free, but your written documents also require accurate translation to convey the full weight of your ideas and all the specifics of your technical competences. To provide such a high standard, CCA's language specialists are professional translators with the expertise to deliver a translation that sounds natural, as if it were originally written in the target language. They only translate into their native language, which means every single specific word, nuance or expression will be flawlessly rendered in the translation. Our teams can work on any type of document you might need to translate:
Government documents, speeches, and transcripts
Corporate communications
Marketing materials and brochures
Employee or training manuals
Technical data sheets
Any aspect of your brand's country-specific and international presence, both online and offline
No embarrassing automatic translation mistakes, no misinterpretation. With our foolproof three-steps process, we can provide 100% accuracy. Your documents will be translated, then edited, then proofread by three different professional translators, so nothing escapes our eye. We don't compromise on quality.
Also consider using our subtitling and transcription services – one of the best ways to broaden your video content's audience.
Contact us
If you are ready to embark on your translation or interpretation project, contact us online or give us a call at +1 (877) 708-0005. We will make sure you meet the platinum standard of the translation and interpretation industry and understand why CCA's the right choice for your translation project or interpretation event in Munich, Germany, and beyond.