Canadian French and French from France – What's the Difference?
French is one of those delicious and intriguing languages that nearly everyone wants to learn, but few actually seem to master.  Sexy, sibilant and seductive with a whisper of poetry just underneath its apparent rigor and romance, French is a language that never fails to enchant.
There is not only one French, there are many.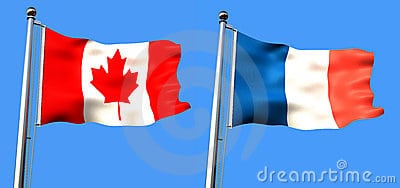 French is pluricentric, or a language with several linguistic norms, generated from a wide variety of locations.  Many of these language centers were former colonies and have their own unique relationship to the language, inscribing it with historical and geographic contributions unique to their region.  In some sense, there are many Frances, and each generates its own unique style of French.  Each permutation relates back to what is considered Standard French.  Standard French or Metropolitan French uses the standardized vocabulary and pronunciation used in the France of what is called Metropolitan France or simply — the country known as France located in Europe.  Most students today worldwide still learn this Metropolitan French.  It is the French of ambition and of scholarly pursuit although not always the exact same French that French speaking people hear and speak each day in countries distant to France in Europe.
Canadian French
Here in North America, we have our own versions of the French language and certainly they can be as beguiling to the ears of English speakers as Metropolitan French.  Canadian French is the most widely known and today at least seven million Canadians or 22% of the population speak Canadian French as their mother tongue.  It is the co-official language in Canada sharing the language standard with English and in the Canadian province of Quebec, French is the sole official language.  In Quebec, the majority of people speak French and one can feel lost without it.
What is the Difference
What are the distinguishing characteristics of Canadian French and is it really so different from the French of France?   Like British English and American English — the differences are both subtle and more substantial and may not be immediately apparent on the page but will very quickly make themselves apparent to the ear.
Which is not to say that there are not differences in vocabulary.  For one thing, Canadian French has many elements of the vocabulary of  the first French colonists.  These words were preserved and may sound arcane to the ears of someone speaking French from France.  There are other differences… French from France is more amenable to the introduction and use of English words and changes these into a distinct French form.  For example French from France uses the English term "parking" whereas in Canadian French "parking" is "stationnement".
Formality
Canadian French is also more informal and this becomes apparent upon listening to a conversation. For example, the second person subject pronoun "you" in English is  quite often the more informal "tu" in Canadian French rather than the more formal "vous".  "Vous" is used with far greater stringency and frequency in French from France.   Formality is emphasized.  So,  "Tu vas bien?" is "How are you?" in French from France and in Canadian French one would say "Tu vas-tu bien?".
These important differences and others are often more apparent to Native or Mother tongue speakers.  Here at Chang-Castillo and Associates we always provide Mother tongue speakers who are also Platinum certified so that these nuances and deeper contrasts are understood.  We invite you to find out more by contacting us today for a free consultation.
Related posts