Prague Translation and Interpretation Services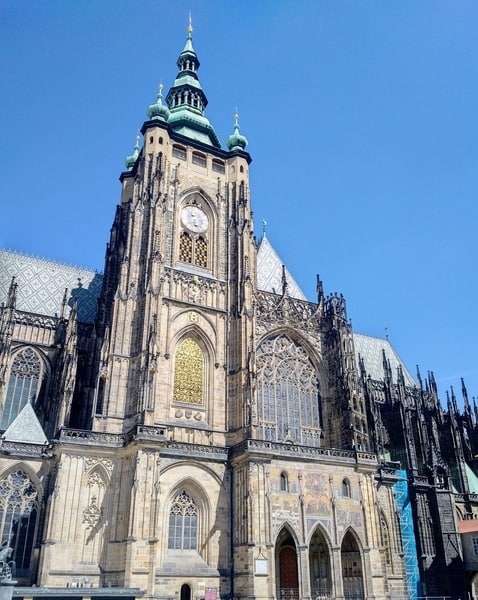 As the capital city of the Czech Republic, Prague is also a European hot spot, particularly for those who value history, architecture and the cultural arts. In addition to incredible skylines and vistas wherever you look, the "City of a Hundred Spires," is considered the capital of historic Bohemia and is the 14th largest city in the European Union. All of the above make Prague a beautiful and inspiring setting for conferences, summits, and overseas training seminars – offering a chance for prospects, clients and colleagues to do business by day and enjoy the pleasures of a stunning European city by night.
Whether you need professional Czech interpretation or translation or are interested in multi-lingual solutions to meet the needs of your global clientele, the exceptional linguists at Chang-Castillo and Associates (CCA) are standing by.
We're happy to provide simultaneous interpretation at the Prague Congress Centre, or we can assist you in providing target-language materials at your hosted event in the many beautiful hotels of the city, including Hotel Don Giovanni, or anywhere else in the city. Need to create a client-relevant itinerary for your stay in Prague, or learn more about Prague business customs? We'll assist with those needs as well. CCA's team of translators and interpreters go the extra mile, providing language services and ensuring your events move forward – and your messages are communicated – smoothly and error-free.
Contact us online or give us a call at +1 877-708-0005 to learn more about our language services and to see for yourself why we're considered the platinum standard of the industry.
Professional translation services in Prague and around the globe
Over the years, CCA's superior language services professionals have earned a reputation as being the best in the industry. This allows us to have fluid relationships and connections with interpreters and translators around the globe. As a result, you can rest assured that all of your language needs will be handled expertly in Prague – and elsewhere – and we're always available to provide rush services when needed.
Not only do we work with native-speaking translators, we ensure each of your projects or documents – no matter how simple or complex – are put through three different steps of translation and editing. It is only through this detailed process that we can guarantee each of your translation projects is 100% accurate in the target language(s), while also maintaining cultural relevance for the audience – without sacrificing your brand's voice or personality.
We're happy to translate any manner of documents, including:
Government documents
Speeches and transcripts
Marketing brochures
Training and technical manuals
Presentations
Corporate communications
Part of that three-tier quality assurance process referenced above includes the use of niche professionals so documents are always translated by credentialed individuals who speak the industry's language, as well as the target language.
Contact CCA to learn more about our translation services, and don't forget to ask about our package offerings, which ensure you receive top-notch translation and other language solutions at a competitive price.
Conference interpretation services by professionals who understand your brand
Interpreting words from one language to another is only half the battle. In truth, experts tell us accurate and personalized communication happens with the body, our gestures, facial expressions and tone of voice. Hiring a professional team of interpreters who can get the basic job done is one thing, hiring professionals who consider themselves a part of your team, and who strive to integrate your brand's essence and tone into their interpretation, is quite another.
Our conference interpreters have graduate degrees under their belts, as well as hundreds of hours of conference interpreter experience behind them. They're affiliated with the industry's most notable organizations, including the UN and the European Union, and they hold current membership with TAALS or AIIC – memberships that are only available via a peer review process.
The conference interpreters at CCA not only love languages, they also cherish the relationships we forge with our clients as we become extensions of their teams. Whether we're providing simultaneous interpretation from a soundproof booth, or using consecutive interpretation skills to facilitate intimate business negotiations over a gourmet dinner in Prague's famous Old Town Square, our interpreters move seamlessly from one language to another, and from one culture to the next, so that you and your clients can do business effortlessly. Any "language barrier" will become a nonentity.
Ensure that your proprietary information and your brand's reputation are handled with kid gloves and ensure yourself a chance to outshine competitors. Work with CCA and see what it's like to work with professional interpreters who take their job to a whole different level.
Use professional teleconferencing services and bring Prague to you
Are your Prague affiliates unable to come to you, or vice versa? Teleconferencing is the answer. Using our team of Czech-speaking interpreters, you can enjoy the experience of a "face-to-face" meeting, conference, training or pitch – without the need for travel or for your clients/prospects to come to you. Our innovative telephonic platform, paired with translated materials, simultaneous or consecutive interpreters and your presentation software of choice makes overseas travel a virtual reality.
Teleconferencing provides a more personalized way to keep in touch with prospects and colleagues or to build on the relationships you began during your time in Prague. Get in touch with CCA online or by phone at +1 877-708-0005 to learn more about how teleconferencing services will enhance your overseas relationships and brand recognition.
High-quality equipment rentals lead to success
There is nothing worse than static, intermittent interruptions or other electronic interference that disrupts fluid, accurate communication between you and your target audience. In fact, the lack of high-quality sound equipment could mean the difference between your event's success and failure.
Chang-Castillo and Associates offers top-of-the-line rental equipment, including:
Headphones and microphones
Portable headsets and mics for tours and moving trainings
Soundproof booths
Interpreter consoles
FM or IR Equipment
A/V technicians
All of our equipment is top quality in the industry, and our equipment packages include technicians and, if requested, complete A/V support. The result is stress-free, no-fail equipment that fades into the background as you communicate with the intended audience without a hitch.
Contact CCA and learn what it's like to work with professional translators and interpreters who go the extra mile to make your message land exactly how it was intended – precisely, accurately and with your brand's personality intact. We look forward to meeting you in Prague or wherever else your business may take you.