Miami: The Gateway to Latin America
Looking for a magnetic location for your next, multinational conference? Miami, Florida should certainly be a contender, particularly if your colleagues, clients and/or prospects are from Latin America or other Spanish or Portuguese-speaking countries. According to the NAHJ South Florida, "About 70 percent of the entire Miami population are Hispanics and Latinos, and within their communities, populations are changing rapidly. Brazilians, Venezuelans, Puerto Ricans, and other immigrants are in fact recreating the city…." And Miami has the highest population of Cuban Americans in the country.
When you combine this rich, Latin American and Cuban cultural tapestry with the all of the amazing things to do and see in and around Florida, Orlando, and Tampa, your invitation to Miami-based events will make an immediately desirable impact on invitees.
The ultimate Latin American business and pleasure getaway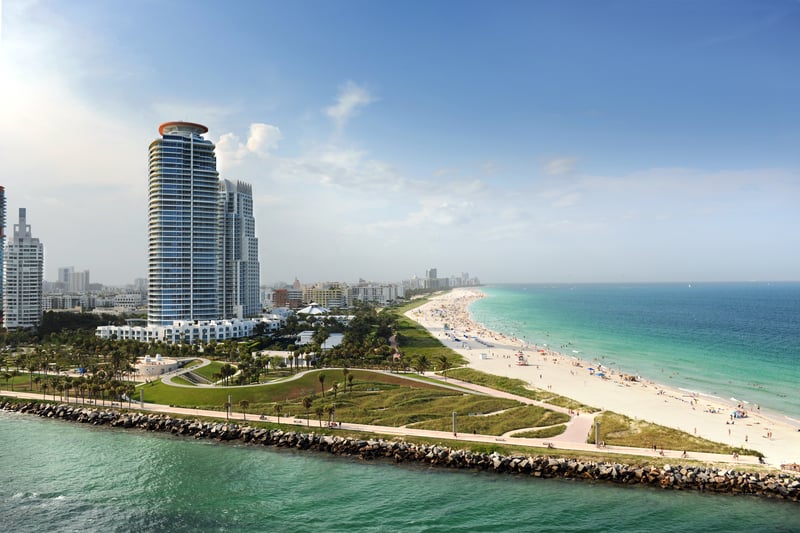 There are multiple features that make Miami an ultimate Latin American getaway – for both business and pleasure.
Miami, Florida is centrally located (globally speaking, of course!)
The Miami International Airport (MIA) is centrally located when you consider the total flight times for the majority of your international clients. Most flights from the western US, Mexico, Brazil, etc. are somewhere between 4 and 6 hours long, and even those from Madrid will only have to be on a plane for 9 hours or so. A reasonable travel time makes your Miami-based event that much more appealing to those who are traveling from outside the country.
It has a fascinating history
Florida belonged to Spain for hundreds of years, and this is evidenced in its architecture, music, and food. Thus, many of your guests will feel a sense of familiarity, while still enjoying an American-based business trip abroad.
When you combine the influence of Cuban, Puerto Rican and Latin American populations, with the addition of Caribbean flair – you get colorful and diverse results. In fact, many sociologists believe that Miami is a modern-day example of the "melting pot" that the United States was known for a few generations ago.
Some of Miami's heritage hot spots include:
Extraordinary things to do by day and by night
There's no worry of clients or prospects getting bored in between your events because Miami has an inexhaustible supply of itinerary items for both day and nighttime. As if the beautiful beaches, incredible food and club after club of dancing options weren't enough, Florida's unique geography offers business professionals the opportunity to take speedboat rides, cruise through the everglades and get up-close-and-personal with alligators and birdlife.
Water sports, plane tours, and days and evenings spent touring Little Havana and South Beach hot spots ensure international guests return home with fun and pleasurable memories to last a lifetime.
Proximity to world-famous attractions
Whether your guests travel solo or with their spouses and families, Miami's close proximity to other world-famous attractions is another magnetic draw. It's only a three-hour drive from Miami to Orlando's Walt Disney World Resort, which includes access to the Magic Kingdom, Epcot Center, Hollywood Studios, Animal Kingdom, Blizzard Beach and the Typhoon Lagoon.
Then there's Tampa, home to Busch Gardens and the Florida Aquarium, where guests can dive with the sharks. Tampa also offers the Museum of Science and Industry, with over 450 hands-on activities for visitors of all ages, as well as one of the largest IMAX domes in the nation. After the conference and events are complete, your guests may appreciate extending their visit a few days or more for some R&R in the Florida Keys or at one of the deep south's top vacation destinations – The Gulf Shores.
Would you like that in Spanish or Portuguese?
Don't forget that Latin American doesn't equal Spanish! Florida's mezcla of Latin American and Cuban cultures requires interpretation and translation in both Spanish and Portuguese. These languages may sound similar to the untrained ear – and they do share Latin language roots – but they are in no way interchangeable.
Similarly, your Spanish-speaking clients and prospects from Mexico, central and South America will require different interpreting teams and translation materials as those required by their Spain-based counterparts as there are differences between Latin American and Castilian Spanish. While these Spanish dialects are very similar, your clients will appreciate the extra efforts you've made to provide materials and interpreters in their native tongue.
Looking for a language services provider to serve you and your guests at your next Miami-based conference? Contact the team here at Chang-Castillo and Associates. We provide the platinum-standard of language services solutions for virtually every language on the planet – and all dialects of Spanish and Portuguese are our particular expertise.
Related posts