Indianapolis Translation and Interpretation Services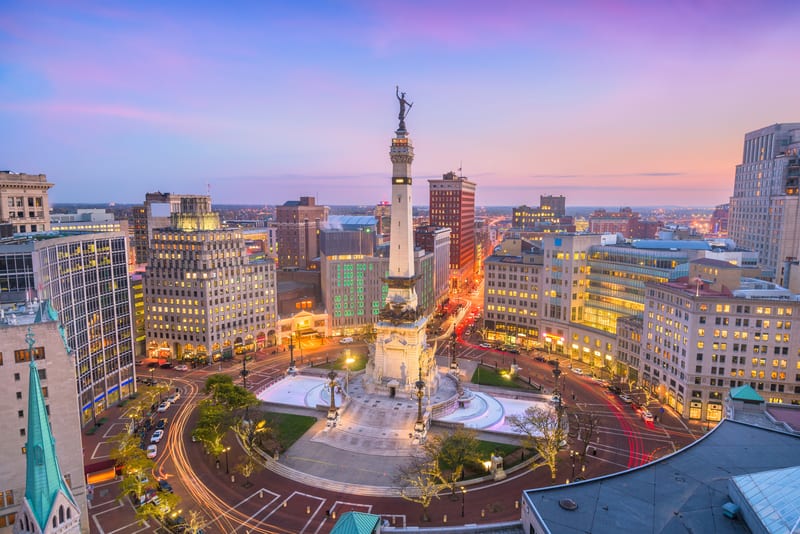 Planning an international conference or corporate event in Indianapolis, Indiana? Or, do you plan to attend an important multinational summit or political event taking place in the Indianapolis area? If so, you need exceptional interpreting and translation services you can count on. Indianapolis is a desirable location to host large events that draw customers, prospects and partners from around the globe because it offers everything a great metropolis is known for – but with a very reasonable price tag. That makes it an easier draw for smaller to mid-size companies that may not have access to more expensive locations in the United States.
Additionally, Indianapolis and the surrounding area offers a true glimpse of the "real" America, complete with both city and rural, pastoral landscapes. Racing enthusiasts will thrill at the opportunity to tour the world-famous Indianapolis Motor Speedway and Hall of Fame Museum. Western and cultural buffs alike will appreciate the thoughtful displays at the Eiteljorg Museum of American Indians and Western Art, and nature lovers will enjoy breaking free from the busy itinerary to spend some relaxing time at the 3900 acres-rich Eagle Creek Park nature reserve (1400 of which are water).
Through it all, Chang-Castillo and Associates' (CCA) team of professional interpreters and translators will facilitate exceptional language services so your clients receive 100% accurate and reliable information – whether its interpreted simultaneously for large format gatherings and summits, consecutively at smaller or more informal meetings or via print as the result of impeccable translations. We also offer interpreting rental equipment and teleconference services.
Contact us online or give us a call at +1 877 708-0005 to learn more about our services or to obtain a competitive quote. We look forward to showing you why we're considered some of the best language professionals in the industry.
Accurate, real-time interpreting requires the best linguists available
Interpreters are not created equal – and that's an understatement. Many are under the false impression that being a bilingual, native speaker of a target language automatically grants an individual interpreter status. That is simply not the case and can get you in big trouble because professional interpreters have more than multilingual fluency on their résumés. This is also a reason why it's so important to verify that your interpreting team is comprised of qualified conference interpreters rather than "community interpreters" – there's a big difference in quality.
The best interpreters are not only professional linguists, they are intuitive and expressive – allowing them to interpret emotions, intentions, and conversational nuances so your message is as authentic in the target language as it was in its original expression.
The interpreters working for CCA have impressive résumés, including:
At least 200 hours or 5 years of conference interpreting experience;
Graduate degrees in conference interpreting from an accredited university;
Membership and or certification with the industry's most respected organizations, including TAALS and AIIC (both of which are only available via stringent peer-review processes) as well as the United Nations, the European Union, the Federal Government of Canada and the U.S. Department of State.
Contact CCA to learn more about our simultaneous and consecutive interpreting services, and we'll pair you with native-speaking interpreters who are conscientious about communicating your brand's intentions with respect and sensitivity to the target audience's culture.
Experience the peace of mind associated with accurate translations you can trust
Whether you're preparing for a large international event  or a small meeting with non-native speakers, you want professional translations you can trust.
We've all had the experience of reading poor or less-than-professional quality translations. In the best-case scenario, these translations are slightly awkward or may even be charming in their own, "cute" way. At worst, they're so horribly done that you can't tell exactly what the text is trying to convey. Either way, this is not the impression you want your company to leave with prospects, colleagues, clients, and partners, and, unfortunately, shoddy "professional" translations are more common than you think.
This is why it is essential to choose your language service provider carefully and to work with professional translators who are not only experienced linguists but also have a set, quality-assurance process in place.
We only use translators who are native speakers of the target language. They are committed to a thorough, three-level process that is applied to each translation project that comes through our firm. Whether it's a corporate document, the speech or transcript for your next presentation or the smallest of marketing brochures, your materials will be translated, edited, and proofread so we can guarantee it's word-perfect.
Have a video you'd like to subtitle or transcribe?
Videos are used in every aspect of marketing and communication, as well as for training sessions or embedded into marketing materials, websites, and social media platforms. With professional subtitling and transcription services, your one-time video production investment can be put to work multiple-times over, in any language you like.
This creates an invaluable ROI on every video you make; a simple click of the button to select your language of choice and all of your video imaging and soundtracks will transcend across borders and cultures.
Professional interpreting equipment rentals means glitch-free communication
Don't trust the quality of your communication to the interpreting equipment offered on hand by your venue. All too often this equipment is outdated, poorly maintained or faulty. In worst-case scenarios, the interpreting equipment is overbooked and you're left without any equipment at all.
CCA keeps ample supplies of high-tech, well-maintained interpreting equipment that comes with its own A/V technician and support. Odds are, you'll never have any glitches at all but in the off-chance your equipment isn't working to your satisfaction, our technicians will attend to it immediately.
Use our teleconference services to keep the communication flowing
We also offer an innovative telephonic platform that's compatible with the presentation materials of your choice. The ability to host or participate in a teleconference is integral to developing international relationships before, during and after your Indianapolis event. Not only can you include important prospects or clients who weren't able to attend, you'll be able to foster more personal communication, trainings and presentations when the event attendees have returned back home.
Contact Chang-Castillo and Associates to learn more about our language solutions offerings and why we're considered the platinum standard in the industry. We're here, there and everywhere for our clients – including Indianapolis, Indiana and anywhere else you conduct business on the globe.