Dublin Translation and Interpretation Services
Dublin, Ireland is one of the best global cities in which to conduct multinational business, with the help of conference interpreters and professional translators, who make non-English speaking prospects and colleagues feel right at home. Not only are the Irish known for their welcoming, open and tourist-friendly manner, Ireland is also one Europe's fastest-growing economies and its small, dense capital is home to companies like Lufthansa, Citibank, and Accenture. Dublin is now considered a global services hub, playing host to a diverse array of businesses – all in a no-fuss and no-nonsense way.
Chang-Castillo and Associates is happy to provide language services to clients who find themselves in Ireland for business, ranging from the financial services and biotech sectors to creative industries, pharma and the burgeoning start-up companies that find Dublin's location, culture, and affordable business costs an ideal launching ground.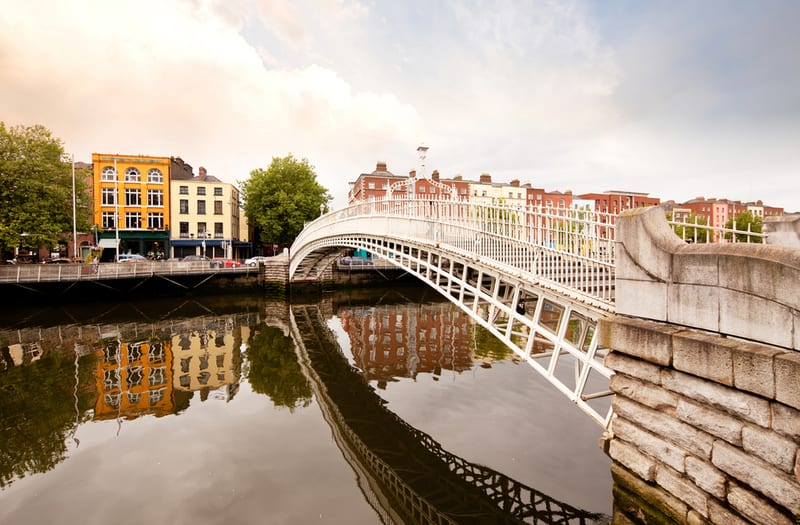 Whether you're attending a conference at the Convention Centre Dublin or mixing business and pleasure at the Druids Glen Hotel and Golf Course, CCA's team of language services professionals looks forward to ensuring your company makes an impeccable impression, and that your message is conveyed accurately and with the appropriate tone and energy associated with your brand.
Contact CCA via our online contact form or call us at +1 (877) 708-0005.  We will discuss your event and all of your prospective needs, and then we'll pair you with native-speaking translators and interpreters who are passionate about both the languages they speak, as well as the clients they serve.
Don't forget to ask us about our package deals, which including options like interpreting services, translation, equipment rentals, teleconferencing and more.
The right conference interpreters make powerful impressions and facilitate clear communication
Every time your business attends or hosts a key summit, conference, trade show, or specialty training, you're making lasting impressions. Because conference interpreters are literally an extension of your company's key players and spokespersons, they make an impression as well.
That's why CCA's team of conference interpreters hold platinum-standard reputations in the industry. In addition to graduate degrees, hundreds of hours of conference-level interpreting experience and affiliations with the industry's most notable organizations, our interpreters care about their clients. This passion for language and communication, along with their dedication to your team, allows them to speak for you in a more attentive and personal way.
This is invaluable in an era where brand identity is so important. Our interpreters can provide stellar simultaneous interpretation at large-scale events, or consecutive interpretation at smaller meetings, private dinners, and entertainment events, or facilitate business negotiations.
Regardless, our native-language speaking interpreters ensure that while the semantics are interpreted accurately, it is done with respect for the target audience's culture. This attention to detail sets our interpreters apart.
Interested in learning more about our conference interpretation services? Reach out to CCA online, or if you prefer, by phone, at +1 (877) 708-0005. We'll discuss your upcoming events in order to determine which language services will serve you best and to put together a competitive quote.
Work with professional translators who care about your final products
Our professional translators are more than simply word-to-word converters. They truly care that your materials are translated from their source language into the target language with 100% accuracy. At the same time, they are determined to preserve your company's messaging and feel, while also respecting the target audience's culture. This is a very delicate balance – and our translators excel at it.
CCA's translators can accommodate any type of translation, including:
Training manuals
Technical documents
Marketing materials
Brochures
Government documentation
Speeches
Transcripts
Corporate communications
After your project has been assigned to a project manager, it makes its way through a three-tiered process, that includes the initial translation, editing, and a final proof and formatting review. The project manager serves as your liaison, answering questions and keeping you up to date on the project's progress. Our translators are also happy to help you organize the documents at a meeting to ensure the right pages get into the right hands, at the right time.
Contact CCA to learn more about our professional translation services via our online contact form or by calling us at +1 (877) 708-0005.
Teleconferencing picks up where your conference left off
Unable to meet with a key contact at the last conference? Travel or visa issues? Teleconferencing is a smart solution.
Our innovative teleconferencing platform means you can meet "face to face" and "voice to voice" – and our professional team of interpreters and translators ensure all presentation materials and slides are word perfect. This removes any language barriers that pose a potential problem.
Keep in mind that even "fluent" English-speaking clients will find it an enormous relief to be able to speak in their native language, or hear your message translated into their native language, to ensure communication is completely clear – especially when the subject matter is complicated, intense, highly-technical and/or emotions are high.
Contact CCA today to learn more about our teleconferencing options and start thinking about out-of-the-box ways you can connect with overseas clients, right from the comfort of your own office or conference room.
Professional equipment rental you can trust
The last thing you need while in the midst of a high-level meeting are technical glitches, distracting sound vacuums or static interference that undermines your valuable work. CCA offers high-quality equipment rentals, along with the technical assistance required to guarantee clear, crisp communication between your team and theirs.
Our equipment rentals include everything from soundproof booths and interpreter consoles, to portable headsets and microphones for walking tours and trainings. Contact us here to learn more about our equipment rental options or by phone at +1 (877) 708-0005, so one of our team can be in touch to help you plan interpretation for your event.
Never sacrifice the quality of your translations
While in Dublin, you never have to sacrifice the quality of your words, speeches or professional networking with subpar language services. CCA is considered the platinum standard in conference interpretation and translation in Dublin and abroad. Let us show you what a difference it makes when you work with linguists who are dedicated to the quality of their services – and the integrity of your company's message.
We look forward to providing you with a competitive quote. Connect with us online or speak with one of our representatives at +1 (877) 708-0005.