Spanish Into English Interpretation Refresher Course
Chang-Castillo and Associates is pleased to announce that we will be hosting a training event in Buenos Aires, Argentina. The event, called "Spanish Into English Refresher Course" is co-sponsored by Calliope Interpreters and is open to all interpreters, though space is limited.
Objective:
This course is designed for practicing, professional conference interpreters especially Spanish A interpreters who would like to hone their skills from a Spanish A into an English B. The course is also useful for interpreters who would like to upgrade an English C into an English B. We have also designed the course for English A interpreters who are working on adding Spanish as a passive language.
Course:
The course will include the following topics:
Simultaneous interpretation techniques from Spanish into English
Consecutive interpretation techniques from Spanish into English
Consecutive note-taking techniques and strategies
Dates and Schedule:
2016 Session: August 1-5, 2016 (Group A: 8:00 AM- 12:00 PM, Group B: 2:00 PM-6:00 PM)
Course is limited to 30 students broken down in two groups of 15
Venue:
Auditorio del Colegio de Traductores Públicos de la Ciudad de Buenos Aires. Av. Corrientes 1824 (CABA) Argentina
Registration Fees:
USD 650 (AIIC, TAALS, ADICA members) and USD 700 (Non-members) + USD 25 application processing fee
Registration:
Send an email to info@chang-castillo.com and let us know you're interested, we'll send you more information.
About the Instructor: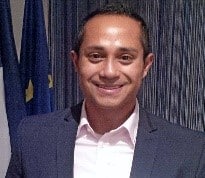 Pablo Chang-Castillo is originally from Nicaragua and grew up between Central America and the United States. Pablo holds a Master of Arts in Conference Interpretation from the Monterey Institute of International Studies, a Master of Arts in Bilingual Legal Interpretation from the University of Charleston; and a Master of Arts in Translation from MIIS. His clients include the U.S. Government, the Federal Government of Canada, the French Ministry of Foreign Affairs, the United Nations family of organizations and various other private entities and multinational corporations. Pablo is also an active member of AIIC, the International Association of Conference Interpreters, and TAALS, the American Association of Language Specialists with an English A, Spanish A, and French B language combination.
Co-sponsored by Calliope-Interpreters USA and South America
Please note that this course will be held exclusively in English with ISO soundproof booth.

Related posts