Seattle Translation and Interpretation Services
Seattle, Washington isn't called the Emerald City for nothing. When the sun is shining, this metropolitan city shimmers both literally and figuratively, offering you and your international business partners the perfect location for global summits, conferences, international tradeshows and other important business events. Few people realize that the Seattle area, in the Puget Sound, is home to some of the biggest and most influential companies in the world, like Microsoft, Amazon, Boeing and Starbucks – and the professional linguists at Chang-Castillo and Associates are standing by whenever your international business obligations take you to Seattle or the greater Pacific Northwest.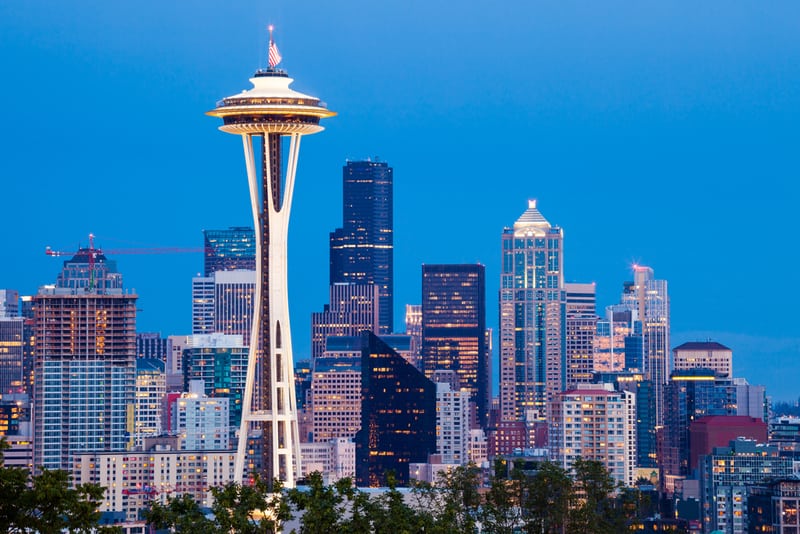 Our teams of interpreters and translators work regularly in Seattle, Washington and environs, and worldwide, ensuring our clients' messages are reproduced accurately, sensitively and with respect for the target audience's language. In addition, our team can provide important information pertaining to cultural business practices and norms for your international guests, as well as a well-planned Seattle itinerary to entertain them in between obligatory meetings, presentations and training sessions.
Whether your business ventures have you stationed at the Bell Harbor International Conference Center, or you'll be wowing your associates with the view from the tip-top of Seattle's iconic Space Needle, the location-based interpreters and worldwide translators at CCA will help you plan and organize a word-perfect event.
Contact Chang-Castillo and Associates to learn more about our professional conference interpretation and translation team. We have a platinum-standard reputation for a reason, and our work is guaranteed to help your business – and your brand reputation – outshine your competition.
In Seattle, our conference interpreters will keep your brand's tone and integrity intact
While education and training are certainly a priority, our simultaneous interpreters' dedication to client satisfaction is also part of what makes our interpretation services stand out from the rest. The semantic interpretation of a spoken message is important, but equally crucial are the tone, the context, and the inflection. Our team will go the extra mile to assimilate into your team as much as possible so that your company's message and personality continue to resonate – even when its messages are spoken in a different language.
What's so special about native speakers? Isn't "fluent" enough?
Hoover. Flat. Gutted. In American English, these words mean, respectively, "the 31st president of the U.S.," "smooth and even, without curvature," and "eviscerated". But in British English, the same words mean "vacuum cleaner," "apartment," and "extremely disappointed or unhappy". This is a small example of why native speakers, preferably from the same geographic location/region as your audience, are so important. Being fluent in a language does not mean you understand all of the idioms, turns of phrase or cultural/political language infused into a culture.
CCA interpreters come with the highest of qualifications, and we always try to make sure they originate from the same geographic location as your target audience, so they can translate culture as well as language.
We offer both simultaneous interpretation and consecutive interpretation, and are happy to help you determine which mode of interpretation will best serve your specific needs. Please contact CCA online or call us at +1 (877) 708-0005. We'll put together a competitive language services estimate, and offer one of our bundled deals, which will reduce your price based on additional language services offerings – including translation and equipment rentals.
Ready for word-perfect written translations?
If you're a fan of Seattle-born late musicians Jimi Hendrix or Kurt Cobain, you know the awful feeling you get when a singer hits a flat note, or a piano is slightly off-key. That's the exact feeling a linguist gets when we read poor or well-intended translations that are just a little "off" in their wording. Even worse, that's the same feeling your clients and prospects will get while reading your translated materials if you aren't careful about your translators and language services providers.
Fortunately, when you work with CCA's translation team, you'll never have to worry about that.
Our translators always go through 3 translation steps (first draft, editing, and proof, each with a different linguist) – all overseen by highly-experienced project managers (PM) who serve as a liaison between your team and ours, as we keep you abreast of the translations process and timeline.
We translate:
Marketing materials and brochures
Corporate communications
Speeches and transcripts
Technical manuals
Government papers
Presentations
And more
Make sure the documents translated for your Seattle event are as good as if you'd created them yourself – in whatever languages you desire. Contact CCA today and let's start creating a project itinerary and a competitive quote.
Bring clarity and continuity to your messages via equipment rentals and teleconferencing
In addition to conference interpreting and professional document translation, CCA offers additional language services to augment the work you're doing to forge multinational connections across the globe.
High-quality equipment rental means glitch-free communication
Firstly, our high-quality equipment rentals allow you to communicate freely with clients, prospects, and colleagues using the highest-tech equipment on the market. We can provide you and your event with a myriad of equipment, including soundproof booths, interpreter consoles, headsets and receivers, portable headphones for walking tours or trainings. In addition, you'll gain assistance from a dedicated technician, so you'll never be left hanging in an embarrassing technical lurch.
Continue your conversation using teleconferencing technology
Was a key contact unable to attend your Seattle-based engagement? Is there someone with whom you'd like to continue the conversation, but who lives across the globe? Teleconferences allow you to prioritize those personal engagements without having to minimize them with voice-only conference calls or impersonal emails.
CCA's innovative teleconferencing platform, paired with your presentation software of choice provides results. Add to that our simultaneous interpreters, and teleconferencing becomes a worthwhile investment as you continue building global partnerships and international business relationships. As with our rental equipment offerings, teleconference services are paired with complete technical support, so you can go about your business without any fear of static, interference or lost connections.
Contact Chang-Castillo and Associates to learn more about these and other language services, wholly dedicated to the success of your Seattle events, and your brand's worldwide recognition. Working with us will show you exactly why we're considered the platinum standard in language solutions in the Northwest and abroad.