Louisville Translation and Interpretation Services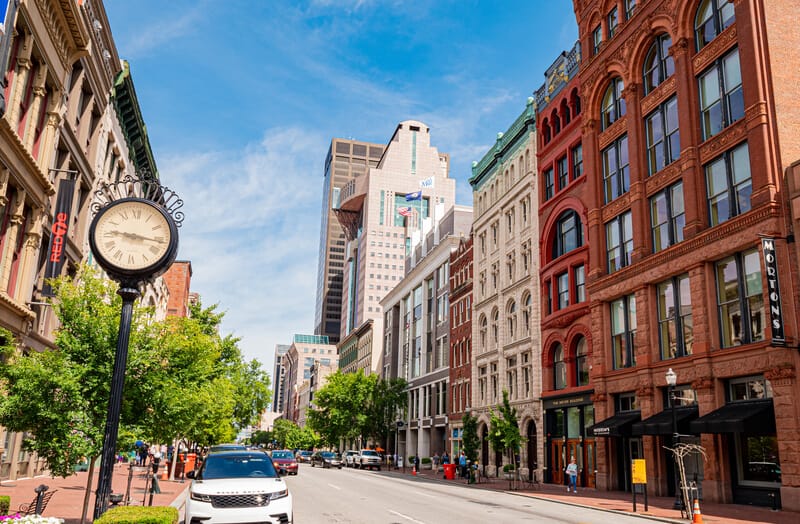 You may think trusting someone else to interpret and translate your conversations, presentations, or documents in another language is a gamble. You are trusting your company's – and it's brand's – reputation to people outside of your organization. Fingers crossed they perform their work accurately. The professional linguists at Chang-Castillo and Associates understand your vulnerability when communicating with target audiences who speak a different language, which is why we work so diligently to ensure your team and our teamwork collaboratively to achieve clear, accurate, and impeccable lines of communication.
Are you hosting your next event, tradeshow or business meeting in Louisville, KY, home to Maker's Mark Bourbon, Kentucky Fried Chicken (KFC), and the famous Kentucky Derby? The last thing we want is for you to worry about your events being understood by your colleagues from around the world. Whether you're hosting a conference, summit or international meeting in Louisville, KY, or you're planning to attend an event where language services are required to get your message out into the world, Chang Castillo and Associates (CCA) offers a range of language service solutions to support your goals.
Contact us to learn more about how our services can support your team throughout your Kentucky itinerary. We look forward to showing you why we've earned our reputation as the platinum standard in our industry.
Simultaneous interpretation that genuinely represents your message and your brand
Not all language "professionals" are created equal. In some cases, you may find the "great price" you found for your "professional Louisville interpreter" had more to do with the fact that s/he is a native speaker of your target language, as opposed to having the credentials required to earn the designation of a professional interpreter.
Here at CCA, we require that our interpreters have exemplary credentials and work history. That includes criteria like:
A degree (graduate-level preferred) in linguistics from an accredited university program
Evidence of at least five years, or 200 hours, of professional conference interpretation experience
Certification and/or membership with some of the world's leading industry organizations and governing agencies, many of which require a stringent peer-review process.
Perhaps one of the most important features of CCA interpreters is that they spend considerable time and effort learning about your company, so our interpreters become a natural extension of your team. This facilitates the ease and natural flow of the conversation, not to mention increased accuracy in tone, nuance, and emotion.
We'll help you establish which mode of interpretation best serves your event(s), and we always pair you with native-speaking interpreters with experience or rooted familiarity with your business industry or niche.
Accurately translated documents and materials
There's nothing worse than finding out your materials are loosely translated to the point that your message – or your brand's tone and personality – has been altered. Professional document translation is a tricky business and should only be handled by language services firms who utilize top-notch quality control to guarantee 100% accuracy.
Here at CCA, we use a three-level system to translate materials, so that every document you submit is reviewed, proofread and edited multiple times. Our professional translators provide a fast turnover for virtually anything print-related, including:
Marketing brochures and materials
Training and technical manuals
Corporate communications
Government papers
Speeches
Have a project you need to rush? No problem. Give Chang-Castillo and Associates a call at +1 (877) 708-0005, and we'll put you in touch with a dedicated project manager.
Enhance your client experience with interpreting equipment rental and teleconferences
Simultaneous interpretation requires high-quality and specialized interpreting equipment, which is rarely available through Louisville's large event venues. Even venues that say they have it often provide sub-par equipment, or they don't have exactly what the professional interpreters need (soundproof booths, interpreter consoles, clear headsets/mics) where and when they need it. That makes it impossible for you to provide – and receive – clear and accurate communication.
We provide high-quality interpreting equipment rental, overseen specifically for each of your events by a trained conference technician for total A/V support.
CCA also offers teleconferencing services, allowing you to connect more personally with contacts around the world. Whether a key prospect or client couldn't make it to your Louisville event, or you're interested in continuing critical conversations once the events are over, our telephonic platforms and your presentation software of choice, make international "facetime" more accessible than ever.
Contact us here at Chang Castillo and Associates, +1 (877) 708-0005, to learn more about our language service solutions and how they can support your efforts in Louisville, KY and abroad. We're dedicated to helping multinational businesses and professionals develop their brands with confidence and integrity.