Honolulu Translation and Interpretation Services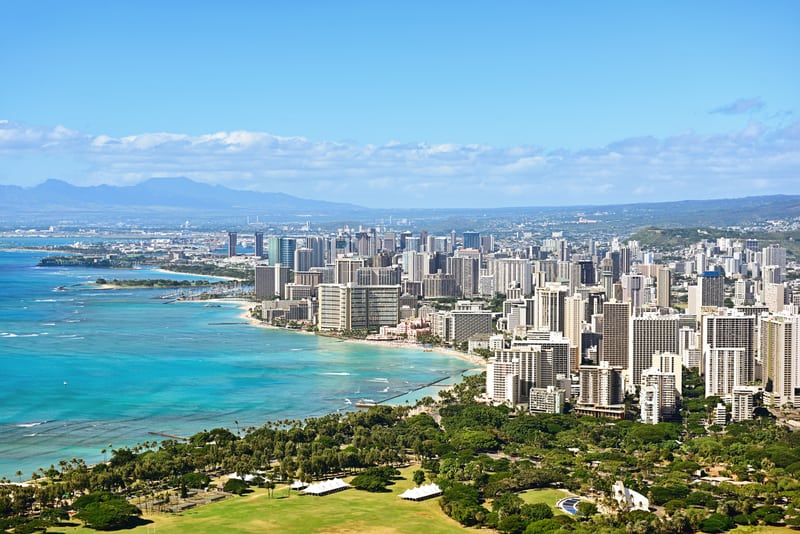 It's easy to lure business associates and prospects to Honolulu, Hawaii. One of the most celebrated beach cities and resort communities in the northern hemisphere, Hawaii offers stunning, tropical backdrops and loads of things to do for those attending or participating in multinational events. Oahu is a gorgeous island and your colleagues and prospects will be easily entranced by the iconic profile of Diamond Head, magical luaus and the heady scent of tropical flowers. Fun-in-the-sun notwithstanding, the business portions of your event itinerary are notably enhanced by top-notch interpretation and translations services.
Chang-Castillo and Associates (CCA) has provided platinum-standard language service solutions for some of the world's most recognized corporations and brands. Our dedicated team of professional interpreters and translators will meet with you to prepare for the event, familiarize ourselves with your brand, and provide seamless interpretations and/or translated materials that relay your message accurately, smoothly and as if it originated in your target language(s).
In addition to providing the highest level of language services, our team of interpreters and translators are happy to help you plan your event itinerary with respect to your global clients' cultures and interests. Together, we'll make sure your brand shines above the rest, and every word is conveyed exactly as you intended. Whether you find yourself based out of the nearby Hawaii Convention Center or are taking advantage of the historic lure of the Royal Hawaiian or another scenic venue, CCA looks forward to showing you the stress-free event experience created by language professionals who anticipate your every need.
Contact us today to receive a timely estimate or to learn more about the types of language services that will best suit your needs in Honolulu.
Use globally-wise interpreters who communicate with nuanced finesse
Interpreting is a delicate business. More than word-for-word interpretations, your fluid, heartfelt and branded messages deserve to be conveyed by professionals who care that each word lands with the intended impact. There is no room for black-and-white, direct interpretations that leave your feelings, sensitivities or any culturally nuanced information out of the picture. Rather, our niche-specific interpreters work devotedly to get a feel for your company, its personality, and its tone, so that the words coming out of our mouths are identical to the words coming out of yours – but in the language of your intended audience.
We offer standard modes of interpretation – simultaneous interpreters typically handle conferences or seminars where interpretations must be relayed in real-time, as well as consecutive interpretation, most commonly used for smaller meetings, more intimate negotiations, and social events.
All our interpreters are highly qualified. In addition to graduate degrees in conference interpreting from an accredited university, they also boast a minimum of five years and/or proof of 200 days of simultaneous interpreting experience. They also have certifications, affiliation and/or membership with some of the world's most renowned, industry organizations such as TAALS, AIIC, the United Nations, the European Union, the US Department of State, etc.
Contact the interpreting team at CCA to discuss your upcoming events. We'll work with you to select the right interpreters for the job, based on your language needs as well as your professional niche and the tone you'd like to strike. Our interpreters will easily assimilate with your team to make the experience stress-free and as easy as possible.
Provide professionally translated documents that flow naturally
Everyone knows the funny feeling you get when a translation isn't quite right. Sometimes, the translations are downright funny or amusing (think restaurant menus and t-shirts). Other times, they can almost seem offensive ("didn't 'they' care enough about me/my business/my interests to ensure these were translated accurately?"). Never trust your brand's reputation and important message to half-hearted or inexperienced translators.
The professional translators at CCA are highly qualified and dedicated to their job. While they all have a passion for their language, they also have a sincere interest in your reputation and customer satisfaction. We care very much that the copies you provide to clients, colleagues, trainers/trainees, experts, etc., read as naturally in the target language as they did in the original copy provided. And, it's important to note that we specialize in providing native-speaking translators, ensuring that the content is culturally sensitive and that any idioms, turns of phrase or conversational phrases are translated appropriately and relevantly for the intended audience.
To this end, CCA's translators use a tried-and-true, three-tier process for every translation we produce. First, the project begins in the hands of one of our dedicated Project Manager – an experienced linguist who heads up the translation team and serves as your liaison throughout the project so you can ask questions, provide information and stay abreast of the projects progress. Second, we use three different translators as the project runs through the first rounds of translation and editing before being proofed again by a fresh set of eyes and amended/corrected as needed. If required, we also implement the use of technical assistance for any digital, image or formatting needs that may arise.
The end result is a copy that you can feel 100% confident in – and proud of – as it's distributed to its intended audience. We translate all types of document, including:
Speeches and transcripts
Marketing brochures and presentations
Technical manuals
Training materials
Corporate communications
Government documents
Subtitles
Our translators are also happy to help with the organization and dissemination of materials at your Honolulu area events if needed. Contact us to learn more about our professional translation services, and don't forget to ask about our bundled packages, which help to save you money.
Have you considered interpreting equipment rentals and teleconferencing?
Does your event host offer interpreting equipment as part of their package deal? While this sounds good in theory, we've fielded many an emergency phone call from clients who trusted the venue's equipment – only to discover it wasn't working properly, hadn't been maintained or the event host simply didn't have the right parts available.
When you use professional interpreters from CCA, we offer all the professional interpreting equipment you'll need at a competitive price. This includes everything from UN-style soundproof booths and interpreter consoles, to infrared emitters, headphones/mics and portable options for hands-on demos, training sessions or walking tours. In addition to well-maintained high-quality equipment, you also benefit from onsite A/V tech support so there's never a single worry of anything going wrong.
CCA also offers innovative teleconference equipment via a telephonic platform that's compatible with the presentation software of your choice. This service can be used in Honolulu to include multinational associates who were unable to attend the event, or CCA's services can be used back home, to continue more personalized engagement as you expand your global partnerships and market.
Contact Chang-Castillo and Associates for all of your professional language service needs. We're available in Honolulu, at home or anywhere on the planet your business takes you. See the difference it makes when you invest in platinum-standard solutions to develop your international business rapport.