Baltimore Translation and Interpretation Services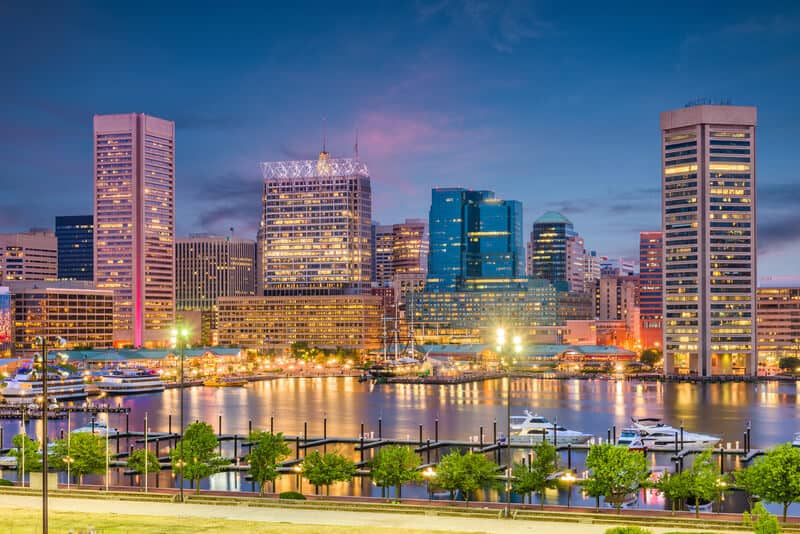 Baltimore, Maryland, is known for its gorgeous harbor and eclectic mix of historic and contemporary neighborhoods. In addition to serving as Maryland's economic hub, Baltimore and Bethesda house the headquarters of some of the largest international brands in the world, including McCormick & Co., Under Armour, and Marriott International. About an hour and a half from Baltimore, Annapolis is home to the U.S. Naval Academy and known as the country's Sailing Capital.
While the majority of the large cities in the United States are a melting pot of languages, Baltimore is an exception. According to the World Population Review (2/2020), more than 90% of the city's 600,000 residents speak English, 4% speak Spanish, and the remaining 6% speak various other languages. This means companies hosting multinational prospects, partners, or colleagues must rely on a language services provider to facilitate spoken and written communication.
If your company is planning to host or attend a multinational event in Baltimore, you'll benefit from partnering with Chang-Castillo and Associates (CCA). With professional linguists around the globe, CCA offers the very best and brightest to represent your brand via accurate, impeccable, and culturally-sensitive interpretation and translation.
Chang-Castillo ad Associates provides a full menu of language services, available in competitively-priced packages or a la carte:
The linguists at CCA understand that it takes a great deal of trust to put your brand's language, messages, content, and reputation in the hands of others, and we honor that trust.
Partner with language service providers who treat your brand as their own
There are two reasons CCA has developed a reputation as the best language services provider in Baltimore and beyond. First, our linguists are highly educated and have ample experience working in high-pressure arenas (more on that below). Second, we hire professionals who have an equal dose of passion for both language and people.
When our team partners with yours, you gain an alliance with language professionals who take great pride in becoming the equivalent of "language chameleons." We'll spend time pouring over the materials you share with us so our voice, and our written text, flow as seamlessly from us as it does from your brand. When we are finished, your brand's language, emotion, tone, nuance – all will be relayed as precisely as possible to your target audience(s), with consideration for their culture and values.
Interpreters and translators with exceptional credentials
An inherent talent for languages is certainly a foundation for most linguists, but high-level language services also depend upon specialized education and training. Our interpreters and translators have exceptional credentials, including:
Graduate-level degrees

from accredited university programs around the world

Peer-reviewed memberships and/or credentials with industry organizations such as TAALS and AIIC

Accreditation or certification with the United Nations, the European Union, the US Department of State, and other governmental/global institutions

Our conference interpreters have proof of 500 hours or at least two years of conference interpreting experience.

Positive referrals from clients past and present, which we are happy to share with you upon request
Beyond the community, and into high-pressure environments
While our interpreters and translators are happy to work in the community and for more social or light-hearted engagements (such as wining and dining international prospects over dinner at the famous Charleston restaurant), they remain calm, cool, and collected in tense, sensitive, or higher-pressure environments.
Our team has served Fortune 500 companies and international organizations as expert legal witnesses in the courtroom, at heated UN summits, and during international arbitration sessions.
Baltimore is also proud to be the seat of world-renowned Johns Hopkins Hospital and the University Of Maryland Medical Center, and we have linguists who are medical and pharmaceutical translation experts.
We always honor the interpreter's code
Whenever we're on the clock, our team observes the "interpreters code". This means we'll always dress the part, from black-tie, to business-professional, to Hawaiian shirt on the golf course – but not just. At CCA, confidentiality is a given, and ethics, honesty, and etiquette are paramount to our business model. Like we mentioned above, we're master chameleons, and if we've done our job right, your target audiences won't be able to tell where your team ends and ours begins.
Contact Chang-Castillo and Associates, call us at +1 (877) 708-0005, and partner with the industry's platinum standard in language service providers.