São Paulo Translation and Interpretation Services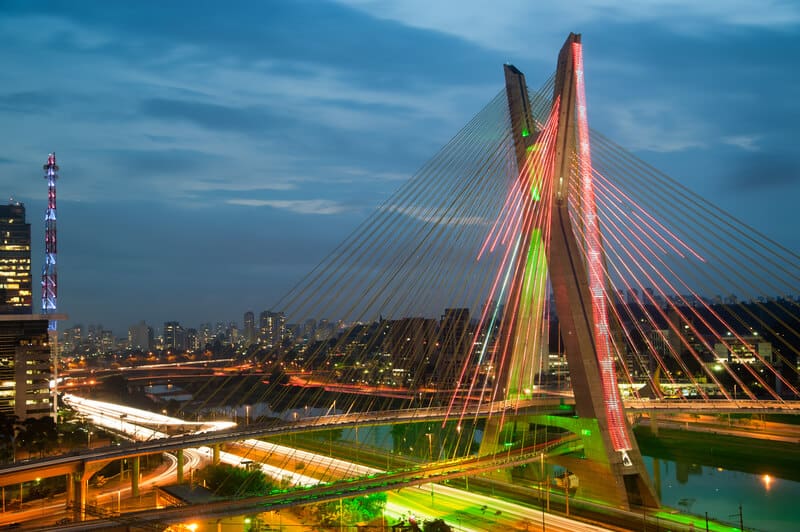 São Paulo is known as Brazil's major center of economic activity, as well as one of the world's major coffee hubs. In addition to being famous for its Carnival, business professionals worldwide enjoy attending events in São Paulo because of its unrivaled nightlife and reputation for having some of the most delicious restaurants in South America.
The city's rich immigrant heritage—blending first-, second- and third-generation immigrants from around the world—has arguably made São Paulo one of the most cosmopolitan cities in South America. This same mixture of languages and cultures also means you deserve to work with a language services provider offering highly-nuanced services, so communication flows fluidly and accurately between your team and your target audiences.
Chang-Castillo and Associates (CCA) provides translation, simultaneous and consecutive interpretation, as well as additional language services, customized to your company or organization's needs. Our educated and experienced linguists work closely with clients to assimilate as naturally as possible with their team – becoming a seamless extension of your company culture whenever possible.
Contact us at +1 (877) 708-0005 to receive a competitive estimate for interpretation, translation, and other language services in São Paulo, Brazil.
Language services available in São Paulo
We offer a full menu of language service solutions, all provided by highly educated, trained, and experienced linguists, including:
Simultaneous Interpretation. This is very different from the type of interpreting services offered by community interpreters. Sometimes called conference interpretation, simultaneous interpretation takes place in UN-style soundproof booths and requires a team of interpreters who are not only adept at their working languages but can also relay information accurately and seamlessly in real-time, no matter how tense or sensitive the situation may be.
Consecutive Interpretation. Used for smaller or more intimate events, private business negotiations, or more casual social engagements, consecutive interpretation happens in a relay format, where speakers use shorter sentences and phrases, wait for them to be interpreted, and then continue.
Professional document translation. From marketing brochures and social media or website content to government or corporate communications, legal or medical documents, training or technical manuals, your organization's materials deserve to be translated accurately and fluidly to prevent any awkward sentences or misaligned word substitutions. That's the difference between translated documents that flow as naturally as their originals and clunky translations that don't do justice to your brand's reputation.
Interpreting equipment rentals. Are you planning to use the interpreting equipment available to you at your São Paulo or nearby venue? We encourage you to consider renting professional interpreting rental equipment yourself instead. CCA's rental equipment is new, well-maintained, and comes with its own A/V technician to address any technical issues or interference that arises during your event. We'll work with you to identify exactly which type of equipment – and how much – you need so your event moves forward without a hitch or delay.
Teleconference services. If your colleagues, prospects, or clients aren't able to meet you in São Paulo, we'll bring them to you via high-tech teleconference services. The combination of qualified interpreters and a platform that accommodates your visual presentation software of choice, it will be as if you are all together in the same room.
Verify prospective interpreters' and translators' qualifications
We highly recommend vetting your prospective interpreters and/or translators' qualifications. Not all linguists are created equal, and high-profile corporate events, delegations, political summits, etc., require the highest-level linguists available.
They should be employed or contracted through a language services firm who has already vetted their qualifications for you and can present proof of:
Graduate degrees in an accredited, well-respected university or program;
Hundreds of hours or at least 5 years of experience performing the same level of work they'll be performing for your company or organization;
A professional code of ethics that is evident in their physical presence and social/professional interactions;
Excellent references from companies or organizations in your industry or niche.
Read What Qualifications Should I Look for in a Translator or Interpreter? for more information as you begin looking for the best interpreters and translators in São Paulo, Brazil.
The team here at Chang-Castillo and Associates has earned a reputation as the industry's platinum standard. You're as likely to find our linguists working at the UN or facilitating international arbitration or serving as expert witnesses in high-profile legal cases.
We only hire linguists with impeccable credentials, and that exemplary level of experience is evident in every word we translate or interpret. Contact us to learn more about our language service solutions, and to begin planning how our services can facilitate positive negotiations and professional relations in São Paulo, Rio de Janeiro, and around the world.