Santiago Translation and Interpretation Services
Santiago, Chile has been called the "South American Surprise," and for Forbes Magazine it is "the most underrated city in South America." That's great news for company owners and managers looking for an affordable and desirable location to host their next big conference, summit or corporate event. The combination of Santiago's historical sites contrasted with modern architecture, numerous exciting cultural attractions and plenty of parques and green spaces form a compelling destination for multinational business professionals.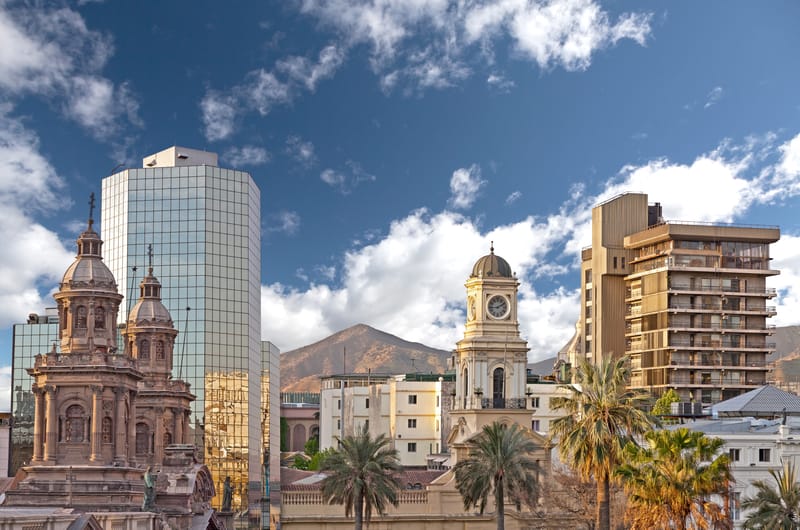 Once there, your guests and attendees will rely on your choice of language services providers, ensuring access to well-translated documents as well as high-quality interpretations. Whether you require simultaneous interpretation services for an international summit at the Sheraton Santiago Hotel & Convention Center, or plan to wine and dine special prospects and clients at the gorgeous Ritz-Carlton, Chang-Castillo and Associates (CCA) is here to provide the platinum standard in language solutions – in Spanish, Portuguese and virtually any other language spoken on the planet.
Our Santiago-based team can serve you in multiple capacities, including assisting your team as they create the ideal itinerary – balancing business and pleasure – for your clients and associates. Are you looking for the ideal location for your business dinner? We'll meet you at the Sarita Colonia, famous for delicious cuisine, most notably succulent Chilean crab. Would your group appreciate a little culturally-inspired nightlife or excitement? Rumba Chilena is one of the most popular nightclubs in the city, and your guests will enjoy watching (or learning!) Chilean rumba. When it's time to get back to work, our interpreters and translators will ensure all your materials are organized and that your presentations, speeches, and demos move forward without a hitch.
Contact us here at CCA to receive a competitive quote for language services in Santiago, Chile. We'll help you establish which services will best serve your brand – and your audience – and work with your team as they create plans for a successful experience.
Accurate and fluid translations you can trust
Accuracy and fluidity are integral to successful translations. The importance of work accuracy is a given. However, translations can be accurate without being fluid – and this has a negative impact on the reader. By working with professional, experienced translators who care about the final product, your clients, prospects, and colleagues have access to translations that aren't just accurate, but also easily scannable and read as comfortably and naturally as documents composed originally in the target language.
CCA's professional team of translators offer an unrivaled level of accuracy and fluency in every translation we produce for our clients. That includes:
Government documents
Corporate communications
Training and technical manuals
Speeches and transcripts
Presentations and demonstrations
Marketing brochures
Signs, banners, and logos
Once we're in contract, your project is overseen by one of our project managers and undergoes three separate steps – translation, editing, and proofreading.
Our translators are more than just multilingual word pros; they care that the documents they prepare for you maintain the same voice and tone your brand is known for, while still respecting the cultural sensitivities and nuances of the target language.
Contact CCA online and one of our linguists will reply immediately. You can also give us a call by phone at +1 (877) 708-0005 to learn more about translation services. Ask about our competitively priced packages, which combine your translation projects with other language service solutions.
Professional and personable interpretations make all the difference
Conference interpreters have a tremendous job to do. In addition to interpreting the spoken word in real time, with very little time to think, plan or adjust, they also represent your company and its brand. During your event, the interpreters become a part of your team, and that requires very special people.
The interpreters working for CCA are truly the best of the best. We take special care when hiring our professional linguists because, in addition to impeccable credentials, we focus on finding interpreters who are also "people people," as dedicated to representing your company in a positive light as you would hope them to be.
All of our interpreters:
Hold graduate-level degrees in conference interpreting from accredited universities;
Possess current memberships and affiliations with the industry's most respected organizations, including the United Nations, the US Department of State, the European Union, TAALS, AIIC, etc.;
Have at least five years and/or hundreds of hours of conference interpreting under their belts;
Are dynamic and passionate about languages, cultures and
Depending on the nature of your events and itinerary, we offer teams of interpreters for simultaneous interpreting (used for international summits and larger, presentation events) or for consecutive interpreting (typically used for smaller gatherings, more personalized business negotiations and social events).
In addition to providing translation and interpretation services, we will happily accompany you to various events and meetings, ensuring materials remain organized and that they're disseminated to the right groups/individuals at the right time – to keep your event running smoothly and without any embarrassing confusion.
Get in touch with us here at CCA to learn more about the different interpreting modes available to you. Our team will help you determine which type is best for your various events so your team – and its target audiences – communicate splendidly and without any confusion or upsets.
Facilitate successful communication using high-quality interpreting equipment rental and teleconference services
Often, large event venues in Santiago advertise the use of interpreting equipment as part of your total package. While this sounds good in theory, you're taking a big gamble. There's no guarantee whether there will be enough equipment available for delegates and attendees, equipment quality is never a given, and you have no control over whether or not the equipment is properly maintained. Renting high-quality equipment from CCA ensures your employees, guests and interpreters have access to top-notch equipment that's impeccably maintained – and all of our equipment comes with on-site A/V support so you're never left with a technical glitch that isn't immediately solved.
Is there a key player or prospect who can't make it to Santiago? Consider using teleconferencing services to keep them in the communication loop. Similarly, CCA's innovative telephonic platform can be used on your home turf after the event, to continue building on the professional relationship you've made in Santiago and elsewhere during your business travels. This 21st-century technology makes it possible to enjoy face-to-face communication without ever leaving the office.
Our equipment is compatible with your presentation materials of choice and can be combined with professional interpreting and/or translation services as needed. Again, you'll benefit from onsite technical support. Teleconferences add another level of personalization to professional interactions and your brand as a whole.
Planning to host or attend an event in Santiago, Chile?
Chang-Castillo and Associates looks forward to being of service. We'll show you why we've developed a reputation for being the platinum standard in the industry. Contact us to receive a timely and competitive quote, or give us a call to discuss your ideas in more detail and learn more about language services solutions.