Cancun Translation and Interpretation Services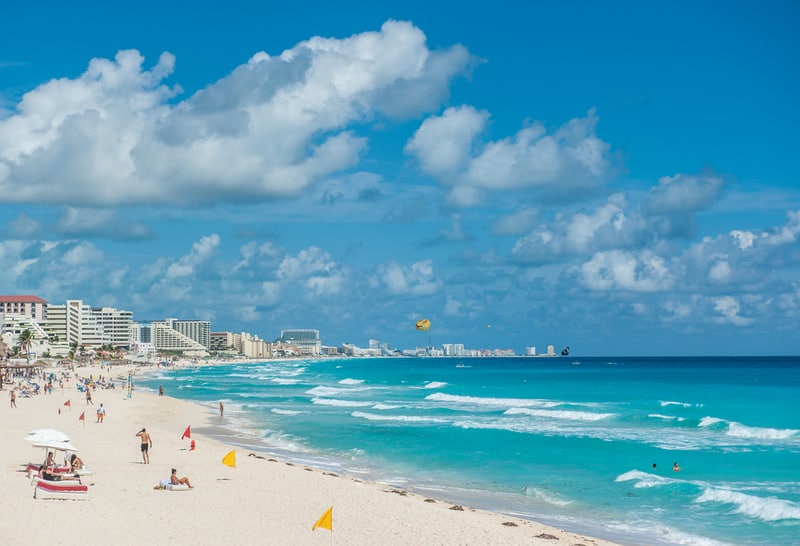 Cancun, located on Mexico's Yucután peninsula, has long been considered a global, luxury vacation hotspot, making it a desirable location for multinational business conferences and events. You and your clients have the opportunity to enjoy the ultimate balance between business and pleasure, and both ventures are enhanced by the use of professional, simultaneous interpretation and translation services that season your professional, multinational interactions with smooth, accurate spoken and written communication.
From large, corporate-style conference venues (like the Moon Palace or Iberostar) or smaller, more intimate boutique-style venues (such as the Nizuc or LeBlanc resort/spa-style options), Chang Castillo and Associates (CCA) offers a team of local, native-speaking language professionals to meet all of your communication needs. In addition to Mexican as well as other Latin American and European Spanish dialects, our interpreters and translators are available to facilitate communication in virtually any language spoken on the planet.
We'll work closely with your team to not only facilitate accurate, clear and culturally relevant and sensitive communications between you and your target audiences, but also to create a well-rounded itinerary that includes interpreters, as needed, to enhance guests' ability to enjoy the variety of historical, archeological, natural and cultural hotpots Cancun and the peninsula have to offer.
Contact CCA online to learn more about our language service offerings and to discover why we're considered the platinum standard for professional interpreting and translating services in our industry. You can also give us a call to speak directly to one of our language professionals at +1 (877) 708-0005.
We look forward to helping you facilitate a successful event experience for you and your colleagues, clients, and prospects.
Accurate translations go beyond the semantics
There's a reason why Google translate doesn't work in a professional capacity. While it might help Spanish students from time to time, or get you out of a traveling pinch, it (and similar machine translation tools) is never a substitute for high-quality professional translations. This is because there is more to person-to-person communication – even in print – than word-by-word translations can ever transmit.
Our team of professional translators don't just translate words, they translate complex and layered nuances. They have the ability to shift American idioms into sayings or expressions that resonate better with a particular culture and to maintain the energy or feel of your brand in the final document translation. This makes a tremendous difference in how it lands – and impacts – the target audience.
Similarly, even the smallest of errors or grammatical snafus can shift the power dynamics between you and your prospects or colleagues. Awkward or "not-quite-right" translations simply aren't professional, a reason why CCA's translators put all of your documents through a three-tier translation, correction, and proof process.
We translate all manner of documents, including:
Corporate communications
Marketing materials and brochures
Government documents
Speeches and transcripts
Presentations
Training manuals
Technical papers
And any other type of document
In addition to providing translation, our translators are prepared to meet you onsite to ensure the appropriate translated resources remain organized and are disseminated in sync with presentations and trainings – and that the right documents make it into the right hands.
Interested in establishing a seamless flow between your team, relevant documents, and the final translations? Work with the team here at Chang-Castillo and Associates!
Simultaneous interpreters who serve as extensions of your company
The most fluid verbal communication occurs when there is a trusting and fluid relationship between the speakers. That's why the conference interpreters at Chang-Castillo and Associates have a vested interest in your company and its representatives. Whenever possible, we prefer to work with your team as you prepare for your next event, so we can pair interpreters with the most relevant niche business knowledge, with your target language(s), and to become familiar with your event's key players.
The more we work with your team, the more successful events will be. The interpreters working at CCA have:
Graduate degrees in conference interpretation from accredited universities
Demonstrated conference interpretation experience
Certification and/or membership through globally and industry recognized organizations, like TAALS, AIIC, the United Nations, the European Union and the US Department of State
A passionate commitment to remaining abreast of their A-, B- and C-language's news, politics and pop culture for more culturally relevant and sensitive interpretations.
Will your event involve conferences or large-format meetings requiring simultaneous interpreting services? Contact us, and we'll put together a stellar team. And if you are planning to host smaller training sessions, tours, or private social events where consecutive interpretation is the better mode, CCA has you covered there as well.
We look forward to working with you as you create the itinerary for your upcoming Cancun events so we can pair the right team – and the right mode of interpreting services – for a successful outcome. Contact us to learn more about our services and to obtain a competitively priced quote. We also offer translation and interpretation package deals to defray excess costs even further.
Equipment rentals and/or teleconferences
Take your events to the next level using high-quality equipment rentals and teleconference options.
Experience high-quality rental equipment without a technological hitch
While many of the large event venues out there advertise the availability of conference interpreting equipment, there's no guarantee regarding what they have, its quality, or the quality of the technical support available during the event. Why take the gamble?
CCA offers top-notch equipment rentals, from UN-style soundproof booths and interpreter consoles to the portable headsets and mics that come in handy during demos, training sessions or tours. All of our equipment is impeccably maintained and comes with onsite technical assistance, so you're never left in the communication lurch.
Use teleconference technology to meet in the virtual world
Was there an important guest, prospect or colleague who couldn't make it? Are you interested in fostering a more personal connection with a new contact when you return home? Our innovative teleconference technology – compatible with the presentation software of your choosing – is the way to do it. It's an affordable way to meet with overseas contacts and enjoy face-to-face communication, regardless of time zones or continents.
Our teleconferencing services can be paired with translation services and/or interpreters, and also comes with onsite technical assistance to ensure things flow seamlessly.
There's a reason why Chang-Castillo and Associates is considered the platinum standard in language solutions in Cancun and elsewhere around Mexico and abroad. Get in touch with us online or by phone (at +1-877-708-0005) and you'll see what a difference it makes when you have a professional language services provider on your side.