Athens Translation and Interpretation Services
For centuries, Greece was one of the world's most powerful civilizations and empires. Today, Athens, its incredible capital, is still a hub of one of Europe's favorite Mediterranean island destinations. Azure waters, thousands of years of architecture and antiquity, affordable accommodations, delicious food and wine – all woven into the tapestry of a warm, welcoming culture, make Athens a highly desirable place to do business.
In addition to quaint B&B and boutique-style hotels, Athens also offers a range of high-end conference, summit and event venues, including the Divani Caravel, The Hilton Athens, The Wyndham Grand Athens, and others. But of course, while luxury accommodations are an important consideration, even more critical is the quality of your simultaneous interpretation and translation services.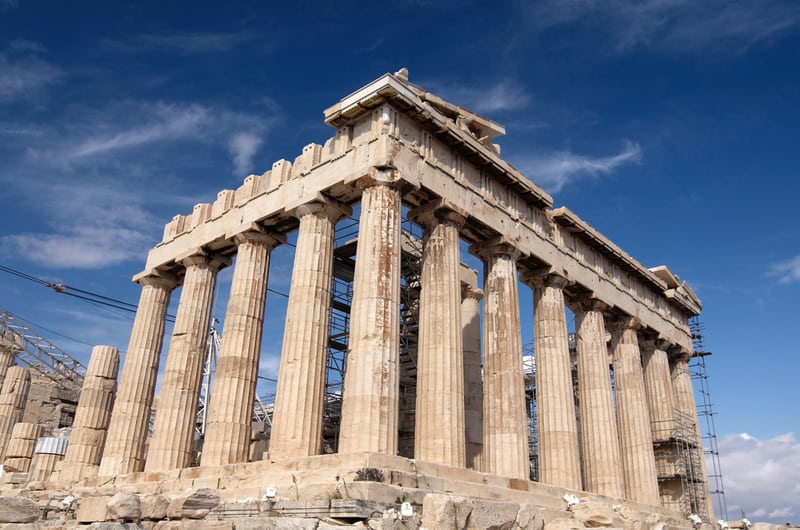 Your business in Athens will flow more smoothly, and the connections you forge there will be stronger when presentations, trainings, summits, roundtables and conference interactions are accompanied by brand-specific, word-perfect translations and interpretations that resonate with your Greek business associates and prospects.
Chang-Castillo and Associates has earned a platinum-standard reputation as global language service providers. We have all of your multinational language needs covered, from translation and interpretation to teleconferencing, equipment rentals, and more.
Contact the team at Chang-Castillo and Associates (CCA) or call us at +1 (877) 708-0005 to learn more about our language services and to obtain a competitively priced quote. We look forward to introducing you to one of our many professional, native-speaking linguists, located across the globe.
Professional translations add sincerity and cultural relevance to your work
Contrary to what digital translation apps may convey, language is not a word-for-word substitution game. There is no piecemealing sentences, paragraphs, and pages together – and there's definitely no way to imbue your work with a culturally-sensitive tone or cadence without the expertise of native-speaking, and experienced translators.
The professional translators at CCA are not only highly experienced, they are also placed specifically according to their native language specialties. This ensures our clients that their messages are translated specifically by and for their target audiences' language preferences.
Notice the emphasis on "native speaker." Fluency can be achieved through language classes, training, and travel, but the native-speaking ability is only available to those of us born in a particular country and/or raised in a bilingual household with regular ties to the native homeland. Without this, it is impossible to create translations and interpretations that land gently, fluidly and accurately on the target audience's eyes and ears. While we all appreciate someone who is fluent, information conveyed in our own language, our own dialect and with sensitivity to our current cultural tone and climate are always preferred.
Once you've contracted with CCA, you'll be placed under the guidance of one of our experienced project managers, who will oversee your translation(s) as they move through three-levels of linguistic quality control:
The initial translation
Editing and proofreading
The final read/format/technical steps
The results are immaculate, accurately-translated documents, ranging from government documents and corporate communications to speech transcripts, training manuals, marketing brochures, and more. We are available to provide rush orders on demand, and our translators can work with you to educate your key players/speakers about the business culture of your target audience(s). We're also happy to accompany you before meetings or delegations, or in the midst of your event, to ensure materials are disseminated in an organized and timely manner.
The CCA translation team looks forward to helping you with your work in Athens and assisting you in forging a solid reputation and lifelong business alliances. With CCA, your written materials have never looked better. Give us a call at 1 (877) 708-0005 or email us: info@chang-castillo.com
Work with conference interpreters who understand your target audience
As a business owner, you may have spent thousands of dollars in market research, establishing your target market and cultivating a language and tone that "hooks" your clients. Don't let that investment go to waste. The wrong interpreter team can alter your company's message. On the other hand, CCA interpreters know exactly how to convert your company's language into one that maintains your original intent – but with respect to the target audience's cultural business affinities.
In addition to serving as your professional conference interpreters in Athens, CCA's team can serve as your consultants and educators. For example, did you know most Europeans will often conduct their important business affairs over coffee or lunch? While Americans may think of mealtimes as a break from business, or at least a space to avoid the more intense business pitch, your Greek counterparts may expect a little casual conversation and are then happy to jump into the more substantial portions of your work. These small, business-culture distinctions are imperative to the impressions you make, and the body language and tone your interpreter strikes should be as fluent as their words.
Of course, Greek isn't the only language spoken in Athens, particularly if you're hosting or attending a multinational event. CCA provides language experts in the world's business languages, any of whom are happy to meet you in Athens (or anywhere worldwide!) to interpret for upcoming events.
This is why we make sure all of our translators work within their native language, and that all of our conference interpreters have:
an industry-related graduate degree from an accredited university
at least five years and 200 days of documented, conference-level simultaneous interpretation experience (which is very different from a community or court interpreter's skills)
memberships and/or affiliation with industry-renowned organizations such as AIIC (the International Association of Conference Interpreters), TAALS(The American Association of Language Specialists), the United Nations, the European Union (Directorate General for Interpretation – SCIC), the US Department of State, etc.
a passion for language, culture, and people that resonates with both our clients and yours.
Contact CCA's office to learn more about our simultaneous and consecutive interpretation services. We're always happy to walk you through the various language service options as we help you determine which type of interpretation you'll need for each of your events – formal, professional, and casual.
Use teleconferencing and professional equipment rental to facilitate global business relations
In the wake of Greece's unfortunate economic collapse, you may find some of your Greek business colleagues are unable to fund overseas travel as often as they would prefer. Teleconferencing is an economical and completely personalized alternative, allowing you to meet "face to face", lead others on a virtual tour, conduct training installments, host roundtables, etc. without ever leaving the comfort of your office.
Our teleconferencing services utilize an innovative telephonic platform, compatible with the presentation software of your choice. We will also supply translation materials and interpreters when/if needed – and our technical support package ensures teleconferences are executed as smoothly in the digital world as they would be in the "real" one.
CCA also offers equipment rentals, ranging from portable headsets and microphones (ideal for walking tours), UN-style soundproof booths, interpreter consoles, and more. Equipment rentals come with onsite support of experienced technicians, so you'll never be stranded in a technical glitch.
Contact CCA to experience platinum-standard language solutions at their finest. We look forward to promoting your brand's positive impressions in Athens and around the globe.  Call us at +1 (877) 708-0005 or email us at info@chang-castillo.com