Albuquerque, New Mexico Translation and Interpretation Services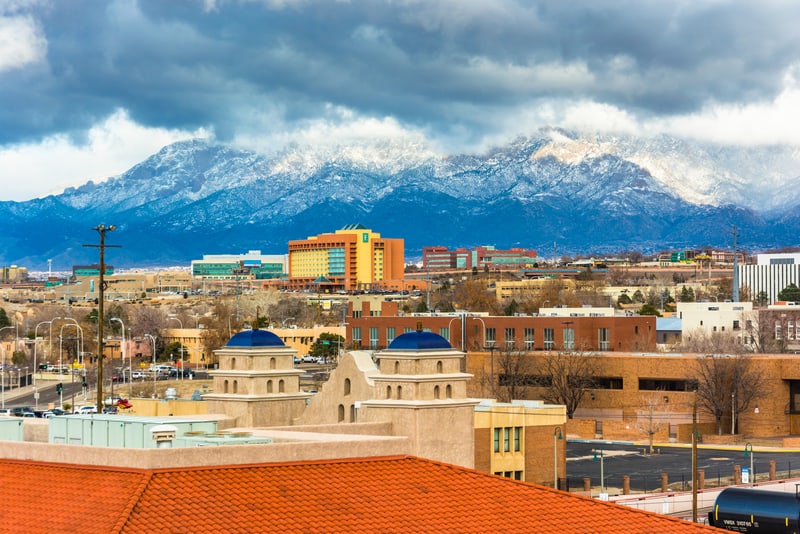 Albuquerque, New Mexico, is one of the most unique cities in the United States. Among being one of the nation's oldest cities, the area's rich cultural diversity is as varied as its geography and landscapes. Chang-Castillo and Associates is here to provide top-notch simultaneous interpreting, translation, and other customized language service solutions, ensuring you and your target audience(s) experience accurate and fluid communication – whether the setting is a small negotiation room, a large conference gathering or a casual meal, or social gathering designed to foster stronger, more personal relationships.
Perhaps one of the most unique features of Albuquerque and the surrounding Chihuahuan Desert is that nearly one-third of the population speaks Spanish or Creole Spanish, and a notable percentage speak Navajo. Should your target audience prefer to receive information or communicate in their native tongue, you'll require the services of a language services firm that specializes in providing native-speaking interpreters and translators of every language – rather than unvetted "professionals" who claim fluency.
Whether you're hosting an event at one of Albuquerque's conveniently located event venues or are attending an international symposium or conference at UNM, our team of professional linguists is standing by to facilitate your interpreting and translation needs. We're also available to support the more social aspects of your itinerary, keeping the multilingual conversation flowing at any of the city's excellent restaurants, while attending the world-famous Balloon Festival, or on a hike or skiing adventure in the Sandia Mountains.
Contact Chang-Castillo and Associates. CCA can help you determine which language service solutions will benefit you most during your event or stay in Albuquerque.
Interpreters with the right training and experience
Speaking a language fluently doesn't automatically make someone a good interpreter. Professional interpreting requires a unique skillset – and a deep, foundational knowledge of the target language is only the start.
Professional simultaneous and consecutive interpreters spend multiple years and countless hours honing their craft. This involves a complex skillset, including the ability to convert languages in real-time, without missing a beat, intuiting emotional and energetic nuances that subtly change the meaning of a phrase or sentence, as well as niche familiarity with the subject matter.
The interpreters working for CCA have:
Graduate degrees from accredited universities, from world-renowned linguistics programs
At least five years or 200+ hours of conference interpreting experience
Peer-reviewed and approved memberships in renowned industry organizations such as TAALS and AIIC
Accreditation or certification with institutions such as the United Nations, European Union, US Department of State, Federal Government of Canada, etc.
A passion for language, cultures, and people that fosters loyal relationships between our interpreting teams and our clients
Contact CCA online, or give us a call at +1 (877) 708-0005, to discuss your interpreting needs. We'll review your itinerary and help you determine which interpreting mode makes the most sense for each event or gathering to pair you with the best interpreters for the job.
Keep your event professional with interpreting equipment rentals
Professional events should move forward as planned and with zero to minimal technical glitches. Can you guarantee that will be the case if you rely on venue-provided interpreting equipment?
CCA owns, maintains, and rents high-quality interpreting equipment of all types, including IR and FM receivers, headsets/mics, portable equipment for walking tours, soundproof conference interpreting booths, interpreter consoles, etc. All of this equipment comes with a conference technician to supply exactly what you need, where and when you need it, and to monitor equipment function so it all functions as intended.
This allows you to continue business as usual, without any embarrassing technical snafus or communications that are stymied by irritating static or interference. Contact us to schedule your interpreting rental equipment, complete with a conference technician and dedicated interpreters.
Teleconferences make international relationships work
Long-distance relationships are never easy – and that includes corporate, political and professional relationships that span international boundaries and multiple time zones. Homebased teleconferences is a smart solution, ensuring you and your multinational contacts continue fostering more personal conversations, delegations, and negotiations without the necessity of grueling travel schedules.
Our innovative telephonic platform is compatible with the presentation software of your choice. Like our interpreting equipment rentals, teleconference services are paired with a technician so you don't have to worry about the operational aspect of the venture; we're always happy to include interpreters and translators as needed, as well. Teleconferences can be incorporated into your Albuquerque events to make sure everyone is included, or they can be a way to continue engagement after everyone returns home.
Professional translation materials make powerful first impressions
There's a good chance your international prospects, clients and colleagues will see your company's printed materials before a speech, summit, symposium, or presentation. These materials form a first impression of your brand and its relevance. Therefore, the quality of your professionally translated materials have an invaluable role in your future business dealings.
The translators at CCA use a three-tiered quality assurance process, including three separate rounds of translation, proofreading, and editing; one of our dedicated project managers oversees the entire process. The result is a final product that is 100% accurate and flows so seamlessly that it feels as if it originated in the target language.
Our translation projects include:
Corporate communications
Government documents
Speeches and transcripts
Technical and training manuals
Marketing materials and brochures
Tour and demo scripts
And more
Don't forget to subtitle your valuable video content
Video production is a big investment, and our subtitling and transcription services can help you make your money back (and then some) by your recorded materials into any target language. The result is videos that can be used in virtually every language, anywhere on the planet, with subtitling or voiceovers that resonate with a multinational audience.
Contact Chang-Castillo and Associates to discuss your translation project needs and we'll provide a competitively priced quote. We're happy to bundle translation services with other language service options to further your savings and begin planning your language service solutions in Albuquerque. The sooner we hear from you, the sooner our linguists can begin collaborating with your team so you feel completely supported at your event. You'll learn why we're considered the platinum standard in our industry, and our efforts will help you maintain or propel your industry reputation as well.